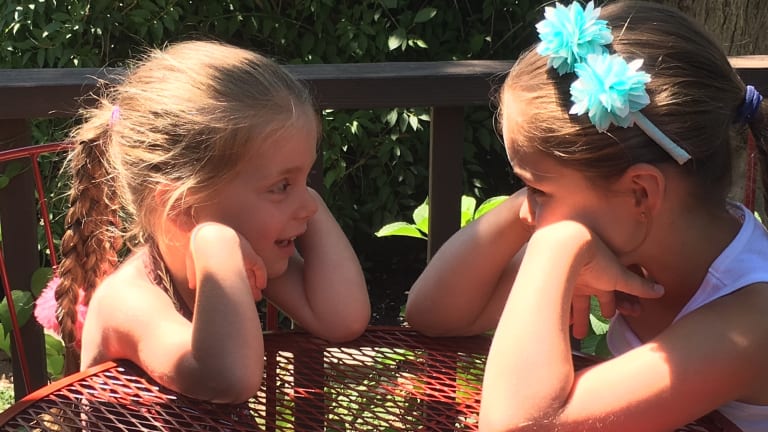 Easy Summer Hairstyles for Girls
Tame Those Long Locks!
Summer is showing us what she is made of here on the east coast, and we are looking for ways to escape the heat, all while keeping our style in check. This goes for the littles as well. Nobody likes to be bogged down by their mane, and we've got a few easy summer hairstyles for girls that will keep them cool and stylish. We also swim every day, and having their hair wrangled means less tangles, and less hair stuck in the pool filter! 
These easy summer hairstyles work particularly well for those with longer locks (both of my girls have waist length hair) but with the right tools, I think the styles work for most hair lengths. 
One of the styles the girls request the most is the double bun-a modified version of the "Princess Leia". My only caveat with this style is that wearing a hat can be tricky but we make it work with sport a visor. I also make sure to put sunscreen on their exposed scalp so they don't get burned. (and yes, even our American Girl gets her hair done!)
Our new fave, on heavy rotation, is the side bun. My daughter loves when the bun is placed just below her ear, off to the side. This hairstyle lends itself to putting many different hair accessories to good use. For now? that means big bows, the bigger the better! 
The ponytail is the go-to for every mama, right? I like to mix it up a bit and place the hair in a high ponytail and then divide the "tail" into two or three braids. I love how this look works with a fun headband or pom pom hair ties at the bottom~it'a a bit unexpected, no?
Another easy-peasy hairstyle for girls is what I call the mix and match. I simply put all of their hair up in a ponytail and then take half the hair from the pony and wrap it in a loose bun around the top of the ponytail. We top it with a fun accessory like this adorable pin from "buntoppers". 
I recently learned how to braid the girls hair into "fishtails" or bone braids as they're also called. I love how I can change the look of the braid by using thinner or thicker pieces of hair.  
Double French braids are a real crowd pleaser too. I love how they keep the hair secured all day. The girls love how wavy their hair becomes if they leave the braids in overnight. Nicole's daughter chose them as her travel ready hair-do on their recent trip to Portugal. 
I also do a modified "pigtails". I part the hair directly down the middle (or sometimes my older daughter prefers a side part) and I very simply gather the hair and secure with mini rubber bands as I work my way down the "piggy tail". For 4th of July, I swapped out the mini rubber bands for festive bands and she received loads of compliments. 
I'm ready to try something new!  Come on Mamas, share your easy summer hairstyle for girls! 
This is not a sponsored post.  All opinions expressed are our own.