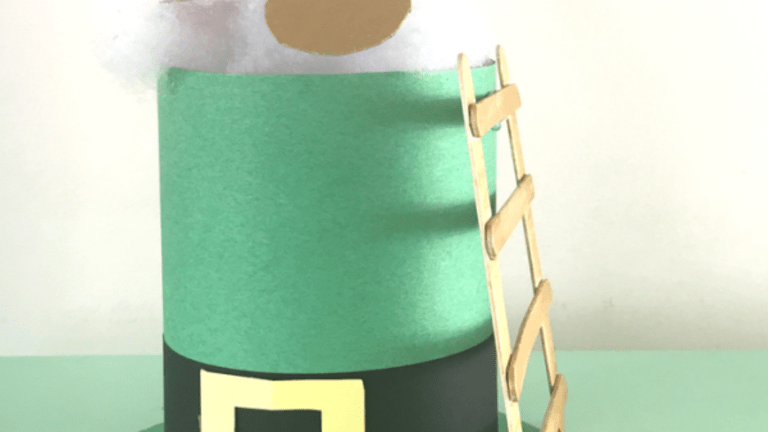 Easy St. Patrick's Day Craft Ideas
5 Super-Simple, Fun, (and Last-Minute) Projects to celebrate this Irish celebration.
My kiddos love holidays—every holiday! They don't discriminate. So, even if we aren't technically Irish, we still make a big deal of St. Patrick's Day. We wear green, we chase Leprechauns, we hunt for that veritable pot of gold, and we eat ALL the corned beef and cabbage. (It's actually my fave meal of the entire year—no, seriously.)
Of course, it goes without saying that we also do fun crafts and eat sweet treats. If it's green it counts as a traditional St. Paddy's Day food in my extremely unofficial book. (Ha!)
Related: 10 St. Patrick's Day treats for kids
Five Easy St. Patrick's Day Craft Ideas
This weekend, we are going to have a blast as a family getting our Irish on! Making leprechaun traps, baking green THINGS, and drinking Guinness (well I will, at least!)
I've rounded up a few super-fun ways to celebrate together with cool, creative, and crafty projects and green goodies. Have a great time celebrating the Irish spirit—and don't forget my invite for your big corned beef and cabbage supper.
Leprechaun Loot Treat 
We know leprechauns love sweets, theses fun treats are perfect for a class party. Get the Leprechaun Loot Treat directions from Mom and Munchkins.
St. Patrick's Day Clover Pasta Necklace 
With a little help from mom, this macaroni classic is turned into a St. Patrick's treat. Get the St. Patrick's Day Clover Necklace details via The Chirping Moms.
Leprechaun Trap Hat
You know how quick leprechauns are, how mischievous they can be and how hard they are to trap. We've figured out a way to trip them! Get directions for the Leprechaun Trap Hat on Momtrends.
Pot of Gold Necklace 
Capture a leprechaun's gold in a little bottle and display it around your neck with pride. Your kiddo will love to wear this and show off how they got the best of the little Irish fellow. Get the details on the Pot of Gold Necklace craft via Momtrends.
St. Patrick's Day Sensory Activity 
This work is fantastic for refining fine motor skills and allowing creative exploration. Great for a Montessori Classroom or Home Daycare environment. Get it on Etsy here.
MORE ST. PATRICK'S DAY FROM MOMTRENDS
PIN IT!
Use Pinterest to save your favorite crafts, menus and parties for St. Patrick's Day here on the Momtrends St. Patrick's Day Board.
This is not a sponsored post.