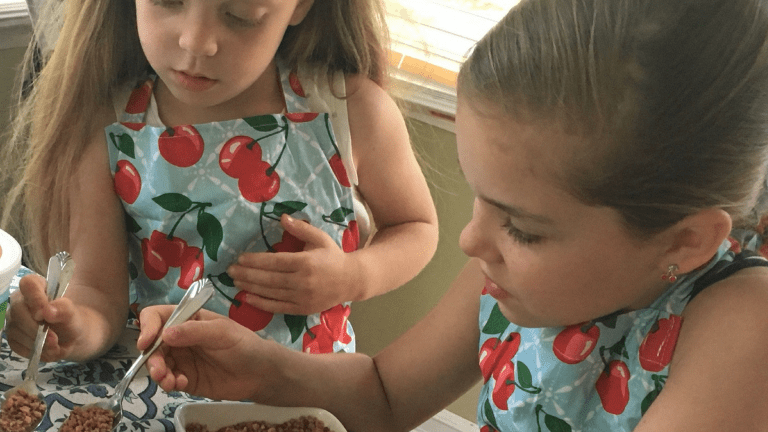 Easy Snacks that Kids Can Make
Kids in the Kitchen!
Kids are home with me for the summer and I am enjoying our relaxed time together. Having my children in the kitchen is a wonderful way for us to spend quality time together. I also like that I can occupy them, and chat with them, all while getting something accomplished. We have been busy making some easy snacks that kids can make!
My youngest has recently become much more of a picky eater (something I have no experience with!) and it seems the more I get her involved in meal prep, the more things she is willing to try. Below you'll find a few easy snacks that kids can make with very little help! Each requires only a few ingredients and have minimum prep time (for the kiddos' short attention span!) 
We have always been huge fans of Stonyfield yogurt. With as much as 40% less sugar than the leading lowfat kids' yogurt and 9 grams or less of sugar per serving, Stonyfield Kids is always made with USDA organic, non-GMO ingredients and is perfect fuel for busy summers.  I love that we can pack in a lot of protein, calcium and that yogurt is such a diverse food. (Here are some unique ways we incorporate this superfood.) The girls had a ball making these yummy frozen treats. 

We made frozen yogurt bites which were such a hit with the littles and truth be told, I was such a big fan of these too! Another delicious use for muffin liners with no baking required! Try topping them with fresh strawberries and blueberries (we used raspberries picked fresh from our garden!) for a berry colorful cup that fits perfectly into bento boxes, perfect for a picnic, camp, or a jaunt to the beach. Want to grow your own berries? We had great success with Bushel and Berry. We also tried this take on the normally sugar-filled "bark'.  The Kids Frozen Yogurt Bark takes mere minutes to prep and can be tailored to your liking. I will definitely be bringing these to the baseball summer BBQ!
We also made these easy and tasty bite-sized snacks using SUPERPRETZEL as the base. The SUPERPRETZEL website inspired us to make our own take on the honey, bacon & chili bites. We subbed out the bacon and used little bits of avocado. We heated the bites, drizzled them in honey (we love Nature Nate's) sprinkled a bit of chili powder and bits of avocado, then topped with cheese and baked them for 5 minutes at 325 degrees. They were awesome Tex-Mex inspired bites. The kids really munched them right up! There are several pretzel bite recipes available at SUPERPRETZEL.com and they each have less than five ingredients and take less than 20 minutes from prep to eat! 
And a word about these cute, vintage inspired aprons...First, the girls absolutely dig the whole mommy and me thing. You may have spotted them on Sex & the City 2 and 30 Rock.The aprons (and adorable matching oven mitt) are from designer, Jessie Steele. They are timeless, and a classy (and totally on-trend!) way to keep clean while entertaining. 
This is not a sponsored post. Samples were received.  This post may contain affiliate links.