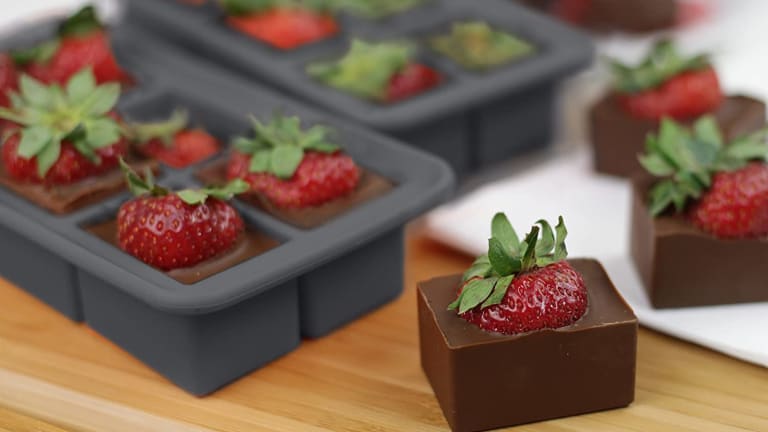 Easy Frozen Summer Dessert Ideas For Kids Using Ice Cube Trays
Take a look at our summer dessert ideas, transformed in a Casabella big ice tray.
This summer, we're excited about these big ice trays from Casabella. Starting at $11.99 for a set of two, these trays can hold a lot more than ice (or a lot of ice). The ice trays are both oven and freezer safe; ideal for desserts that require both heating and chilling. Take a look at our summer dessert ideas, transformed in a Casabella big ice tray.
Related: Make your own delicious bubble tea at home
Chocolate covered strawberries
For this recipe, you'll need meltable chocolate and strawberries.
In a microwave safe bowl, microwave chocolate, stopping to stir every 30 seconds until chocolate is smooth and melted.
Transfer melted chocolate evenly to Casabella big ice trays
Submerge a strawberry, stem up, in each ice tray compartment.
Freeze for 30 minutes. Bon appétit!
Chocolate covered coconut bonbons
Layer each section of the tray with a mixture of crushed chocolate wafer cookie and melted butter.
Bake for 30 minutes. Remove from oven and let cool.
Top each cube with a scoop of coconut ice-cream and an almond. Transfer tray to freezer for 20 minutes.
Melt chocolate on stovetop. Let cool.
Remove trays from freezer, cover with melted chocolate.
Freeze for 30 minutes or over night. Enjoy!
Cheesecake
Combine graham cracker crumbs, melted butter, and sugar. Spoon and press into a bottom layer of each section of Casabella's big ice tray.
Beat cream cheese, sugar, vanilla until well mixed. Add eggs one at a time until blended.
Pour batter over graham cracker crusts.
Bake for an hour or until set.
Refrigerate for 4 hours.
Get the big ice trays on Amazon here.
MORE RECIPES FROM MOMTRENDS
PIN IT!
Use Pinterest to save your favorite recipes. Be sure to follow our Recipes to Inspire board.