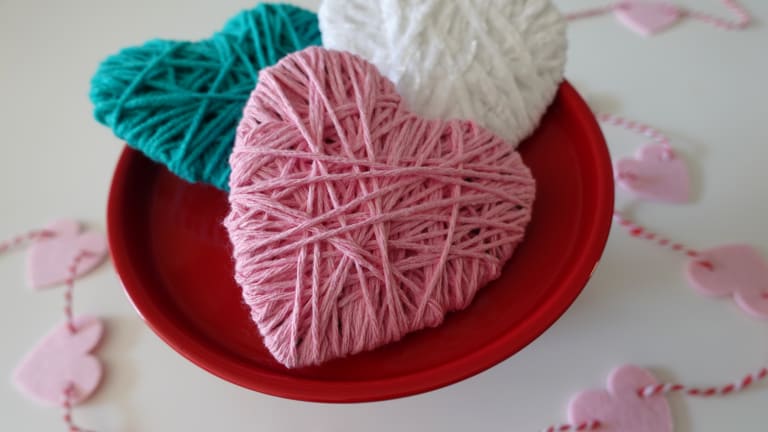 Easy and Fun Heart Yarn Craft
Make this simple and sweet yarn craft at home with your kids using recycled materials.
I don't know about you, but right around January 1st I have shopping fatigue. The powers that be have tried to make Valentine's Day a shopping opportunity. I'm not too keen on that. I think flowers are the right choice and other than that, we need to focus on the sweet side of this holiday. Tap into the simple side of Valentine's day with this east and fun yarn craft that even toddlers can help create.
Related: Super sweet Valentine's Day breakfast ideas
This  is a perfect afternoon activity for a dreary winter day. Gather your supplies and start crafting. There's not too much skill required for these yarn heart and they can be customized in any color or size. 
GETTING INSPIRED
To help on this project, we enlisted master crafter Karimah Henry from the site craftingafunlife.com. I love that this project is simple to assemble and really safe. Make this simple and sweet yarn craft at home with your kids using recycled materials.
Once again, we're starting with the idea that upcycling is the place to start. This is a great way to use cardboard that you have in your house.
Heart Yarn Craft  Supplies
Heart shaped cookie cutter
Yarn (various colors)
Scissors
Pencil
Recycled cardboard (thin like cereal or snack box) 
Heart Yarn Craft Directions
First, place a heart shaped cookie cutter on cardboard then, have your child trace the shape using a pencil.
Next, cut out each cardboard heart.
Finally, wrap the yarn in various directions until the heart is completely covered. Make sure to tightly wrap the heart so it doesn't come apart. 
Optional: add a touch of hot glue at the end to keep the yarn secure.
You can create a garland, tag or backdrop using these beautiful hearts for Valentine's Day.
Living in a digital time, it's great to see kids enjoying the simplicity of crafting. This makes a sweet Valentine's Day activity and a gift to share with grandparents. 
MORE WAYS TO MAKE IT A HAPPY VALENTINE'S DAY!
PIN IT!
Be sure to follow our Valentine's board and pin your favorite ideas.
Momtrends was not paid for this post.