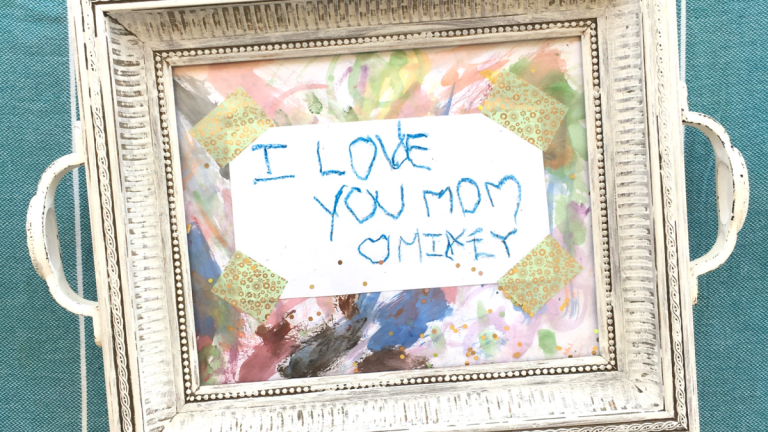 DIY Mother's Day Serving Tray
Bring Mom breakfast in bed to make it an extra special gift on her day with this fun craft project.
Mother's Day is less than a week away! But don't worry; we have a simple DIY that you can make in no time.
Mom will feel so special with this DIY Mother's Day Serving Tray. Especially with the special art project made by the kids that will be displayed in the center.
Prep the tissues.
This project is simple, elegant and surely will become a keepsake. Mom will love it!
Related: Mothers Day breakfast in bed
And don't forget a sweet treat too! Have the kiddos make these Quick and Easy Chocolate Chip Cookies to bring to Mom on the tray.
Can you keep a secret? Mom will never know this project costs less than $10. What?! We picked up a frame from a thrift store for $2 and scored the handles for $5! 
When picking a frame, pick one that is thick and sturdy.
Let's get started!
DIY Mother's Day Serving Tray - Materials
8x10 picture frame
sand paper
white acrylic paint
foam brush
2 white handles
2 screws
white cardstock
water colors
paint brush
decorative tape
drill
screwdriver
tape measure
pencil
marker
DIY Mother's Day Serving Tray - Instructions
Step One. Lightly sand the picture frame. Then, paint it white with a foam brush. Let it dry.
Step Two. Setup your child's workstation. Lay out butcher paper, white cardstock, watercolors, a small cup of water and a paint brush. Have your child paint the cardstock. Let it dry.
Step Three. Have your child write a special note to Mom on a smaller piece of white cardstock. Tape it to the center of the watercolor painting using decorative tape.
Step Four. Measure the length of the shorter side of the picture frame. Then, measure the length of the handle. Subtract the measurement of the handle from the measurement of the frame's side. Then, divide that number by two. This will be how far in from each corner you go to center the handle on the frame.
For example: Our frame's side measured 11.5 inches. Our handle is 5 inches. So, (11.5-5)/2=3.25 inches.
Step Five. Please use your measurement for this step. Using the tape measure, measure 3.25 inches from one corner and mark with a pencil. Do the same from the opposite corner.
Step Six. Line up the holes in the handle with the pencil markings. Using the marker, make a dot in the middle of the holes. Set the handles aside.
Step Seven. Pick a drill bit that is smaller than the screws. Insert the drill bit into your drill. Slowly drill holes in the frame on the marker dots. Make certain not to drill completely through (just enough for your screw to fit).
Step Eight. Line up your handle's holes with the holes in the frame. Screw the screws in using a screwdriver.
Step Nine. Insert your child's art project.
You have a DIY Mother's Day Serving Tray! Please note: this tray does not hold heavy objects. 
MORE MOTHER'S DAY INSPIRATION
PIN IT!
Save your favorite ideas to Pinterest. Be Sure to follow our Mother's Day board here.