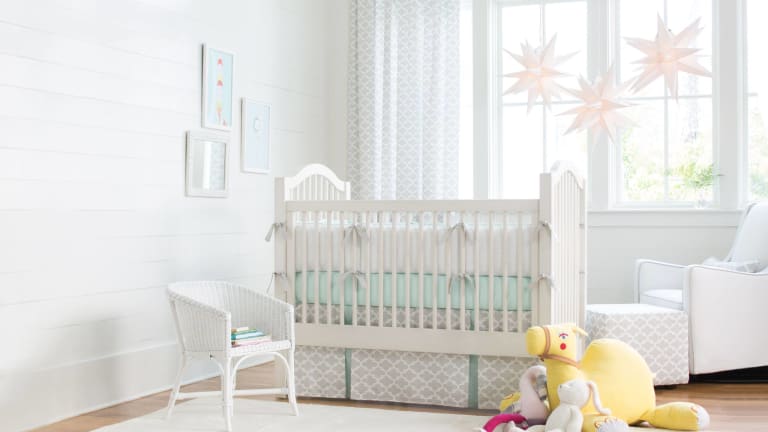 DIY Design for Nursery Bedding
A unique interactive design tool that allows parents to create customized nursery bedding.
We've been busy dragging and dropping testing out the new virtual design tool from Carousel Designs. They just released "Version 3.0 of their popular Nursery Designer, the company's unique interactive design tool that allows parents to play around with designing a custom nursery.
Related: Best double strollers for twins
The appeal is strong. Who wouldn't want a one of a kind look for the nursery? Check out what I created. I was able to mix and match fabrics and component styles, change the color of the nursery walls, choose a crib finish and pick flooring to design a virtual nursery.
What You Get with DIY Design for Nursery Bedding
Highlights of Nursery Designer and Carousel Designs Custom Baby Bedding Collection include:
Full visualization. A new feature that allows customers to see nursery walls and trim colors online using actual Benjamin Moore paint colors.
Easy coordination. If you've fallen in love with one particular fabric, start there. Pre-selected coordinating fabrics will be automatically loaded into Nursery Designer® to make the design process simple, easy and fun.
Sharable. Thanks to the company's baby registry, friends and family can view a loved one's bedding designs to share input or to purchase items as gifts.
Wide assortment. Carousel Designs offers a selection of more than 300+ high quality fabrics.
New Prints from Carousel
The brand is always looking to stay on trend. We love this modern take on rainbows. They are constantly updating and adding fabrics to stay on trend.
Why You Should Pick DIY Design 
We also appreciate the ability to order fabric swatches (50 cents each--and the cost is fully refunded with an order). It's like having the most tasteful and easy-to-work with interior decorator. When I put together my test design the pricing came out as $119 for the bumper, $109 for the skirt, $22 per sheet and $129 for the comforter. Total bill $379--pretty amazing considering it is one of a kind. Procrastinator alert: Orders are slated to be done in a few days.
Carousel Designs products can be purchased online at www.babybedding.com.
MORE MOMTRENDS FOR NEW PARENTS
PIN IT!
Use Pinterest to save your favorite gear for baby. Be sure to follow our Baby Things to love board here.
Momtrends was not paid for this post. We did not see the finished product, we only played with the design tool