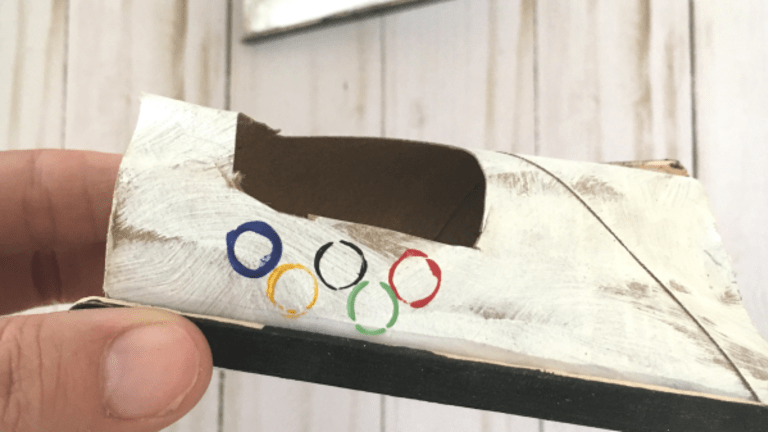 We are so excited about watching the Winter Olympics this year. We have been looking up the different sports to see which ones our kiddos are into watching. That's why we came up with this DIY Winter Olympics bobsled craft.
Related: How to make your own gold medals
My son's favorite is bobsledding. He thinks it looks like so much fun.

To keep him excited about it, I decided we should do a Winter Olympics craft together, so they can play with a bobsled while watching and cheering on the bobsledders.
Make one too! Read on for our super-easy DIY.
DIY Bobsled Winter Olympics Craft - Materials
small cardboard tube

2 craft sticks

straw

foam brush

white and black paint

blue, yellow, green and red paint

scissors

hot glue and gun
paper bag
small toy

DIY Bobsled Winter Olympics Craft - Instructions
Step One. Set up your child's workstation. Lay out a paper bag, cardboard tube, foam brush and white paint. Put a dab of white paint directly onto the paper bag for your child to use.

Step Two. Have your child paint the cardboard tube white. Let it dry.

Step Three. Rinse off the foam brush with water. Dry it off with a paper towel. Set out the 2 craft sticks, foam brush and black paint on the paper bag.

Step Four. Have your child paint the craft sticks black. Let them dry.

Step Five. Hot glue the craft sticks to the cardboard tube to resemble a bobsled.


Five Tips for the Perfect Pumpkin Patch Visit
It's that time of the year again...pumpkin patch time! While I love a nice Pumpkin Spice Latte as much as the next fall lovin' girl...for me, the season is all about spending time with my family...and hopefully that time is spent outside as much as possible. If you're headed out ...read more
Perfect for Fall Pumpkin Spice Dirt Bomb Recipe
Get your pumpkin spice fix with this tasty dirt bomb recipe. Unlike fried donuts, this recipe is a little lighter and, since no hot oil is involved, a lot less messy. These dirt bombs, or baked donuts, are irresistible cakey muffins that are spiked with nutmeg and ginger, and ...read more
Save Money at a Ski Swap
Are the slopes in your future? If you want to save money on ski gear, consider a ski swap. A swap is a great way to buy and sell used equipment. Most swaps consist of a variety of gear, from brand new to used skis and snowboards to skis; from poles to boots to bindings and ...read more
Step Six. Next, cut a small square out of the top of the cardboard tube (big enough for your child's favorite small toy to sit in). To cut a square: fold the top of the cardboard tube slightly and cut a small slit with your scissors. Unfold the tube, stick your scissors in the slit and cut out a square.
Step Seven. Hot glue the front of the bob sled together.
Step Eight. Cut the straw into 3 pieces. Take the lid off your blue paint and dip one end of a straw piece into the blue paint in the lid. Stamp the side of the cardboard tube. Flip it around and stamp the other side.

Step Nine. Repeat step 8 with the remaining colors of the Olympic rings using different ends of the straw pieces. The order for the first row is blue, black and red. The second row is yellow and green. Let it dry. Here is the Winter Olympics Logo for reference. Or copy the one below:
Now, you have a bobsled for your child to play with during the Winter Olympics! Have your child pick out her favorite small toy and put it in the bobsled for pretend play.

Get More Ideas for Fun on the Snow in our Family Ski Guide
Created by: Ludavia Harvey
www.themamaworkshop.com
MORE OLYMPICS FUN FROM MOMTRENDS
PIN IT!
Want more ideas on how to have fun with the kids during the games? Be sure to follow our Olympic Fever board here.
This is not a sponsored post.