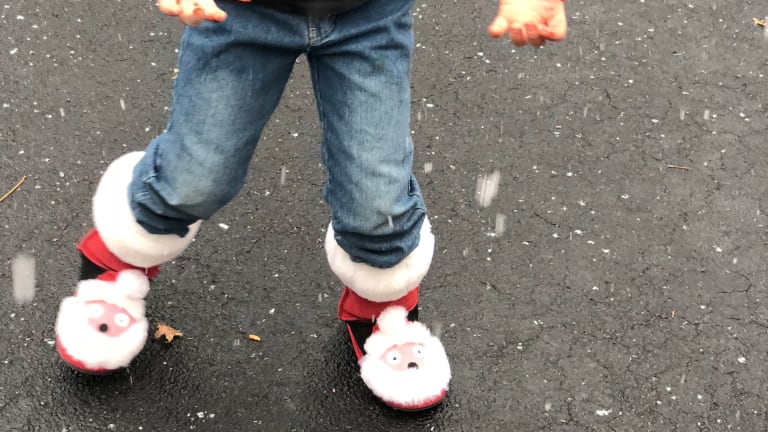 The Cutest Christmas Creature Boots
Ho-Ho-Ho in the Snow-Snow-Snow
We're a teeny-tiny bit Santa obsessed over here.
We've written lots of letters, visited his workshop (conveniently located in our local mall!), and read all the stories about the big jolly man in red. 
Suffice to say, we're excited for Christmas Eve. We can't wait to bake batches of SC's fave cookies (sugar, butter, and chocolate chip, of course!) and see what he delivers under the tree.
Until then, my impish elf is getting into the festive spirit wearing these super-sweet Little Santa boots from Emu Australia. 
We broke them out this past December weekend for our very first snow day of the season--and I can't even tell you how many ooo's and aaa's and compliment my own "Granty Claus" received thanks to his cozy-cute new Christmas boots.
Lined with plush Australian Merino Wool, they kept my holly-jolly happy guy's feet warm, while the dual layered EVA outsole delivers a comfortable fit. I love EMU boots (for the kiddos and grownups!) because they're super durable and super soft.
We styled them with a wintery long-sleeve tee (and, don't worry, we bundled up right after our quickie photo shoot!).
The kids'Creature Comfort line from Emu offers other adorable styles as well: a reindeer, a snowman, a not-so-scary bear, and a plush little lamb! 
But you better believe we'll be sticking to our Santa boots for the rest of the month... In fact, I'm pretty sure we'll be wearing these well past Dec. 25. 
This is not a sponsored post.