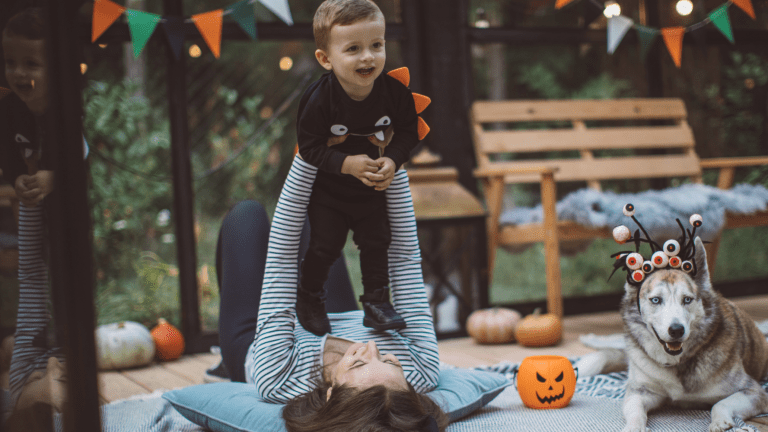 Creative Ways to Safely Celebrate Halloween
Halloween is my favorite holiday -- which is funny, because growing up I didn't really care for the candy-eating costume-wearing celebration. But now, as a mom, I adore getting into the spooky spirit, mapping out our trick-or-treating route, and playing all sorts of silly games. 
This Oct. 31 will, of course, look very different. The CDC had advised against traditional house-to-house trick or treating in light of the COVID-19 pandemic. I'm bummed to say the least that my kids won't be able to run around the neighborhood with friends, trading candy and being silly.
Still, I'm determined to make the most of this holiday for my kiddos who are still desperate for some excitement, fun, and normalcy. We might not be able to bob for apples (let's definitely NOT bob for apples this year!), but we can still do plenty of scary-amazing activities to make Halloween 2020 extra special. 
For some frightful inspiration, we reached out to teacher, mom of two, Juicy Juice spokesperson, and founder of Education With an Apron, LaNesha Tabb. Here are a few of her wicked awesome ideas.
Frightening Features
Invite your children to select a movie line up for a fresh and fun way to celebrate Halloween! By now, children understand that traditional activities will need to look different than they have in the past, perhaps like going to the movie theatre. So go all out at home! Create movie tickets, a concession stand, and turn off all the lights! It's a monster movie marathon in your living room!
You've been BOO'd!
Ding-dong-dash has never been more fun! Dress up in your family costumes and make Halloween treat bags that can be left on your friend's and friendly neighbor's doorsteps for some no-contact fun!. Leave the treat, ring the doorbell and...run! If you want to add a little something extra, before you ring the doorbell, you can even snap a selfie of your family in front of the door to share online or with your neighbors to extend the memories for years to come.
Monster Mash...ed Potatoes?
Have a monster-themed menu prepared for Halloween night. Even if it's just a spooky take on your normal mealtime staples, such as ghoulish gravy for monster mashed potatoes...or mummy-string beans! Or, think outside the usual box and try a new spooky eat treat like these Ghoulish Grape Hands. While you're cooking, ask your children to decorate a Juicy Juice box that is so scary... Cover it with toilet paper to make it a mummy or glue on eyeballs for an out-of-this-world alien twist.
Shake, Rattle and Roll... out for a walk!
Invite your family to shake, rattle, and roll right out the door for a socially distant evening walk to check out some spooky Halloween door decorations around the neighborhood. If there are other families in your area, you can even suggest a neighborhood door decorating contest. If you are connected with your neighbors via an app or social media, post the streets that will have doors decorated so that you are sure to have something to see!
Haunted Room on Zoom
If your children are sad about missing out on celebrating with their friends, organize a spooky room contest! Children can create a haunted "house" in their room. They might rig a chair to move with string or turn the light off and on from an app...and then hop on zoom to show it off to friends and family, just don't forget to wear your costume!
Try These Spooky Reads
If you are an educator (or if you are learning from home), create a spooky book of the day calendar. Print the images of some fun Halloween books and post them on the board. Cover the images with pumpkins. Each day, tear off the pumpkin to reveal the title and read with your little ones!
Spot the Jack-o-Lantern Game
Cut out fun jack-o-lantern images that can be placed all over your school or home for a fun "I spy"-style game. You could also leave a basket with packaged snack items inside, then as the students to take a walk around and spot the jack-o-lanterns that are hiding, they get a snack reward! Some of my little ones' favorite snacks include raisins, Goldfish crackers, juice boxes, and more! 
Want more from Momtrends?
This is not a sponsored post. Tips courtesy of LaNesha Tabb/ Juicy Juice.