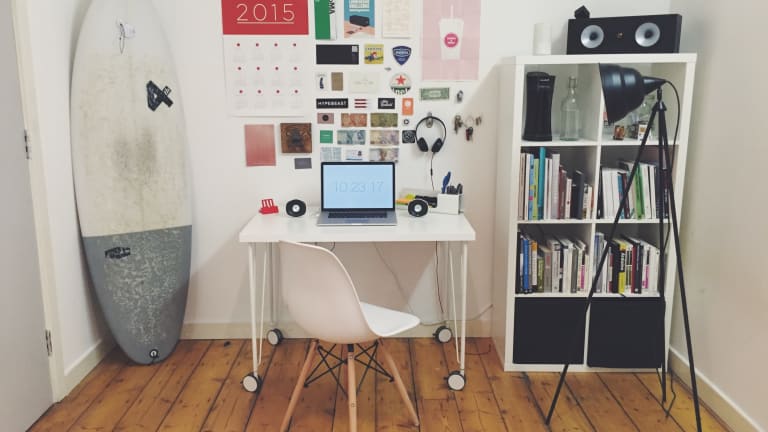 Publish date:
Creating a Fun and Functional Homework Station
Setting up and creating an organized home with a separate work space for children aids parents in an effort to keep kids on track and maintain routine.
Setting up and creating an organized home with a separate work space for children aids parents in an effort to keep kids on track and maintain routine.
So many of us parents are now required to coordinate various schedules, activities and of course, help with homework. I've come up with some homework station inspiration for us all.
Setting up and creating an organized home with a separate work space for children aids parents in an effort to keep kids on track and maintain routine. It gives children an opportunity to look forward to being productive and maybe even look forward to getting their work done because they have a space to call their own! 
Tips on creating the perfect homework station in your own home:
We've got a four-point plan to help you carve out a workspace for your kids.
Create a separate work space for each child
Invest in organizational supplies
Make it cheerful
Provide inspiration
Creating a work space for each child. 
We love this look by Sand and Sisal. This organizational tip is perfect, especially if you have more than one child. This area provides ample room for a computer and enough desk space for children to write, draw and be creative. 
The board on the back wall allows for children to decorate and showcase various talents and interests. This is also the perfect area to keep important papers, schedules, resources and school information.
Invest in organizational tools and supplies 
Invest in a school tool organizer such as a supply carousel By having all materials and items that the kids need to complete their homework right at their fingertips will help them to maintain organization and be productive. 
Mom 4 Real shows us that glue sticks, pencils, pens, markers, crayons, scissors and paper can be easily accessible in the supply carousel so there is never a moment wasted looking for the very materials that kids need to work with! Parents will also know when items need replenishing by using this kind of school tool organizer.

5 Pretty Ways To Organize Your Jewelry
I admit - I'm guilt. Despite my best efforts, my "jewelry drawer" has become a tangled mess of necklaces, bracelets and earrings. This cluttered collection not only makes it hard to see what I have, but difficult to untangle the pieces I do want to wear! This summer, I'm ...read more
This Year's Coolest Jumbo Pool Floats
Pool season is almost here! I can't wait to relax, read a book, and sip a cocktail while lazily drifting in an oversized float. (Just kidding, I have two toddlers--but a swim mama can dream, right?). If you've got a staycation planned, check out this year's coolest jumbo pool ...read more
Crystal Clear and Pristine: Pool-Cleaning Tips
Tropical Storm Isaiah gave us quite the midsummer surprise here in the suburbs of New York City. We just got our power back on after a whole week of darkness! With trees down, debris everywhere, and lots of uncertainty, one thing we forgot to check on: our above ground Intex ...read more
Make it Cheerful 
Create a space your child will look forward to spending time in. The key to creating a fun and functional homework station is to ensure your child loves it! Have them help you create the station by adding in their own personal touches incorporate their favorite colors, pictures, art work and room elements. 
This homework station shared by Trina Small is the perfect marriage of both fun and functional and works well in small spaces. It gives some color and style to the room while maintaining organization. It also provides the child with ample work space and the materials he/she would need to complete homework assignments.
Check out how she provided her pre-tween daughter with an updated bedroom. 
Personalize it with some inspirational artwork
Achievement doesn't come easily. It takes hard work. Providing your child with an inspiring homework station, might just help them concentrate. 
The new Definition Series from Ikonick teaches little ones how to nurture and grow their character. They have bright bold graphics that encourage your kiddos to become better friends, better siblings, and better human beings. Check out the full line of artwork here https://ikonick.com/pages/kids
We look forward to hearing some of your ideas! How do you incorporate a homework station in your home?
WANT MORE FROM MOMTRENDS?
PIN IT!
Need more ideas on what to do with the kids? Be sure to follow our Activities to Do with the Kids board on Pinterest here.
Momtrends was not paid for this post.