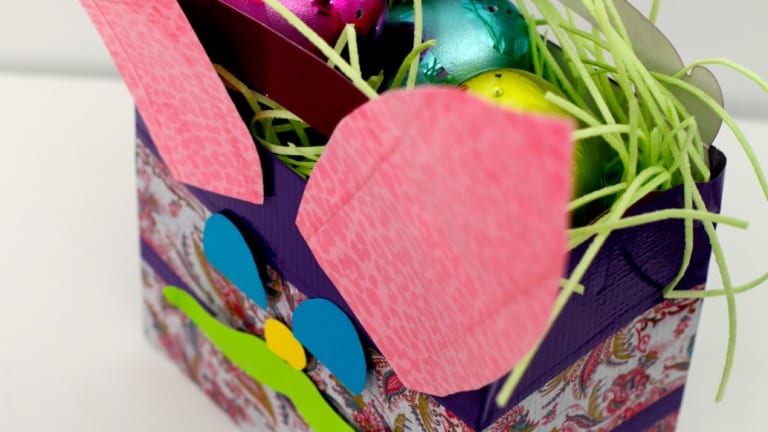 Create Your Own Easter Basket with this Duct Tape Craft
A simple craft idea to get kids unplugged during the Easter holidays. Create your own duct tape Easter basket.
Easter is not just about chocolate, although I do like getting a dark chocolate coconut egg in my basket, rather it is about family and the memories you create for your children. Here at Momtrends, we love simple craft ideas that get kids unplugged. We've come up with a way to create your own Easter basket with duct tape.
Related: Easter Brunch Recipes
Make the Easter Party Engaging
Keep both big and little guests entertained during your Easter party with a Scotch Duct Tape Easter basket making activity. It's the perfect craft to do before your Easter egg hunt to keep little people busy.
Using bold and bright on-trend Scotch Duct Tape and colored cardboard boxes we crafted a Bunny Easter Basket. This is a beginner level craft for all abilities.
Duct Tape Egg Basket Instructional Video
Head over to our YouTube channel to check out how we are celebrating Easter and get instructions on how to craft this simple duct tape Easter basket.
Duct Tape Egg Basket Materials
The requirements for this craft couldn't be easier. It's relatively mess free (no glue or glitter) and can be done pretty quickly.
Paper food containers
Duct tape in multiple colors
scissors
What to put in the Easter Basket
Once you've got the basket done, it's time to fill it. Filling the Easter basket can always be a challenge. We love chocolate, but to be creative, here is a round up of some of our non-candy favorites! I See Me Growth Chart, Scotch Duct Tape, and the Tape It and Make It book to inspire future crafting.
MORE EASTER IDEAS FROM MOMTRENDS
PIN IT!
Use Pinterest to save your favorite entertaining ideas. Be sure to follow our Easter Pinterest board here.