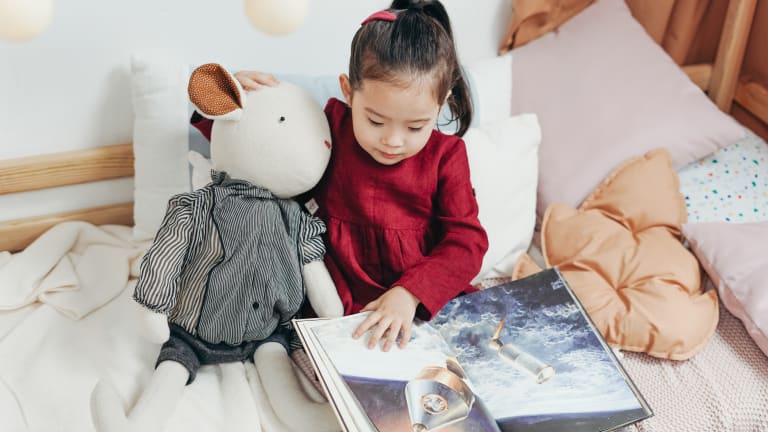 Have a bookworm in the family? Or a struggling reader you want to encourage? Creating a cozy reading nook somewhere in your house is a great way to provide a dedicated space designed for digging into a good book. Here are the three elements of a good reading space and a few swoon-worthy reading nooks to give you inspiration.
Related: Create and indoor camping party
3 Elements of a Good Reading Nook
There are a few key elements to a good reading nook: a cozy seat, the display of books and functional (and maybe fun!) lighting. Of course, a good selection of books helps too. Build up your own collection of favorite tales by making it a gift request for holidays, making it a family tradition to get one new classic book each birthday, or hitting up eBay for lots of kid books. Here are the other things you'll need to create a cozy reading nook.
A Cozy Seat to Snuggle In To
Creating a cozy place to settle in with a good book is a key part of any reading nook. Reading areas are a great place to use really kid-friendly seating like beanbag chairs, furry rugs, foot stools and pillows. Kids love small, unique spaces so consider creating a reading nook in unusual unused spaces like under the stairs (#1). Or create a special space to read in the middle of a main room with teepees and beans bags from Target's Pillowfort collection (#2). While an investment, unique kid-friendly chairs like the Nook Pebble Lounger (#4) are well-made and have a long life thanks to quality construction and a zip-off, washer-friendly cover. [Sources- 1, 2, 3, 4]
A Smart Book Display

Save Money at a Ski Swap
Are the slopes in your future? If you want o save money on ski gear, consider a ski swap.  Connecticut  Ski Sundown SKI SWAP 2021. The Sundown Ski Patrol Ski Swap is one of New England's largest and longest-running swaps. Held in the Ski Sundown base lodge, you'll find a large ...read more
The Ten Best Wooden Play Kitchens For Kids
Cooking is a timeless fascination for children. This type of play goes beyond gender and teaches kids loads of life skills along the way. An investment in a play kitchen is money well spent, as it can provide hours of entertainment. We've rounded up the ten best wooden play ...read more
New Victory Announces a New Season of Shows
We know you're busy planning picnics and summer outings, but we wanted to let you know that The New Victory just announced their new season and it looks fantastic. We thought you'd like a sneak peek of what's in store! Each year the New Vic theater brings culture to tourists and ...read more
You want books to be easy to see and easy for little hands to grab so think beyond a traditional book shelf. I love these options that make books like eye-catching and put them at eye level. Putting a book rail or newspaper racks makes book covers easy to see and doesn't take up much space while a DIY book bin (#2 is made from an old drawer with added legs) lets kids flip through books easily to find the perfect read. And in addition to all the other multitude of uses for the IKEA Raskog Cart, it also makes a perfect, movable bookshelf. [Sources - 1, 2, 3, 4]
Good (Or Creative) Lighting
Natural lighting is great, but if your reading nook location doesn't have windows nearby, provide fun and functional reading light with bendable clip-on book light that can clip onto a variety of surfaces, a fun chandelier, or repurposed holiday lights or bigger hanging bulbs to make a reading corner feel extra special. You can even pick up a special light that clip directly onto books for avid reader. [Sources - 1, 2, 3, 4]
Have a reading nook? How did you create a special spot to read?
MORE KID-CENTRIC FUN FROM MOMTRENDS
PIN IT!
Need more ideas on what to do with the kids? Be sure to follow our Activities to Do with the Kids board on Pinterest here.
Momtrends was not paid for this post. Affiliate links included.