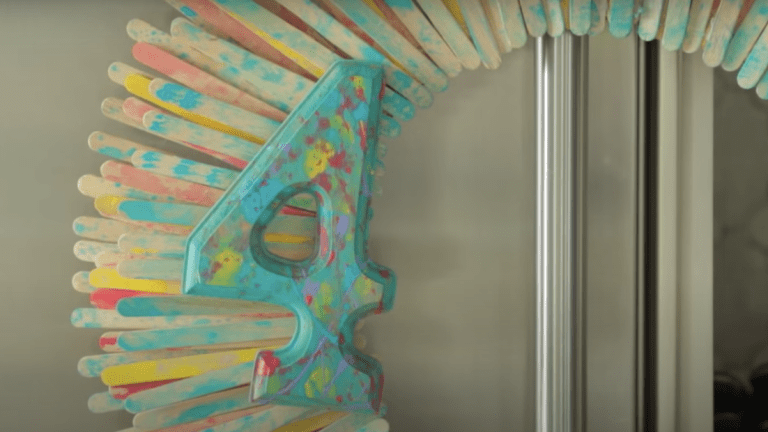 Happy 4th of July, Crafters! Here's a wreath that will leave your door sparkling. I love all things red, white, and blue for this holiday, but sometimes it can get a little overdone.
Related: Recipe for Fireworks Popsicles
4th of July Firework Wreath Materials List
Here's what you need to make something more colorful that will make a bold statement at your parties:
Popsicle sticks (about 400--- a pack of 100 goes for $1!)
Paintbrushes
Paints
Wreath base
Hot glue
Ribbon

Save Money at a Ski Swap
Are the slopes in your future? If you want to save money on ski gear, consider a ski swap. A swap is a great way to buy and sell used equipment. Most swaps consist of a variety of gear, from brand new to used skis and snowboards to skis; from poles to boots to bindings and ...read more
The Ten Best Wooden Play Kitchens For Kids
Cooking is a timeless fascination for children. This type of play goes beyond gender and teaches kids loads of life skills along the way. An investment in a play kitchen is money well spent, as it can provide hours of entertainment. We've rounded up the ten best wooden play ...read more
New Victory Announces a New Season of Shows
We know you're busy planning picnics and summer outings, but we wanted to let you know that The New Victory just announced their new season and it looks fantastic. We thought you'd like a sneak peek of what's in store! Each year the New Vic theater brings culture to tourists and ...read more
I added a wooden "4" I picked up at the dollar store but you can get creative and leave yours blank or add a monogram!
Check out my video tutorial on how to make this festive firework wreath for your weekend celebrations!
 4th of July Firework Wreath Instructions
It's a craft that will keep the kiddos busy for hours!
MORE 4TH OF JULY IDEAS FROM MOMTRENDS
PIN IT!
Use Pinterest to save your favorite ideas for summer fun. Be sure to follow our 4th-of-July board for more inspiration.