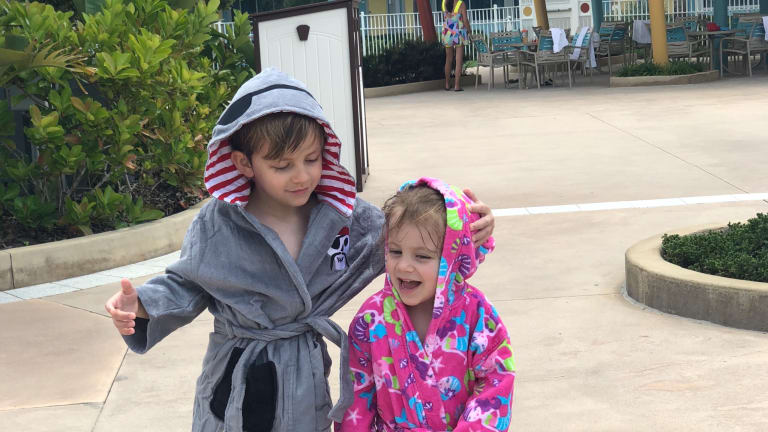 You know what's funny about little kids? They don't feel the cold. The water temperature could be 50-degrees; when they're swimming around in a pool, they couldn't care less--purple lips and all.
Of course, once they climb out and their little bodies are exposed to the air, it's a totally different story. Let the whining and crying and chattering teeth begin! 
Naturally, I snuggle them up in oversized towels. Still, they're miserable once they have to emerge from their cotton cocoons. But I recently had the "brilliant" idea to bring their robes with me to the pool, and the complaining was miraculously cut in half. With ample coverage and sleeves they were instantly cozier and warmer. 

Save Money at a Ski Swap
Are the slopes in your future? If you want to save money on ski gear, consider a ski swap. A swap is a great way to buy and sell used equipment. Most swaps consist of a variety of gear, from brand new to used skis and snowboards to skis; from poles to boots to bindings and ...read more
The Ten Best Wooden Play Kitchens For Kids
Cooking is a timeless fascination for children. This type of play goes beyond gender and teaches kids loads of life skills along the way. An investment in a play kitchen is money well spent, as it can provide hours of entertainment. We've rounded up the ten best wooden play ...read more
New Victory Announces a New Season of Shows
We know you're busy planning picnics and summer outings, but we wanted to let you know that The New Victory just announced their new season and it looks fantastic. We thought you'd like a sneak peek of what's in store! Each year the New Vic theater brings culture to tourists and ...read more
That's when I decided to put their regular robes back in the bathroom, and get new ones just for he pool, beach, and water park. It's a must-have in my summer mom bag now, and I couldn't recommend more. In fact, I've rounded up a few fun and functional pool robes to keep kiddos cozy wherever your summer plans may take you.
1. Dreamowl Dinosaur Robe, $30 / 2. Nautica Pirate Robe, $16/ 3. Kidorable Mermaid Hodded Towel, $35/ 4. Belifecos Unicorn Robe, $20
This is not a sponsored post. It contains affiliate links.