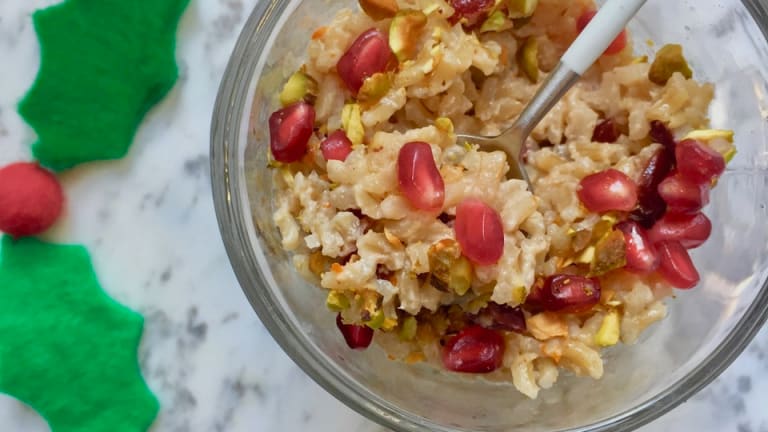 Cook Up Some Quality Time Together
Get Your Kiddos in the Kitchen
A recent survey found over 90% of parents believe it's important for their kids to cook, but only 1/3 actually get cookin' in the ktichen with their kids on a weekly basis. Furthermore, 75% of parents in North America feel that cooking with their kids is important because it gives the family the opportunity to spend time together. Still, making time for that family activity is not easy task.
With the holidays almost here, now is the perfect opportunity for parents to spend time with their kids, creating delicious and healthy holiday-inspired meals.
In the spirit of seasonal sharing, NY Times best-selling author, RDN, and Mom, Frances Largeman-Roth, gave us her top tips to promote child participation and help families make healthy holiday meals together.
How can you get kids involved in the kitchen from the earliest days of toddlerhood? 
There are so many ways to get even the littlest ones involved in the kitchen! Kids ages two to three can help mix batter for pancakes and add ingredients to any recipe with adult supervision. We have a small craft table and I use that when I'm cooking with my 3 year-old, Phoebe. But if you have a sturdy step stool, that can work to get little kids to the height of a kitchen counter. Toddlers can also help set the table (save the steak knives for another time) and are great at rolling out dough. You may want to keep the dough in between two pieces of wax paper or plastic wrap to minimize the mess.
What are some favorite healthy holiday dishes to make together?
Rice pudding is such a warm, comforting dish. And my spin on it makes it super fast and healthy to make. My Holiday Rice Pudding (recipe below!) is made with Uncle Ben's Ready Rice Whole Grain Brown Rice, plus milk and all those wonderful holiday flavors, including cinnamon, vanilla and maple syrup. Kids can help make the pudding, and also top it with pomegranate seeds and chopped pistachios, which add color, texture and added nutrients to the dish. 
How can parents carve out quality family cooking time during the go-go-go of the school and work week--especially during the holiday season?
It can definitely be a challenge to fit that cooking time in when there's so much going on. I actually schedule it in on my calendar to make sure that the weekends aren't entirely taken up by parties and errands. Then I ask my kids what they'd like to make or what ingredients they'd like to use, and we find recipes based on their preferences. I usually do the prep work for a recipe in advance so that my kids and I can just focus on the fun part of the cooking process. For them, that's adding ingredients, garnishing and decorating, and of course, eating!
Ingredients
· 1 tablespoon unsalted butter
· 2 (8.8 ounce) pouches UNCLE BEN'S READY RICE Whole Grain Brown
· 1 cup whole milk
· 1 teaspoon pure vanilla extract
· ½ teaspoon ground cinnamon
· Zest of an orange
· ½ cup sweetened dried cranberries
· ¼ cup pure maple syrup
· 2 tablespoons pomegranate seeds
· 2 tablespoons shelled pistachios, chopped
INSTRUCTIONS
1. Melt butter in a medium saucepan over medium heat.
2. Stir in the rice; break up any clumps with a spatula.
3. Stir in the milk, vanilla, cinnamon, and orange zest and heat over medium for 5 minutes.
4. Add the cranberries and maple syrup and bring to a simmer.
5. Cover, lower heat, and cook for 5-6 minutes, until most of the liquid is absorbed.
6. Spoon 2/3 cup of the rice pudding into each of 6 dessert cups or small bowls.
7. Top each with 1 teaspoon pomegranate seeds and 1 teaspoon chopped pistachios.
8. Serve while warm.
This is not a sponsored post. Recipe and dish photo c/o Frances Largeman-Roth, RDN, mom of 3, nutrition expert, and cookbook author. If you would like to link to her website, the address is http://www.franceslargemanroth.com/.