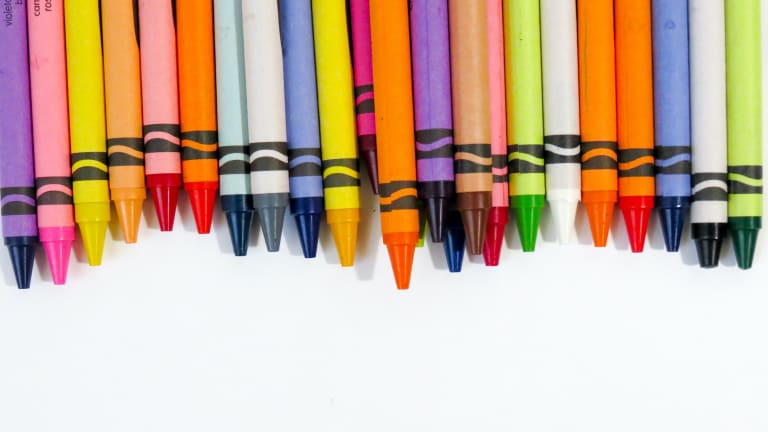 National Coloring-Book Day: 6 Ways to Get Your Creative Fix
For National Coloring Book Day we're honoring our favorite artistic pastime by sharing five different ways you can celebrate.
I'm not one for meditation. I've tried, but I always find my mind wandering—mentally checking off items to my daily to-do list or reliving a conversation I had earlier that day. I have a hard time turning my brain off when I sit still. Counter-intuitive as it may sound, I need to keep my hands busy and my eyes open and focused on something in order to truly tune out and calm down.
Related: Celebrate National Crayon Day
Why We Love Coloring
And that's why I've really taken a liking to the adult coloring-book trend. I can easily express myself without overthinking. It's intuitive, it's relaxing, and it's so totally entertaining. In fact, before these now-popular "grownup" books became a "thing," I would buy myself a Frozen or Barbie coloring book at the drug store, or steal a page out of my son's Thomas the Train book (when he wasn't looking, of course!).
That's why, when I found this New York City coloring book, I had to have it. My four-year-old son and I recently had a mommy-and-me play date in the Big Apple, and now he's obsessed with all things Manhattan. There are pages with less detail—perfect for a young child, and others with lots of intricacies for more experienced artists. So we do some pages together. Other times, I can get my zen fix when I need a moment for myself.
Celebrate National Coloring Day
Tomorrow, August 2, is National Coloring Book Day, and we're honoring our favorite artistic pastime by sharing five different ways you can celebrate. Enjoy!
1: Treat Your Kids to Fresh Crayons: Guess what? Crayons don't have to look like crayons. These gem-shaped crayons are a charming, whimsical, and playful option for kids of all ages. Plus, they're easy to grip and control for little ones struggling with their fine motor skills.
2. Treat Yourself to Fresh Crayons: These amazing crayon sticks combine the boldness of oil pastels with the peeling functionality of a carpenter's pencil. They're made to unravel one layer at a time, and leave a glossy finish on coloring books and sketchpads.
3: Get Yourself a New Coloring Book: This exquisite "Secret Garden" coloring book is embellished with gold foil details, and filled with 96 pages of intricate, unique designs for your coloring pleasure.
4. Create-Your-Own Rainbow Crayon Patties: We made these recycled rainbow crayon patties for Earth's Day a few months ago. They're super simple and totally impressive. Just take broken and scrap crayon pieces and bake them in an aluminum muffin tip to give them new life and multi-colored vibrancy.
5. Donate Your Crayons: Did you know that you can donate old, broken crayons (or money, for that matter) to The Crayon Initiative? This incredible organization melts down collected crayons and re-manufactures them. They're then donated to art programs at children's hospitals across the United States. The Crayon Initiative helps eliminate waste (every year more than a half-a-million pounds of crayons are dumped into landfills!) and serves local communities around the country. That's a win-win right there.
6. Read a Book Together: Crayons have feelings too. That's why the crayons in The Day the Crayons Quit have gone on strike. They're disgruntled in their jobs--coloring in all those bodies of water takes a lot work for poor Blue; and Orange and Yellow are constantly quarreling over which is the true color of the sun. Young Duncan just wants to color--how can he convince his team of coloring tools to come back to work?!
MORE KID-CENTRIC FUN FROM MOMTRENDS
PIN IT!
Need more ideas on what to do with the kids? Be sure to follow our Activities to Do with the Kids board on Pinterest here.
This is not a sponsored post. It may contain affiliate links. All opinions are our own.