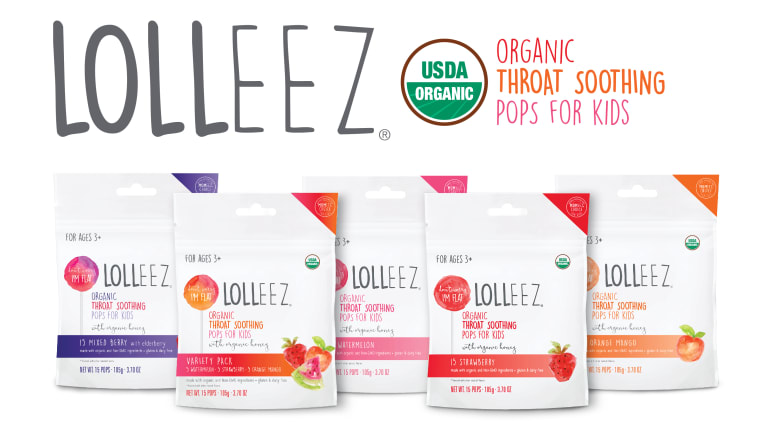 Seven Small But Important Things To Know About Cold And Flu Relief
Fighting the cold and flu this season with mom-friendly Lolleez
It is tough to get through winter without getting a cold. We are amping up our vitamins, green foods, and getting as much rest as possible, but darn it if the girls STILL don't bring home colds! This week we had to do battle while I was hosting my parents for a weekend. Here are some of our favorite tools to fight the cold and flu this season. I've turned it into a mom-solutions post with seven small, but important, things to know about cold and flu relief.
What to do when a Cold Happens
Friends, it's the peak period for cold & flu season. Last month I got everyone in the family flu shots, but that doesn't mean we don't get colds. So wouldn't you know it, a week later my daughter came home from school for the weekend with a sore throat and stuffy head. 
We were set to host my parents in from Maryland and my daughter and I signed up to run a 5k race. I was ready to cancel all the plans, but thanks to a pit of prep, we got her feeling well enough to enjoy the weekend.
The key is using your good mom judgement on how much to do and how to treat the symptoms.
Stocking up the House for Cold and Flu Relief
Momeez Choice has a terrific line of products to help when your family gets sick. This week we tested the  Lolleez product line. Lolleez are made by a mom for kids.
When it comes to medicine, we don't keep much on hand in our house. I'm more apt to rely on rest and common sense to get the family on the path to wellness. One thing we do stock up on is Lolleez. These pops are a must-have essential for the cold & flu season.
Melissa Evans, is the Founder of Lolleez and she's also a mom of four. When she couldn't find anything that she felt comfortable giving her kids without worrying, she got frustrated. 
Then she put her mom boss hat on and started the Momeez Choice brand. Her company makes Lolleez Organic Throat Soothing Pops for Kids. They are a fun, delicious and effective way to make everyone's sick day a little "eezier."
What's Different About Lolleez products
Lolleez are organic throat soothing lollipops for kids and my cold & flu season essential. Lolleez are made from USDA Certified Organic ingredients and ingredients you can pronounce and understand, like organic honey and natural fruit pectin. They are also Non-GMO as well as gluten, dairy and nut free. And unlike other brands that come in ball form, Lolleez are made in a worry-free shape that are flat and on a stick. 
Seven Small But Important Things to Know About Cold & Flu Relief
Wash Hands. Stop the spread of germs being carried in from the outside. Wash hands & travel with hand sanitizer
Prevent the Flu. Get everyone in the family a flu shot early in the season. 
Make rest a priority. Especially after daylight savings, make sure your kids are heeding bedtimes.
Eat better. Boost your immunity this winter by giving your kids foods rich in antioxidants zinc and vitamin C.

Disinfect dirtiest areas. What are the germiest areas of your home? Doorknobs, sink faucets and toilet seats and handles, for the most part.
Have a Sick Day Plan. Get ready for your kids to be home from school at least one or two days this winter. Have a few puzzles ready and a stock up on tissues when they go on sale.
Stock Up. Keep soothing essentials on hand for when the kids do get sick.
Unfortunately there isn't much you can do to get a smile from a child with a sore throat during cold & flu season. But now there is relief for when they do get sick.
My daughter rebounded pretty quickly, and after one quiet day at home, she was able to run her best 5k yet!
Where to Get Lolleez
Lolleez comes in three delicious kid (and adult) friendly flavors -- Watermelon, Strawberry and Orange Mango -- and are available at CVS, Target, Walgreens, Kroger and on Amazon. 
Lolleez newest flavor, Mixed Berry with Elderberry, is available exclusively at Walgreens.
They also make products that are perfect for upset tummies. Try Tumeez the next time your kiddo has an upset stomach.
More Wellness from Momtrends
Pin it!
Use pinterest to save your favorite wellness tips.
This Seven Small But Important Things To Know About Cold And Flu Relief is sponsored by Lolleez.