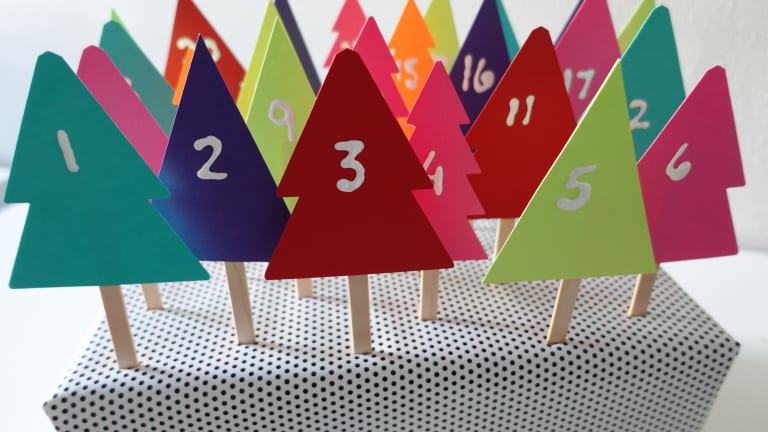 Christmas Countdown Craft with Family Activities
This craft will help your kids celebrate each day of the season in simple, joyful ways.
Are you looking to get into the holiday spirit without shopping? This creative craft not only uses recycled materials, it also taps into the simpler joys of the season. We've got a Christmas Countdown Craft that will help your kids celebrate each day of the season.
Related: Make a cardboard Christmas tree
The idea behind this craft is to make the anticipation of Christmas sweet. It's a way to slow time down a bit and make the most of each day.
To help on this project, we enlisted master crafter Karimah Henry from the site craftingafunlife.com. I love that this project starts with creating a holiday bucket list. It's really a two-part operation. Part one involves making a list of what you want to do this holiday season, and part two is the crafting. 
Christmas Countdown Craft Supplies
Here's the supply list, many of these items are likely on hand, when we can, we link to Amazon supplies (using an Amazon Affiliate link)
Christmas Countdown Craft Directions
First, cut 24 or 25 triangles out of the cardstock. You can use a ruler and pencil to draw the triangles or a cutting machine. I suggest creating different sizes, shapes and colors for the trees.
Next, write a family activity on one side of the trees. We've listed a month's worth of ideas below. Pick from your favorites. Then use white 3D or puffy paint to write a number on the opposite side. Set aside to dry. An easier way to number the trees especially with smaller children is to use number stickers.
While the puffy paint is drying, tape your box together then cover with wrapping paper. I suggest using a solid color or one with minimum decorations.
Use a craft knife to cut slits in the top of the box to fit the craft sticks.
Finally, use tape or glue to attach the trees to the craft sticks. Now insert them inside of the slits in the box to create your Christmas countdown.
Family Activities for your Christmas Countdown
Decorate your Christmas Tree
Make Christmas Cards
Write Letters to Santa
Bake Cookies
Donate Used Toys
Take Pictures with Santa
Make Hot Chocolate
Have a Marshmallow Fight
Take Pictures in Christmas Pajamas
Go Ice Skating
Watch Favorite Christmas Movie
Decorate a Gingerbread House
Have a Dance Party
Build a Snowman
Make DIY Ornaments
Read your Favorite Christmas Book
Have a Game Night
Check out Christmas Lights
Go Sledding
Donate to a Local Food Bank
Wear Ugly Christmas Sweater
Random Act of Kindness
Support a Small Business
Make Paper Snowflakes
Take Cards to Local Nursing Home
Deliver Treats to Neighbors or Friends
Donate School Supplies to a Teacher
Attend a Holiday Play
Make S'mores
Volunteer at a Local Shelter
We hope this craft helps you get into the spirit of the season. Find your merry wherever you can.
For all the crafts we share, we invite you to make them your own. We made our tree green, you can feel free to be embrace all your favorite colors. I think a pink or white tree would be fabulous.
MORE HOLIDAYS FROM MOMTRENDS
PIN IT!
Use Pinterest to save your favorite gift ideas. Be sure to follow our Holiday Recipes and Crafts board here.
Momtrends was not paid for this post.