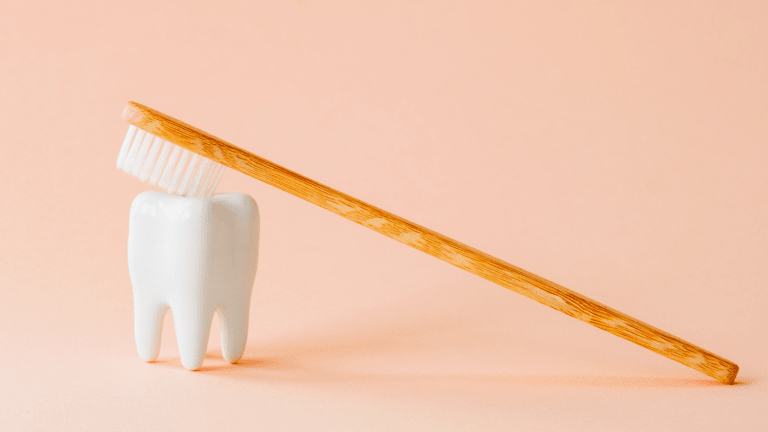 February Is National Children's Dental Health Month
Keep those pearly whites in good condition with four guidelines from the professionals.
If you're a mama, you know how excited the kiddos are when they leave a fresh tooth tucked under the pillow for the tooth fairy to find. We all want to make the tooth fairy happy and keep our smiles bright, and the best way to do this is to establish a healthy dental routine at a young age. I know many parents feel that there's no pressure to take care of "baby" teeth as they will be replaced by permanent teeth anyway, but the reality is more than 16 million children suffer from oral disease and pain. How they take care of their teeth, and gums impacts their overall oral health hygiene. 
February is National Children's Dental Health Month; join us as we support the American Dental Association in celebrating healthy smiles everywhere! 
Related: 7 tips to prioritize your familys eye health
February is National Children's Dental Health Month; join us as we support the American Dental Association in celebrating healthy smiles everywhere! 
Did you know? 
Kids need strong, healthy baby teeth to chew their food, speak and have a good-looking smile. Baby teeth also keep a space in the jaw for permanent teeth. If a baby tooth is lost too early, the permanent tooth beside it may drift into the empty space. When it's time for the other permanent teeth to come in, there may not be enough room. This can make the teeth crooked or crowded. Starting your babies off with good oral care can help protect their teeth for life.
Daily Dental Routine
Parents, the American Dental Association encourages you to establish a daily routine that includes:  
1. Brushing together for two minutes, twice a day.  For babies, begin cleaning your baby's mouth during the first few days after birth. After every feeding, wipe your baby's gums with a clean gauze pad. This removes plaque and food, and helps your baby become used to having his or her gums and teeth cleaned – and it will make tooth brushing easier later on.  Once your child's teeth start to come into the mouth, brush using a children's (soft!) toothbrush and fluoride toothpaste in an amount no more than the size of a grain of rice. As your child's mouth grows, adjust the size of the toothbrush and keep in mind the recommended amount (and type) of toothpaste.  Replace toothbrushes every three to four months, sooner if the bristles are worn out or if your children have been sick.
2. Floss together every evening. As soon as your child has two teeth together, flossing should begin. 
Break off about 18 inches of floss (the length from a fingertip to your elbow) and use it to floss younger kids' teeth, or teach older kids how to do it themselves.
Wind most of the floss around a middle finger. Wind the remaining floss around the same finger of the opposite hand. This finger will wrap up the used floss as it becomes dirty.
Make sure your child holds the floss tightly between their thumbs and forefingers.
They should guide the floss between their teeth using a gentle rubbing motion.
Then they should curve the floss into a C shape as it gets closer to their gum and gently slide it into the space between the gum and the tooth.
They should hold the floss tightly against the tooth, and gently rub the side of the tooth, moving the floss or flosser away from the gum with up and down motions.
Repeat this process for each and every tooth.
3. Schedule a dental checkup for your kids every six months. (We started at age 2.5 with our older children (OOPS!) but brought our youngest right after her first birthday. That's when the ADA recommends the first visit.
Getting your kids' teeth cleaned regularly is a great opportunity for them to learn the best way to take care of their teeth.
Regular teeth cleanings can help prevent gum disease, which can cause the loss of kids' permanent teeth.
Teeth cleanings remove tartar. Tartar makes it hard to clean teeth.
Cleanings get rid of stains that can't be removed with brushing and flossing.
The Partnership for Healthy Mouths, Healthy Lives recommends taking your kids to see a dentist no later than their first birthday. 
 4. Use fluoride: Fluoride is recommended because it helps make your kids' teeth stronger, which helps prevent decay. It also stops early stage tooth decay. Brushing with fluoride toothpaste gets the fluoride right onto the surface of teeth. When fluoride is on teeth, it helps strengthen teeth enamel. Also, teeth get fluoride from water that's been fluoridated, other beverages and some foods, which also helps make tooth enamel stronger. 
If you child has an accident or needs emergency dental care, you can find useful tips and helpful information on Dental Emergencies by clicking the link. 
MORE FEATURES ON FEMALE HEALTH FROM MOMTRENDS
PIN IT!
Use Pinterest to save your favorite ideas from Momtrends. Be sure to follow our Fitness and health board here.
This is not a sponsored post.