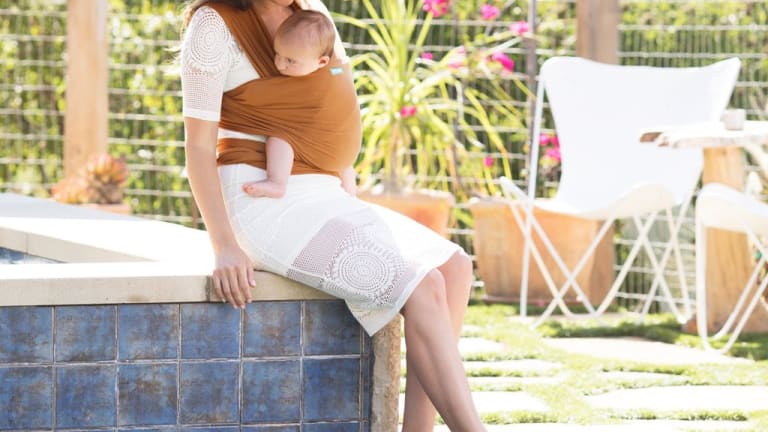 Checking out the New Moby Baby Carriers
New products from the brand that knows the importance of keeping babies close, calm, and happy.
I have been a huge fan of the Moby Wrap for all three of my kids because they were all born relatively on the small size and I just felt it held them the best during the newborn phase.
Related: Check out the future of stylish baby gear
Checking out the New Moby Baby Carriers
I was excited to hear that the makers of the Moby Wrap have come out with the Moby GO, a convenient, easy to use carrier for babies weighing at least 15 pounds. This is ideal for children who have excellent head and neck control since the design of the GO holds your little one in a developmentally appropriate, ergonomic position that keeps them close and comfortable.
Just like the comfortable Moby Wrap, the Moby GO has wide shoulder straps to evenly distribute baby's weight across the wearer's entire back, shoulders and waist. The Moby GO has a unique cross-shoulder design making buckling the sides easy. 
The waist belt features dual foam: a rigid side for support and a cushier side next to the wearer. Baby's growing body is supported by the contoured carrier seat of the GO. The wide, crossing shoulder straps provide comfort for the wearer, while the dual foam waist belt transfers your child's weight from your back to your hips. The Moby GO fits wearers of all heights and weights, comfortably.
The GO is offered in three color choices: Gray, Black and Barberry print, and retails for $79.95. For more information visit www.mobywrap.com
More of Our Favorite Finds for Moms
PIN IT!
Be sure to save your favorite gear for baby on Pinterest. Please follow our Gear for baby and kid board here.
Momtrends was not compensated for this post but did receive a sample.