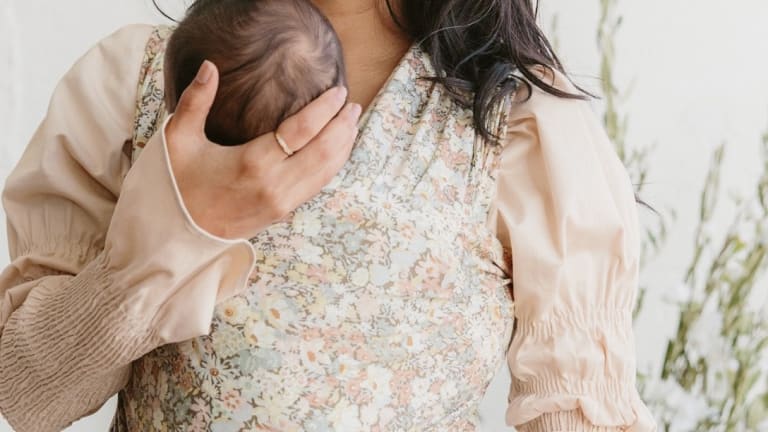 Check out the future of stylish baby gear
Solly Baby wraps are elegant and simple and made to support parents though the incredible first years.
Here at Momtrends we are always looking for the latest and greatest gear to make motherhood even more awesome. I'm never one to advocate "more stuff" as a solution, instead, I think we can all do a bit of research to get better stuff. That's where Solly Baby comes in. 
Exclusive Momtrends Discount: use code MOMTRENDS, for 15% off your Solly Baby order.
Check out the future of stylish baby gear
I've seen the future of baby gear and it looks fantastic.
The future looks like clean lines, simple fabrics and designs that are made to last and serve. The future looks like a wrap a mom can wear for hours that offers her the ability to move freely and engage in the world while wearing her baby safely and securely.
Baby gear can be daunting. Too much of it and you feel overwhelmed. Too little and you feel unsupported. Solly Baby knows that new parents need a helping hand.
Less is more.
Solly Baby wraps are meant to offer freedom AND connection in a simple, elegant design that is timeless.
The Roots of Solly Baby
It's no shocker that Solly Baby was started by a mom. Mom Founder, Elle had a colicky baby and decided to whip something up on her sewing machine that could sooth her son. The wrap was a hit and a reluctant CEO was born.
A decade later, Solly Baby is beloved by parents around the globe for its signature breathable and buttery-soft Wrap. Over the years, Elle has added to her family with three more kids, but stayed true to her roots of making thoughtful, simple designs made with love. Solly Baby offers the coziest babywearing experience, each wrap is made of 100% certified Lenzing Modal and manufactured right here in the USA.
Less Crying and More Connection

The latest creation from Solly Baby is a  next-step carrier called the Loop. This carrier is designed for extended wear for babies from 15-45 pounds, and is made from 100% GOTS Certified Organic Cotton. This new carrier is suitable for use from birth up to three years old making it a great registry gift. There are two options with the carrier: wear baby on your front close to your heart or switch to a back-carry position with one simple movement.
Moms and dads will be thrilled that Solly Baby has their back. 
Literally. 
The ergonomic carrier offers maximum comfort for parent and baby, supporting the child's head, back and hips.
Once you pick your perfect wrap, you'll quickly be a convert. But I know the early days can be a challenge. The Solly Baby team has loaded up their website and social media with babywearing inspiration and instruction. They offer getting started videos, as well as acceptance into a parenting community that is welcoming and supportive..
Solly Baby is Invested in Your Family's Happiness
I love the promise of Solly Baby: if your experience isn't bringing you and baby closer together, they are there to help. At Solly Baby, they believe in doing small things with great love —they're honored to create products that help caregivers find closeness and confidence. The team at Solly Baby will support you as you find the perfect way to add these products to your life.
Since the start 10 years ago, the team at Solly Baby has been a family-owned company. They've expanded the collection to include sleepers, swaddles, crib sheets and more, all made from the same buttery Lenzing Modal. I can't wait for you to explore their website.
Head to SollyBaby.com to find the perfect baby gear for your family. Exclusive Momtrends Discount: use code MOMTRENDS, for 15% off your Solly Baby order.
This is a sponsored post.