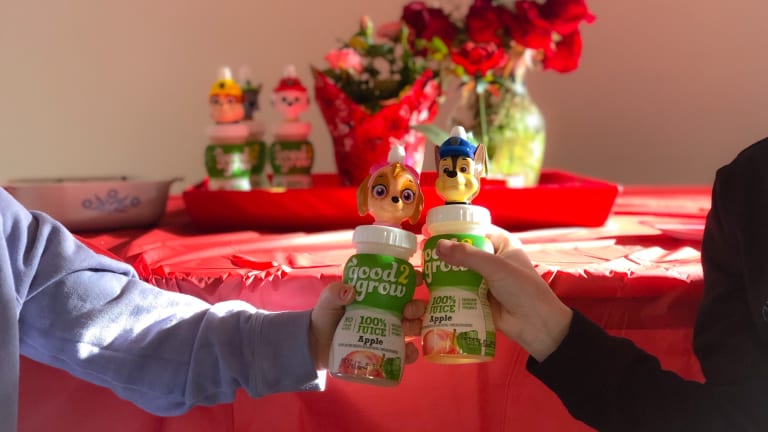 Celebrate Your Love and Reconnect with good2grow
I want to show my love for these nuggets every day. Of course, after almost a year of being pretty much confined to our house together 24/7, I'm not always the picture of a perfect mom. Not by a long shot. Sometimes, I have to do all I can to speak to them with an even tone and maintain any semblance of calm, cool, and collected.
Indeed, we can all acknowledge that parenting hasn't exactly been easy these last few months. But, the truth is: being a kid hasn't been carefree either. Overnight, our children went from play dates to pandemics, teacher time to computer school, outings and adventures to homebound quarantines. I try to remember all of this when I feel the frustration building. I take a deep breath and come to terms with the truth that we are all struggling in our own ways -- kids and grownups, alike.
And this reality is why we need to celebrate our love more than ever -- to remind ourselves that family is everything. Even if we've spent every waking minute together; even if we feel like we haven't had a moment to ourselves -- because, despite this, in some ways we're more disconnected than ever. On our respective devices. Stuck in our exhausting routines. Trying to keep ourselves sane.
Typically, we don't make a big deal of Valentine's Day in our home. I'll usually get the kids a little treat, and we call it a day. But this Feb. 14, I'm going all out. Our family needs an excuse to have fun, to giggle, laugh, and let loose. We need to hug and kiss and feel the love.
We'll be spending a whole day together with pancakes and pizza and board games and back-to-back movies and couch cuddles and reading books and going for neighborhood walks and having impromptu dance parties and baking treats and enjoying every single precious moment. There will be cards and gifts and special treats. There won't be remote work or virtual learning or stressing about the little things that have been taking up too much brain space lately. We're just going to soak in the simplicity.
I gave my babes a little preview of what's to come this week after school. I set up a table with some snacks and we "toasted" to love while writing out our Valentine's Day cards to friends and classmates.
Of course, in our house, no joyous afternoon is complete without good2grow 100% apple juice. It's my kiddos' absolutely favorite drink. They love the tasty juice featuring their favorite characters, from Paw Patrol to Mickey Mouse to My Little Pony to Minions to Frozen to PJ Masks, Marvel and more. With good2grow, they can quench their thirst and feed their current character obsession with these fun and functional bottles with built-in no-spill tops. I, on the other hand, like that good2grow's juice has no added sugar, no artificial flavors or preservatives, and no GMOs. It's a delicious and good-for-them "treat" we can all feel good about.
This Valentine's Day, you can send a good2grow collector's pack to the minis you love. It's a sweet way to show you care and feel connected. Gather together and say "cheers" to the happy moments -- and the less than idyllic ones, too. Not every day is going to be all smiles and snuggles, but the love between you and your littles -- that's something that is always worth celebrating.
good2grow is now offering $4 off select Collector 6-packs through 2/14/21 so you can send a little love this Valentine's Day -- click HERE to go to Amazon. Bring Home a Valentine's Day smile with good2grow.
This post is sponsored by good2grow
Want more from Momtrends?
1. 10 Cute Valentine's Day Crafts