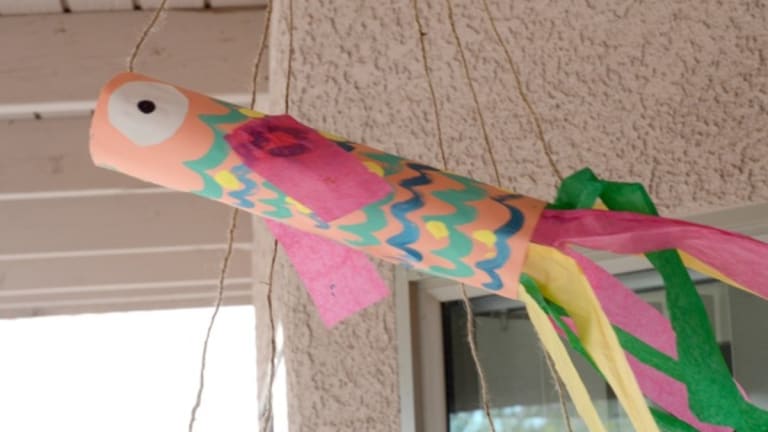 Celebrate With Kids Around The World: Japanese Children's Day
Did you know that Japan celebrates Children's Day on May 5th? We've got arts, crafts and cultural ideas to share with your family.
You probably already know that Mexico celebrates Cinco di Mayo on May 5th, but did you know that Japan celebrates Children's Day on May 5th? Learn more about this festive holiday and how Japanese families celebrate.
Related: Summer Camp Out Party
What:
Kodomo no hi, also known as Children's Day. Families celebrate the health, happiness and well being of their children on May 5th. Children are honored on this day.
When:
Children's Day is celebrated on May 5th. Up until 1948 this holiday used to be called Tango no sekku, Boy's Day (girls had their own day in March) but more recently both genders have been celebrated together instead of on separate days.
Where:
こどもの日, Kodomo no Hi is celebrated in Japan.
Children's Day is celebrated with koinobori (carp shaped kites), sweet rice cakes wrapped in oak leaves, displaying sumari dolls and taking baths in iris leaves.
Koinobori Kite Craft
The koinobori are carp shaped streamers or kites that are flown outside. The Japanese consider the spirit of the Carp to be the strongest fish. It shows great strength and courage overcoming obstacles in its journey up the waterfall. The legend goes that the brave carp that make it up the rapids will transform into dragons once they reach the top.
We made our own koinobori using construction paper, paint and tissue paper. Traditional koinobori are black representing the father, red representing the mother and smaller carps in different colors for the children. We threw tradition out the window on this craft and made our koinobori colorful instead, because it's just more fun that way.
Koinobori Kite Craft Instructions
Paint a design on our construction paper. 
Leaving the top 1/4 of the paper undecorated to be the head of our fish. 
Use the bottom of a cup to trace circles for the eyes on white construction paper. 
Cut and glue the eyes onto painted paper once they are dry.
Make tails cutting strips (about 1 inch wide and a maybe 6 inches long) out of colorful tissue paper. 
Use packing tape and measure the length of the fish on the short side. 
Create long fins (cut strips of tissue paper) on half of the tape and tape it to the backside of your fish.
Curl your fish into a tube shape and tape it together on the inside so it's hidden. 
Then cut some smaller strips of tissue paper to be the fins on the side and glued them on using school glue. 
Lastly, hot glue some twine into the mouth and tail of our fish.
Hang carp streamers outside on a hook 
On breezy days we love seeing our fish friend wave to us. This craft is colorful and creative and likely uses materials you already have at home.
What to Eat on Japanese Children's Day
Kashiwa-mochi is a sweet sticky treat that children traditionally eat on Children's Day. Mochi is a sweet rice cake formed around a red bean paste , wrapped in an oak leaf. The oak tree is strong so children eat this to symbolize strength.
(source)
Origami for Kids
Another fun way to celebrate Japan is through origami. Even though origami isn't traditionally celebrated on Children's Day, origami is a fun activity for older kids. We got a money-gami kit and my daughter and I enjoyed making several origami figures together.
The money-gami kit comes with a book of instructions (with pictures), and 50+ sheets of different play currencies to create your money-gami with.
Each figure was labeled in the book with whether or not it was a simple, intermediate or challenging level. We stuck to simple ones for her and I helped do some of the tricker folds on the intermediate and challenging figures.
The fish was one of the simplest ones. It was the first one we attempted and she was impressed that she could fold paper into an animal.
The first few figures we made were the fish, dress and frog. The frog was a little more challenging and I had to take over about half way through and help her refold some of the folds but once we got him completed, he was so cute! He really hops too! I thinkknow, the frog was her favorite.
My favorite was the duck. I just think he turned out so cute and stands up 3-D, which I liked.
We finished it off with a more complicated butterfly money-gami. The money-gami kit is great for older kids and we were surprised with how quickly our hour went by when we were learning these simple origami techniques.
 Books
If you're looking for some books for kids about Japan and Japanese culture check out our roundup of children's books that were inspired by our Children's Day celebration.
Japanese Words / A Carp for Kimiko / Japanese Celebrations / K is for Kabuki / Peach Boy / Suki's Kimono / I Live in Tokyo
More globally-inspired celebrations for kids from Momtrends:
PIN IT!
Use Pinterest to save your favorite family travel destinations to help inspire your next trip. Be sure to follow our Travel with Kids board here.