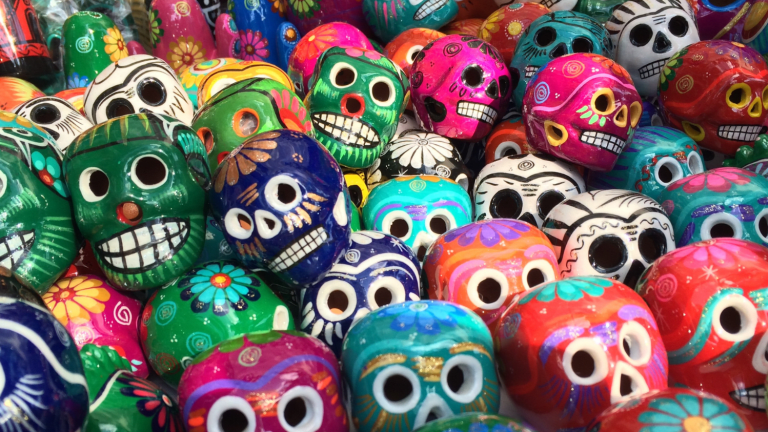 Celebrate with Kids Around the World: Dia de Muertos
Learn about how your family can celebrate Dia de Muertos and remember those who have passed in a joyous way.
Dia de Muertos is probably Mexico's most popular holiday. Dia De Muertos is also known as Day of the Dead. So you can guess what kind of party this is... A celebration of the dead. And it falls just after Halloween. As part of our ongoing Celebrate Kids Around the World series, we're going South of the Border to learn more about a different culture as we have fun with our families.
What is Dia de Muertos?
Dia de Muertos is a time to celebrate and remember those who have passed. It's a holiday to honor the dead with a joyous and festive celebration. Most people celebrate this as a loving holiday to stay connected to the unseen world. They adorn the graves of loved ones with flowers and offerings. But, there are some people that celebrate this holiday out of fear that their loved ones will seek revenge if they don't celebrate it. There is a lot of folklore and tradition surrounding Dia de Muertos. And there's even a Disney movie tie-in called Coco.
When is Dia de Muertos?
Dia de los Muertos is celebrated on Nov 1st and 2nd of each year. Day of the Dead is really the "days" of the dead, celebrating on All Saint's Day and All Soul's Day.
Where is Dia de Muertos celebrated?
Dia de Muertos is traditionally celebrated in the homes and graveyards in Mexico. Often times there are festivals and parades to celebrate Dia De Muertos.
Let's Celebrate Dia de Muertos!
You can choose to celebrate Dia de Muertos in several ways: Create an altar, tell stories about your deceased loved ones, or create sugar skulls. Many people paint their faces and attend festivals and parades in their area.
We celebrated Dia de Muertos by creating sugar skull masks. Sugar skulls are a type of folk art made for Dia de Muertos or Day of the Dead celebrations and represent a departed soul. They are made from sugar and then are adorned with intricate decorations. The ornamental skulls are placed on the home ofrenda or gravestone to honor the return of a particular spirit. The original sugar skulls are labor intensive and made in very small batches in the homes of sugar skull makers. Our version is an interpretation for families to honor this tradition.
Sugar Skull Masks Supplies
At my local craft store, I picked up
a three-pack of plastic masks
puffy paint
bunch of marigold-inspired flowers.
Sugar Skull Masks Directions
We used the puffy paint to create flower designs and other embellishments, like the traditional sugar skulls of Dia le Muertos, around the eyes. 
Add flowers with a hot glue gun.
Originally I thought I would glue several flowers on each mask, but I didn't want to take away from the designs so I ended up only adding one flower to the corner.
Many communities have an All Souls Parade the weekend after Halloween, and we can't wait to attend. Check your town news to see if there are any local festivities to join this year.
Books about Dia de Muertos
As you know we love themed books for kids and we've found some of the best Day of the Dead books to share with your kids. Note we earn commission from the purchase of these books.

Day of the Dead El Dia de los Muertos // Clatter Bash! // Sugar Skull Coloring Book // Rosita y Conchita // The Dead Family Diaz // Day of the Dead // Festival of Bones
Note: All books have Amazon commission links in them.
Movies about Dia de Muertos
Coco (2017) Disney, a boy who dreams of becoming a great musician embarks on a journey to uncover the mysteries behind his ancestor's stories and traditions.
The Book of Life (2014) It's inspired by the Dia de Muertos holiday. A young man embarks on a journey that spans three fantastical worlds in this incredible animated adventure from producer Guillermo del Toro and director Jorge Gutierrez.
This is not a sponsored post. All opinions are our own. This post contains affiliate links to Amazon.