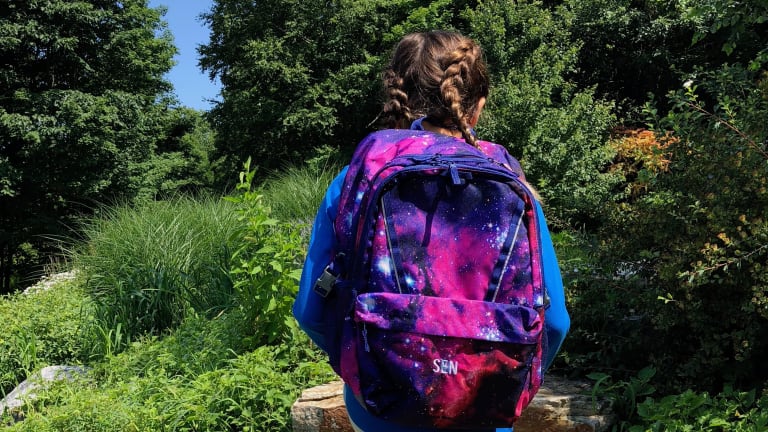 Celebrate Backpack Day with Lands' End
Save 50% on backpacks for back to school
Fun fact: more than half (55 percent) of kids will head back to class the last two weeks of August.  Here at Momtrends homebase we're gathering supplies and prepping. We're ready to celebrate Backpack Day with Lands' End today.  August 7th is the perfect time to discover and purchase the most important back to school necessity. 
There are two ways to join the fun: shop and get social! 
Celebrate Backpack Day with Lands' End
Today only, your family can get 50% off backpacks (and coordinating lunch boxes) with FREE SHIPPING.
How to Shop Lands' End Backpacks
Momtrends Tip: Get the kids involved. A few years ago I was silly enough to buy backpacks without consulting the girls. 
Big mistake. 
Before you confirm that order, get the kids involved in the selection process. My teenager wanted to keep things simple with a minty color and not much else. For my 5th grader, it was all about bold prints. That girl is NOT afraid to take a fashion risk!
I advise handing your phone or tablet over to the kids and let them scan the designs and then personalize your order together. Pick from initial, embroidery or initial + embroidery.
Back to School Trend Alert
Personalizing is definitely in. Lands' End can quickly and expertly get a monogram or name on your backpack. This will save all the end-of-day confusion in the school cubbies.
Momtrends tip: add an emojis. Have your kiddo add on a pirate crossbone, star, or favorite sport onto the backpack.  For just $6 for an initial, name or icon, you can add a LOT of personality to your backpacks. There are nearly 200 embroidery options (no poop emoji, I checked, whew!). After you select your backpack, simply click on the "MAKE IT PERSONAL" button. 
Lands' End Hosts #BackpackDay Twitter Event
Head to twitter tonight (Tuesday, August, 7th) to join the #BackpackDay Twitter Event. The event will be LIVE from  6 pm – 8 pm EST. The two-hour #BackpackDay Twitter Event will be full of tweets sharing advice from Lands' End to kick off the school year right. Plus you'll get a chance to win $100 gift cards.
Back to School Shopping with Lands' End
My girls are decidedly more involved in picking their clothes and gear this year. Thankfully, there's truly a backpack for everyone in the family. Lands' End offers an assortment of packs to pick from this season including: ClassMate®, TechPack, StudyHaul and Packable Cinch Sack collections. Even the pickiest pre-schooler will be able to find his or her ideal backpack. And while you're there, be sure to check out all the latest back to school trends. If my girls are any indication, the flip sequins are still going to be be trendy this year! 
Pin it!
This Celebrate Backpack Day with Lands' End feature is sponsored