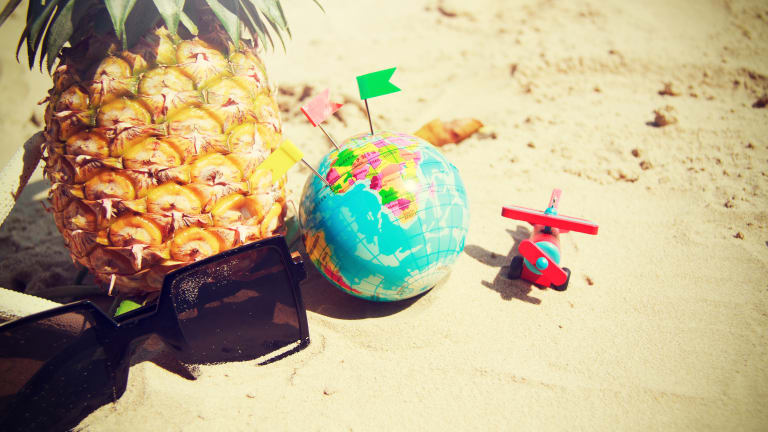 Car Seat Mama: Flying with kids and car seats
Travel essentials and tips for flying solo with toddlers.
Let me preface this by saying that I fly pretty often - 3-4 times a year with my 2 and 4 year olds. We are currently in Canada for a family reunion, and this is the first time I've travelled with help (my husband) since I've had 2 kids. Seriously. So, my system is done out of necessity. I cannot guarantee help at any point in the trip, so I need to be able to handle all of our luggage, seats, kids by myself. It's NOT pretty and I'm always a sweaty, smelly mess by the time we get to our destination (usually grandparents' house), but we get there in one piece with minimal meltdowns. And I DO IT BY MYSELF.
Related: Creative ways to preserve your family travel memories
Knowing that I fly often, I have two Sunshine Kids Radian XTSL (now Diono) seats. The Radians have been our primary seats at various points in time, but are now relegated specifically for travel. (Though this is mostly because my 4 year old is boycotting his as a daily seat, saying the foonf is much comfier). I put the Radians on Gogobabyz Travelmate wheels, and can wheel the kids from the airport drop off, thru security, and right onto the plane.
This particular trip is the first time my 4 year old has been free range in the airport, because my husband is with us to keep watch, and both of them have their own carryons this time. We also brought a Maclaren umbrella stroller for this trip. If I was traveling alone, I would not mess with the stroller. I simply don't have enough hands for that one.
In flight essentials for my 2 year old
Here's my 2 year old's carry on. Note his 'essentials' include a clean blankie and diapers/wipes. We stash everything in this Skip Hop bumble bee backpack, filled with entertainment for the airplane!
Momtrends Tip: 2 year old's should always be contained in an airport. Besides, it's FUN to ride in your carseat on wheels!
This is how we roll through the airport.
If I did NOT have extra hands with me (he's taking this picture), I'd have the 4 year old sit in his seat, and hang their backpacks over the wheel handles. 
Rule #1: ALWAYS have your hands free as much as humanly possible. 
I roll like this straight onto the plane. Radians are one of the few car seats sold in the US that can fit down the center aisle of your standard airliner. This trip I also learned they do NOT fit down the center aisle of a turbo prop. That just about made me cry.
Preparation is key
This is the back of my minivan (2006 Honda Odyssey) as we rolled up to the drop off lane at the airport. I had my husband drop us off and go park the car while we took the bags in and checked in. Do you really think it's a good idea to park in extended term parking and take a shuttle with 2 kids, 2 carseats and 3 suitcases? Me neither. Here I have the Travelmate wheels already attached to our Radians and ready to go. (They are not our daily driver seats anymore, and this is part of the reason why.)
Pull each carseat out of the car, and attach it to each suitcase. Kids sit in their seats, one in each arm, and I roll the whole shebang into the airport to check our bags. (FYI, international flights can't be curb checked, and you can't curb check when travelling with pets. Yes, I've done both.)
Nothing is worse than crazy running kiddos while you're trying to check in your bags. Sometimes my 2 year old screams because he wants out, but at least he's contained. Note here that I have their little backpacks clipped in with the carseat harness. That was smart on my part.
We finally get on the plane, and all of our carry-ons fit at our feet. Kid stuff is in kid bags, grownup stuff (and a change of clothes for everyone) is in my backpack. Mommy needed a Starbucks fix on the way to the gate. I don't have any smart solution for carrying that. It's honestly a pain. The Travelmate wheels DO need to come off the seats before they're installed on the airplane seat. I stow those in the overhead.
In flight and no one's screaming. I consider that a win.
MORE TRAVEL FROM MOMTRENDS
PIN IT!
Use Pinterest to save your favorite family travel articles, and be sure to follow our Travel with Kids board.