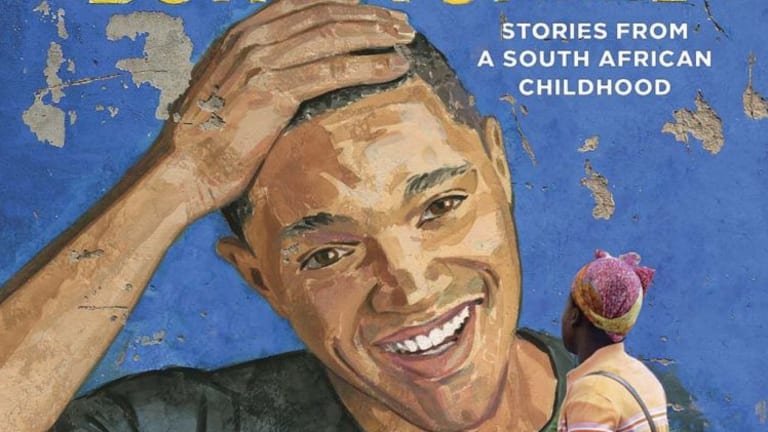 Born a Crime YA Book Review
Trevor Noah inspires a generation to look beyond skin color with Born a Crime
This summer my daughter and I read Trevor Noah's book. I'm sharing this Born a Crime YA book review to inspire more parent/child reading time. His best seller came out in paperback this year and is one of my top picks for teens.
Born a Crime YA Book Review
If his name seems familiar, it's because he's the man who adeptly took over from John Stewart at The Daily Show. His book came out in 2016.
After my daughter plowed through her required summer reading about the free climber Alex Honnold (Alone on a Wall), I gave her this. While she was at sleepaway camp I picked it up her copy and was barely able to put it down. I frequently laughed in public spaces and am completely charmed and inspired by Noah's life and writing.
It's a South African story, an apartheid story and an ode to his mother. Noah was born in South Africa in 1984 to a white Swiss/German father and a black South African mother. His mother moved from Soweto to Johannesburg in the 80's looking for a way to open new opportunities to herself.
Wisdom and Humor from Born a Crime
Noah walks us through his particular challenges of being "born a crime" -- which means he had mixed race parents. Kids will be surprised to learn this was still illegal in 1984 South Africa. Noah is classified as "colored" which had a few privileges (not many) and more complications since his mother was not from his same race.
Noah speaks seven languages English, Xhosa, Afrikaans, Zulu, Southern Sotho, Tswana, Tsonga and considering his situation has led a pretty charmed life. He narrowly escapes quite a few scrapes and compared to his friends, has more options than most.
Raised mostly by his mother, Noah was a naughty child who was attracted to trouble. His stories of ingenuity and petty crime are pretty endearing (if he's not your own child). I snorted out loud when Noah recounted his fear of Soweto's outhouses which led him to defecate indoors. His blind great grandmother got hold of the scent and swore the house was possessed by evil spirits.
Learning About Race in South Africa
Noah paints a clear picture of the limits for his black friends in Soweto (population: 1,271,628 with a density of 6,000+ inhabitants per square km. Soweto's population is predominantly black and all eleven of the country's official languages are spoken, and the main linguistic groups (in descending order of size) are Zulu, Sotho, Tswana, and Tsonga. I visited in 2003 and was awed at the informal structure and the vastness of the area.
For teens, the book will be an illuminated indoctrination to apartheid. Soweto was a white man's solution to taking land from blacks. The white-led government took the land away from blacks and moved them to less fertile land.
Noah's financial situation was always tenuous due to the limited job options for blacks. His mother did an admirable job of searching out schooling and neighborhoods that would be a positive influence on him, though Noah had his own ideas.
Thanks to a mother with the ability to scrape together cash and his education and his lighter skin, Noah eventually catapulted himself onto the national stage as a comic and TV host. 
His insight on how Soweto and other down-trodden areas function are illuminating. Crime was really the only option for many youths. Noah used his wit and quick feet to start a series of hustles that subsidized his youth and gave him independence. It wasn't until he was tossed in jail for one of his minor schemes that he had his epiphany that he needed to get out of Soweto.
I'm Officially A Groupie
Finding books that both young adults and parents can agree upon is no small task. My teen and I both are readers and it is a joy to me to share thoughts on books with her. I'm always suggesting things and she in return does me the same favor.
She's gifted me the experience of the Scythe series and the Divergent series. I have given her John Green and J.D. Salinger. This summer we are both into with Trevor Noah. Here's how you can get more:
Get the Born a Crime on Amazon here
Note: There is also a version adapted for younger readers. It's Trevor Noah: Born a Crime: Stories from a South African Childhood (. I haven't read this version. There is domestic and racial violence in the version I read. All of it was warranted. 
Find out more about the author Trevornoah.com
Follow him on Instagram and listen to his podcast
More YA books we love
Read the review of Turtles All the Way Down
As for grown-up books, I am knee-deep in Deep Work and just finished The Alice Network (click for review).
PIN IT!
Use pinterest to save your favorite books. be sure to follow our what to read board.
This Born a Crime YA Book Review feature is not sponsored.