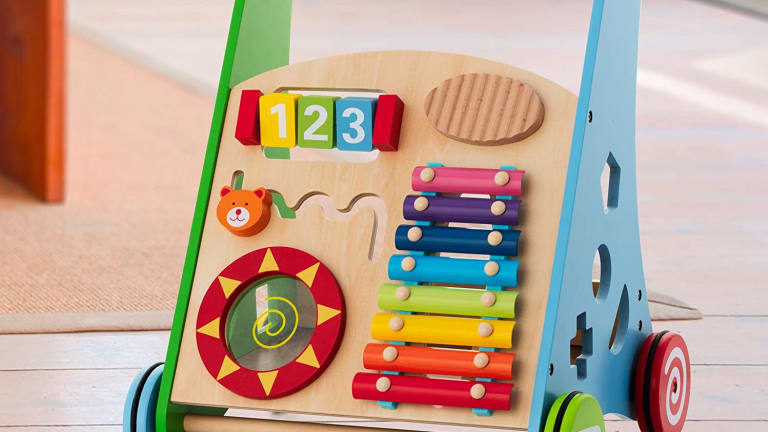 Momtrends MVP's: The Best Wooden Push Toys
Classic wooden push toys never go out of style and we shared some that would make great gifts for babies and toddlers.
No matter what time of year it is, it's always a good time to prepare for the holiday season. And that means shopping for holiday gifts. Classics like wooden push toys are  a hit and while you may want to pick up whatever the hot holiday toy is, you can never go wrong with rounding out your gifts with the kind of toys that stand the test of time!
And that is why today's Momtrends MVP'S post is all about wooden push toys. Wooden toys have been around for generation after generation for good reason! They're durable. They're the kind of toys that you can pass down to your kids' kids. 
No matter how many cool neon colored flashing lights the latest toys have to lure kids in, I promise that if you have the classics on hand, they will turn to them too. And the best part is, simple wooden toys like wooden push toys encourage imaginative play in a way that more complicated toys simply don't.
Why Wooden Toys Make Great Holiday Gifts
And that is why I love giving wooden toys as gifts, particularly holiday gifts. The holidays are filled with such nostalgia for many of us, so a toy that might have been around for the parents of the child you're shopping for is sure to be a hit with the whole family!
I wanted to mention it because I know many of us are already gearing up for the holiday shopping season. And even if you're reading this after the holidays are over, these wooden push toys would make a perfect birthday gift or even to tack on with a baby shower gift!
On that note, I rounded up a bunch of sweet wooden push toys, and even some wooden pull toys, for you to add to your holiday shopping lists. In fact, why don't we start with a classic wooden pull toy...
The Best Wooden Dog Pull-Toy
I had a wooden dog pull-toy. I bet you had a dog wooden pull-toy too when you were a kid. My little ones each had one as well. You don't get much more classic than this toy! It's old school at its best!
The version I love the most these days is Hape's Puppy Wooden Pull-Toy because it is such a cool design. 
Not only can kiddos pull it to work on their fine motor skills and dexterity, but they can also make this adorable pup sit, stand and roll too!
Get the Hape Puppy Wooden Pull-Toy on Amazon here (note: this is an Amazon Affiliate link)
The Best Wooden Activity Toy
Activity Centers are worth their weight in gold in my book. They kept both my kids so busy when they were toddlers. And you can't go wrong with a classic wooden activity center.
The Kiddery Toys Activity Toy is actually an activity toy and push toy in one! Us moms love multi-tasking anything am I right, haha?!
This super cool activity toy has a slew of features that your wee one can play with including beads, shapes sorting and even a musical instrument!
Get the Kiddery Toys Activity Toy on Amazon here. (note: this is an Amazon Affiliate link)
The Best Wooden Doll Stroller
My daughter started pushing around a baby stroller as soon as she could stand up on her little legs. 
A wooden doll stroller is the perfect holiday gift push toy if you ask me! labebe has one with a nice big basket that kiddos can use to cart around so much more than dolls!
And the design is focused on not only being a fun toy, but on ergonomics too, so it's made to keep baby's posture correct. Plus, it's nice and sturdy to help baby pull up from sitting to standing.
Get the labebe Push Walker Doll Stroller on Amazon here. (note: this is an Amazon Affiliate link)
The Best Wooden Lawn Mower Toy
Who remembers having a lawn mower push toy? I totally did! It was the bubble mower (note: this is an Amazon Affiliate link) actually. I still say every kid needs one even though it's plastic, bwah!
But I also really like Hape's Push and Pull Lawn Mower Toy. Per the theme here, it's wooden of course. 
Wooden blocks turn around as the child pushes the toy and imitate a lawn mower's engine. It's just too cute! And as is the case with Hape toys, the finish on each piece is non-toxic.
Get the Hape Push and Pull Lawn Mower Toy on Amazon here. (note: this is an Amazon Affiliate link)
The Best Wooden Blocks Pull Toy
This next pick is both a pull and a push toy. Oh and it's a stacking blocks toy too! This super sweet snail shaped toy can be pushed around like a toy car and pulled by a string. 
AND the rainbow pieces that fit inside can be used a stacking blocks. Open-ended play is such an important part of a child's development and this toy really encourages that. 
At under $15, it would make for a great toddler stocking stuffer! You might need a stocking with a really wide mouth, but I bet Santa could make it fit, bwah!
Get the Oessuf Wooden Push-Pull Toy on Amazon here. (note: this is an Amazon Affiliate link)
The Best Wooden Baby Walker and Toy Storage
This next toy might be the cutest toy I have EVER covered. If your nursery or toddler's room has a nautical theme like my son's did, you're going to want to save this...or go ahead and shop now, haha!
This push toy can be used as a walker and double as toy storage. Frankly, it's so adorable it works as decor too!
So, it can sit in a corner and house all kinds of toys or your kiddo can walk with it and push it around. What a great design!
Get the labebe Walker and Toy Chest on Amazon here. (note: this is an Amazon Affiliate link)
The Best Wooden Baby Walker Wagon
When you think about wagons, what brand comes to mind first? Radio Flyer right?! They have a bunch of wagons in their roster including a wooden baby walker wagon!
What I think makes this wagon/walker so special is that it has resistance clickers so your baby can't move too fast. It also has a big old furniture bumper on the front. Your furniture will thank you for this one, haha!
And like so many of these wooden toys, it can function as a toy chest as well. Are you picking up on why wooden push toys make such great gifts yet?!
Get the Radio Flyer Classic Walker Wagon on Amazon here. (note: this is an Amazon Affiliate link)
The Best Wooden Duck Push Toy
I keep saying that each toy is the cutest, but oh my goodness this little duck from Duck Runner. It is downright darling! 
Similar to the wooden dog push toy I mentioned earlier, this wooden duck can be pushed all around the house by your little one. And they will want to push it around everywhere because when they do, the ducks arms move around and around!
And just in case you were wondering, it's safe for hardwood, tile, linoleum...you know all the flooring! 
Get the Duck Runner Wooden Push Toy Duck on Amazon here. (note: this is an Amazon Affiliate link)
Well, I'd say that should give you a good start on you holiday shopping for the babies and toddlers in your life my friends!
And if you need more wooden toy ideas, check out our favorite wooden stacking toys and puzzles!
More of Our Favorite Momtrends MVP's Winners
Follow the Links Below:
Pin It!
Save your fave baby gear and ideas on Pinterest and follow along with our Gear for baby and kid board!
Momtrends MVP's is a non-sponsored series. Brands must meet our strict standards to be included. When naming winners we take several factors into account, including expense, convenience, and style.
We make our picks annually based on editors' research. In some instances, we may request and receive samples so that we can more thoroughly assess products. Our opinions are our own, and our goal is to help our community of moms make more informed decisions on everything from baby gear to beauty products to vacation destinations and more. We scour the abundant options and painstakingly hand-pick our favorites, so you don't have to. Our hope is that our most valuable players become your most valued purchases.