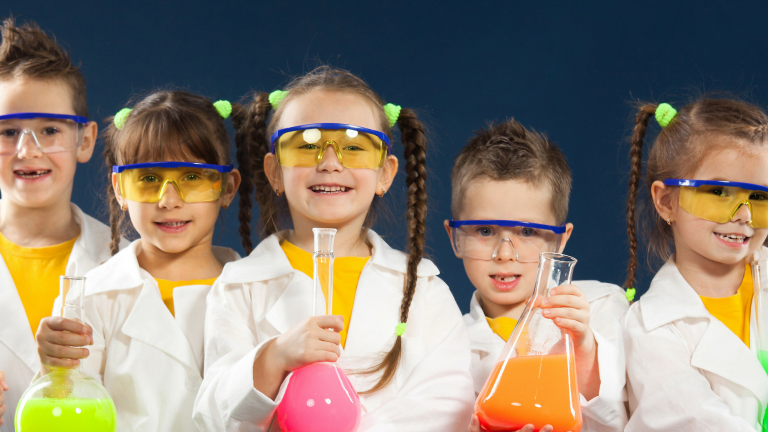 Three New STEM Toys We Are Loving Right Now
Inspire your little scientist with 3 new toy trends to spark minds and build a love of science and learning.
As an educator, I know one of the best ways to teach a child (or anyone!) is through hands-on experience. We want our children to be deep thinkers and to develop problem solving skills. In order to inspire a love of learning in our kids, we need to get them involved in their own learning. I have three new STEM toys that are hands-on, fun and educational. 
Related: Our favorite S.T.E.M. subscription boxes
Three New STEM Toys We Are Loving Right Now
We have brought you a few gardening tips as well as a ideas for making the perfect salad and now I found the perfect STEM toy to tie the two together. Our children have learned so much from being a part of our own garden, and I am always on the hunt for ways to continue to engage them. 
Composting Kit
The Nancy B's Science Club Compost Kit is one of the coolest ways to teach children all about garbage. The kiddos can learn a lot about the world around them when they study how things decompose. This compost kit and decomposition book will help children understand concepts like biodegradability, decomposition, and, of course, composting. You can even access Nancy B's Science Club and learn more about women in science! The kit contains everything you need to start your journey from Garbage to Gardens! 
Starter Telescope
We always teach our kids to reach for the stars, right? Well with the GeoSafariJr. Talking Telescope they really can. Build your little ones love for Astronomy right from the start. Not only does the Talking Telescope promote active listening, and encourage exploration, it teaches young children exciting facts about space. Kids can even choose fact or quiz mode. It includes 24 NASA approved images of planets, stars and space. We love this unplugged way of exploring the universe. 
Study Insects
And for our budding lepidopterist (person that studies moths or butterflies), we bring you the best LIVE animal kit. The Insect Lore Deluxe Garden Gift Set has everything you need to get you started. For all the oohs and ahhs your kiddos will get the chance to watch the metamorphosis of a live Painted Lady Butterfly. Live caterpillars will arrive on your doorstep. Simply place them into the Insect Lore habitat as directed with the provided nutrient-rich food and watch your caterpillars form their chrysalis and then transform into beautiful Painted Lady Butterflies to be released into your garden or nearby green-space. This kit not only teaches children about the butterfly life cycle, but teaches them how to care for living things, about the amazing transformation as well as about the importance of butterflies and their impact on our food.
STEM skills are key to building strong problem-solving skills and rely on higher order thinking skills. We love gifts that encourage children to drop the screen and immerse themselves in the amazing world all around them. 
TO HELP YOU PREPARE FOR THE HOLIDAYS CHECK OUT OUR FAVORITE POSTS:
PIN IT!
Use Pinterest to save your favorite crafts. Be sure to follow our Thanksgiving and Halloween Crafts Board.
This is not a sponsored post. Samples were provided. All opinions expressed are our own.  The post may contain affiliate links.