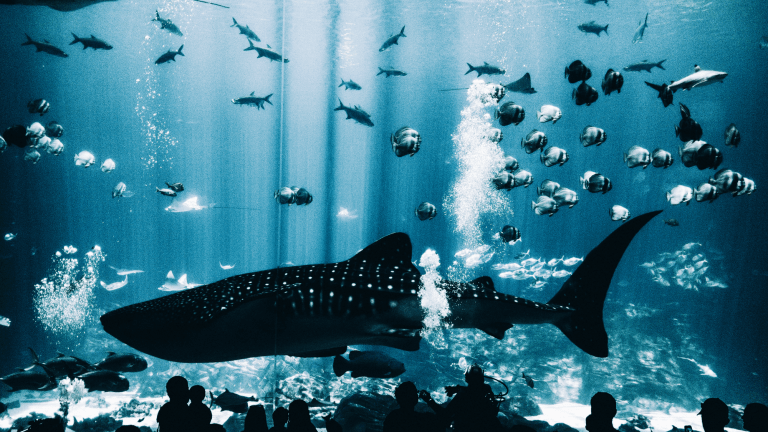 Shark Inspired Must Haves
Celebrate Shark Week
I grew up on the ocean and always loved my beach days. I learned to swim in the ocean, surf, boat and fish in it and made so many lifelong friends during my early beach days. The ocean has always fascinated me and my love for all things nature is especially peaked when it comes to marine life.  I have a healthy respect for the ocean and am lucky that my three littles love it as much as I do. You can only imagine how excited we have been to kick off the thirtieth anniversary of Shark Week on Discovery Channel.  
Bright Kingdom debuted a selection of shark toys including an Isle of Jaws Playset, a Shark Rescue Transit, a Alien Shark Figure Set.
Ravensburger: We love puzzles and know they are great for concentration, building problem solving skills as well as encouraging early mathematical skills. Check out these great shark puzzles by Ravensburger, Sea of Sharks Puzzle or Smiling Sharks Puzzle-dont worry they won't bite!
Discovery Sharkopedia (TIME) - Celebrate Discovery Shark Week all year long with Discovery Sharkopedia, the definitive visual guide to everything there is to know about sharks! With more than 400 incredible color photos of the world's most infamous sharks, including great white, bull, and tiger sharks, Sharkopedia explores the evolution of sharks-did you know sharks have been swimming in the world's oceans since before dinosaurs roamed the earth?-and introduces kids to almost 500 known shark species with close-up portraits of each and fun "fin facts" throughout.
Sharks: The Definitive Handbook (Topix) - Discovery presents Sharks: The Definitive Handbook. An official companion piece to Discovery's Shark Week, this 100-page, collector's edition showcases dozens of incredible images of these fascinating predators, in addition to telling shark fans everything they need to know about the ocean's fiercest hunters.
Snapper Rock: Summer is in full swing. Get the UV protection you need (50+) with stylish, comfortable and on trend swim wear for the whole family. Snapper Rock has a few Shark Inspired suits as the perfect nod to our fearsome fish. 
Shark Bite: Family Game night for the win!  Fish for sea creatures but be careful because you never know when it's feeding time for the Apex predator.  The Shark Bite game is fun, interactive and perfect way to gear up for Shark Week fun. 
Shark Masks & Squirters: We featured Amloid's Aqua Kidz Shark Face masks and hand-held, easy-to-use (and highly effective!) water squirters. Now available for sale at Walmart stores. 
Enjoy Shark Week on Discovery Channel and continue the fun all year long with our shark inspired must haves!
This is not a sponsored post. Some samples were received. This post contains affiliate links.