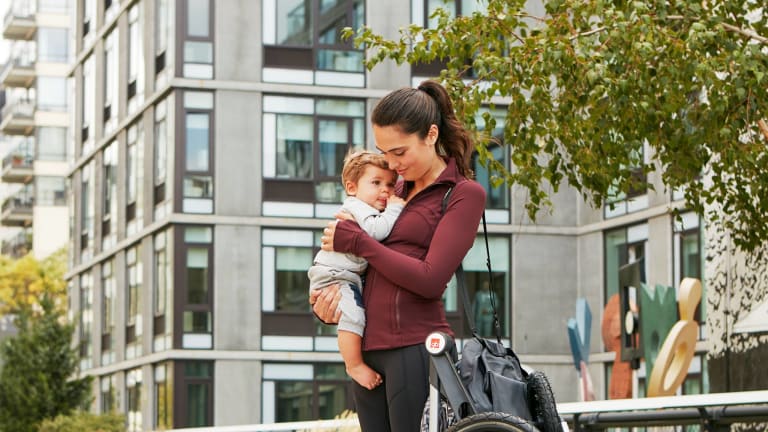 Momtrends MVP'S: The Best Umbrella, Travel and Lightweight Strollers
Our top picks for the best umbrella, travel and lightweight strollers and have everything from luxury umbrella strollers to budget travel strollers!
Are you on the hunt for a new lightweight stroller? Read below for our take on the best umbrella and travel strollers which both fall in the lightweight category. There is a difference and you may not need one of each, but I'll dig into which option is best for you a little later...First, let me ask you a question.
What is one of the first pieces of gear you looked for after finding out a new baby was joining your family? It was a stroller right? But how many strollers do you really need? All of the various stroller options can be so overwhelming, I totally get it. That is exactly why we're here. Whether you are shopping for a double stroller, travel system or simply an everyday stroller, we always have you covered here at Momtrends. 
Which Lightweight Stroller is the Best?
In fact, like I mentioned, our latest baby Momtrends MVP's piece is focused on lightweight strollers. You will find plenty of travel and umbrella stroller options here. You may only need one lightweight stroller, but it's best to find one that fits most of your needs. So, I rounded up a several picks in each category!
When my kids were babies and toddlers I always found that it was best to keep them on the move. They loved joining me for errands and it always led to better nap times if we were out and about at least for a little bit throughout the day.  That meant we needed a good lightweight stroller that I could easily get in and out of the trunk. 
A compact and portable umbrella stroller became especially important when my second child arrived. I couldn't be wrangling a five year old and schlepping around a heavy stroller, along with a wriggly toddler, every time I needed to run a quick errand. 
Why You Need a Travel Stroller Too
And forget about traveling. Anyone who has been to an airport with little ones knows you need to streamline your gear as much as possible. So, your travel stroller choice is very important. It needs to function without adding unnecessary bulk to the gear you check in. 
I traveled with my kiddos starting from the time they were babies so they became quite used to napping in a stroller when we were out sightseeing. Don't forget to check for a reclining feature if that is something you want to take advantage of too, but I digress...
Have a look at some of my favorite strollers for everyday errands, quick trips and full on vacations!
What Makes Umbrella Strollers Better
Convenience is what makes umbrella strollers better. Every busy mom appreciates anything that makes their life easier....And a super lightweight, easily transported umbrella stroller certainly simplifies things!
So, let's talk about some of my favorite umbrella strollers. They all have different features that make them Momtrends MVP's worthy, but convenience reigns supreme!
The Best Luxury Umbrella Stroller
I believe in investing in things that you use all the time and being that an umbrella stroller was a daily use item for me when my kids were tiny, I wholeheartedly endorse spending a bit more to ensure ultimate comfort. While umbrella strollers don't have all the bells and whistles other strollers do, they don't have to be bare bones. There are more expensive umbrella strollers than this pick, but I don't really think you need to go higher than a $200 price price point in this category.
I love that with the Uppababy G-Luxe you don't lose the reclining feature OR the compact vertical fold that is so important to umbrella stroller users. You get the best of both worlds my friends! You may have to sacrifice in the weight department as it's slightly heavier than some umbrella strollers, but it's worth it when you're errands take a little bit longer than expected and that kiddo needs to lean back. Haha!
Get the Uppababy G-Luxe on Amazon here (note: this is an Amazon Affiliate link)
The Best Umbrella Stroller for Grandparents
If your child has grandparents who spend a good amount of time with them, you might want to consider getting an umbrella stroller to store at their place. My mom kept an umbrella stroller in her car and it was a game changer. It made for much quicker handoffs which is always a plus when you're trying to grab some kid-free time! You don't get the reclining feature with this one, but you can always lend them yours if Grandma plans an epic errand sesh.
The Kolcraft Cloud does the job without costing a pretty penny at around $50 and I love that it weighs in at under 10 pounds which is perfect for people who really don't need to be lugging around heavy baby gear. The simple one-step fold is noteworthy too!
Get the Kolcraft Cloud on Amazon here. (note: this is an Amazon Affiliate link)
The Best Double Umbrella Stroller
Do you have two stroller aged kids? Don't worry, you aren't excluded from the convenience of umbrella strollers. They make double versions too! Obviously they're going to be a little heavier than a single umbrella stroller, but they're still plenty lighter than your standard double stroller.
What I like best about the Delta LX Side by Side Stroller is that it has oversized dual canopies so your children's precious skin is covered and there is a decent sized storage bag too. Storage is usually the thing you have to sacrifice with umbrella strollers, but not with this one. You can run more than one errand and stow those packages with ease.
Get the Delta LX Side by Side Stroller at BuyBuyBaby here.
The Best Lightest Umbrella Stroller
Sometimes nothing else matters more than weight when we're talking baby gear. If you're going shopping and know that you'll have a bunch of bags, plus a baby to contend with, the lightest possible umbrella stroller is just what you need. Super compact umbrella strollers are also perfect for smaller vehicles. Why waste precious trunk space?
I can't get over how teeny tiny the gb Pockit folds up! You don't have to worry about storing all your groceries and your umbrella stroller because it's barely bigger than one of the grocery bags. And its diminutive size make it perfect for stowing away on planes too in case you don't want to bring a larger travel stroller on your next trip.
Get the gb Pockit on Amazon here.
Why Travel Strollers are Worth It
But in case you are willing to check an extra piece of gear during your travels, I don't think you will regret it! Travel Strollers are still lightweight, but have a few more perks, namely in the comfort column so your child will love traveling as much as you do!
Ensuring a happy, smiling baby makes travel strollers worth it to me! Cranky kiddos do not for a stress-free vacay make. And while no family travel is without some stressors, the goal is to minimize them right?
The Best Luxury Travel Stroller
Again, I am willing to spend more on gear that makes it into the must-have category and if you travel a lot, a travel stroller is definitely a must. I am even willing to spend more on travel strollers than umbrella strollers because I don't want anything to ruin that vacay vibe! The Babyzen Yoyo2 is more than most travel strollers but it brings serious advantages to the table like its effortless unfolding feature.
What draws me in even more about the Babyzen Yoyo2 is the options. You can add a bassinet, newborn pack or 6 months plus pack according to your baby's needs. And no matter which setup you choose, the sublime steering capability remains!
Get the Babyzen Yoyo2 on Amazon here.
The Best Packable Travel Stroller
Would you believe me if I told you that there are strollers that fold up so small they can fit into your carryon luggage space? And what if I told you, it still had a reclining feature, large canopy and adjustable foot rest? It sounds too good to be true right? Well, happily, thanks to Zoe, it's very real.
But what I really love about the Zoe The Trip stroller is not that it can fit in an overhead bin. This is especially useful when you have a multiple city, or even country, itinerary. And it weights just 12.5 pounds!
Get the Zoe The Trip here.
The Best Travel System Travel Stroller
When you travel with a baby you need a travel system, plain and simple. So a travel stroller that accommodates a car seat is clutch. Don't you want to hop out of a taxi or Uber and immediately snap your baby into the stroller. This allows for city exploration without missing a step! And with the Nuna Pepp Next your baby will get all the creature comforts you would expect with any travel system. I am talking about a padded seat, multiple position recline and even a dream drape to encourage napping.
And I really appreciate that parents get an adjustable pushbar. That means no hunching over. If you're walking around a lot, as we tend to do on vacations, you don't want an aching back at the end of the day if you can help it. 
Get the Nuna Pepp Next on Pottery Barn Kids here.
The Best Travel Stroller to Fly With
When you fly, especially if you have to check your gear, you know there are risks involved. Your stroller might come away with some dings and scratches once your flight is over. You can minimize any unnecessary damage by choosing a travel stroller that comes with its own custom travel bag to protect your investment!
The full flat mode in the Mountain Buggy Nano is what is really special about this travel stroller though. Even newborns can recline in comfort in the full size seat! You can't beat a stroller that can transport a newborn just as well as a toddler!
And it's super narrow profile makes it great for shopping in those tiny boutiques we love so much, bwah!
Get the Mountain Buggy Nano on Amazon here.
The Best Green Travel Stroller
I know there are many of you out there who want to focus your spending on eco-friendly and sustainable products as much as possible. 
I was thrilled to learn about an awesome green travel stroller that doesn't make you sacrifice the comfort and options you want in a stroller. 
The Bombi Bebee Lightweight Stroller offers fabric made from 100% Post Consumer Recycled Plastic Bottles, a super fast and easy compact one-hand fold, recline, adjustable footrest, a huge storage basket, 5-point harness and even a cup holder. 
It feels like a luxury stroller without the price tag. I just can't get over how eco-friendly it is! You really can't beat this green stroller option!
Get the Bombi Bebee Lightweight Stroller here.
More of Our Favorite Baby Gear
I think you're ready to plan your next errand running sesh and/or vacation. Any one of these lightweight strollers or travel strollers will do the trick to help keep you busy mamas on the go with your sweet families!
And don't forget to check out some of our other go-to baby gear! We have loads of our favorite baby product recommendations at the ready!
More Momtrends MVP'S Winners
Follow the Links Below:
Pin It!
Save your favorite baby gear ideas on Pinterest and follow along with our baby gear board.
Momtrends MVP's is a non-sponsored series. Brands must meet our strict standards to be included. When naming winners we take several factors into account, including expense, convenience, and style.
We make our picks annually based on editors' research. In some instances, we may request and receive samples so that we can more thoroughly assess products. Our opinions are our own, and our goal is to help our community of moms make more informed decisions on everything from baby gear to beauty products to vacation destinations and more. We scour the abundant options and painstakingly hand-pick our favorites, so you don't have to. Our hope is that our most valuable players become your most valued purchases.