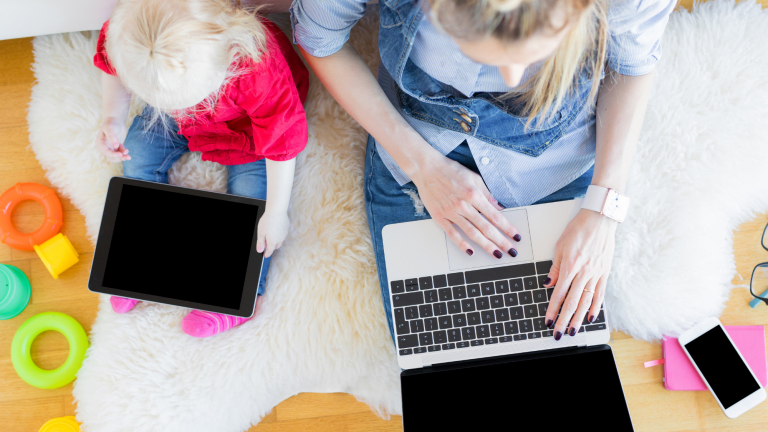 Educational Apps for Young Children
Screen time with a purpose
We know our mamas are busy, and that their schedules are packed and that they try their very best to fit it all in.  I am with ya, ladies! I try not to use screen time as a reward and definitely monitor the amount of time they spend on any given device. That's why when I let them at it, I nudge them toward educational apps so that their time spent isn't just mindless and idle.  We have found a few new educational apps for younger children and are excited to share the latest trends in tech for kids with you.
As a mom of a kindergartener, I have found that many educational apps, are either too advanced for my child's skill set or are just the opposite, and way too limited.  All three of my kiddos had a go with the new educational app, Learning Upgrade, which focuses on literacy and math skills for children K-12. We think this app provided good support, is engaging and not too busy or stimulating. The children liked that they can advance at their own pace and that they can either work at a chosen level or a "placement" level. They liked the rewards system too. The voice over is a little mechanical but it didn't see to bother the children. As a teacher, I thought the app varied in activity think it hones in on different developmentally appropriate skills. 
For educational games, we also tried out Jumpstart Games.  Jumpstart Games is a subscription based gaming system.  To help ease the transition from summer to the school year, JumpStart has an enriched set of tools for all children to practice their math, reading, writing and STEM skills. JumpStarts Games provides young learners with a learning through epically fun gameplay, no books required. Kids won't even realize these games are educational and addicting!  We tested out School of Dragons: Alchemy Adventure.  Based on the DreamWorks Animation film How to Train Your Dragon, JumpStart's School of Dragons: Alchemy Adventure is the first learning-based Match-3 style game. The game enables players to learn about the Periodic Table of Elements and match compounds (instead of candy or jewels like in similar games) in a fun, and educational, experience. Alchemy Adventure is currently available for free in the App Store, Google Play, Amazon, and Facebook.  Next, we will peruse JumpStart Academy Math.  This is an online collaborative K-5 Math program where students help each other through an adaptive team-based game. Assessment prep questions resemble Smarter Balanced/PARCC with the benefit of complete scaffolding. JSA Math builds complete K-5 common core math mastery for English and Spanish learners. 

My older children absolute love Storyboard That. I love anything that encourages children to write, create and use their imagination.  The children create characters, develop plots and the skies the limit on their story lines.  Storyboard That is an engaging comic strip meets online storyboarding site that is engaging, open-ended and challenging. 
We shared how to set up a homework space that is conducive to success.  If you missed it, you can check it out here.  We love that we can support our children's learning in a variety of ways.  What are your favorite educational apps? 
This is not a sponsored post.