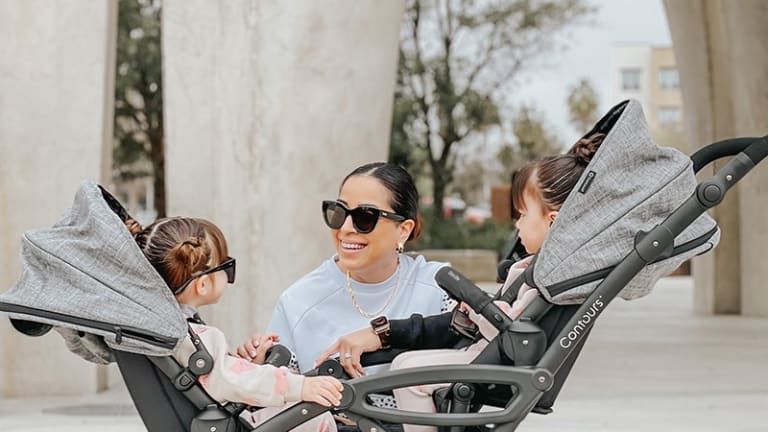 Momtrends MVP'S: Best Double Strollers
We rounded up our favorite double strollers, from luxury to budget versions, to lightweight double strollers options and even the best double strollers for Disney.
As 2022 comes to a close, I thought it would be fun to revisit our very first Momtrends MVP'S baby post, double strollers. It just seemed fitting to end the year with more of our favorite double stroller recommendations being that the topic kicked off this whole series a few years back.
Our best double strollers post remains one of our most popular posts to this day and I think I know why. If you have another baby on the way and a toddler at home, you aren't leaving anything to chance. Bwah! You want to nail down your must-have gear as soon as possible, am I right? Haha!
And one reason a double stroller is so necessary is it allows you to leave the home with small children and infants with far less stress. I had my kids 4 years apart, but I can tell you I still made sure the strollers I got had kickstands for my oldest because getting out whenever I could was necessary for my mental health.
As we welcome a new year, you can bet that we'll continue to share our top picks across multiple categories like car seats, strollers, baby carriers, and of course our beauty categories too! The latest and greatest in sunscreen, skincare, beauty tools and more is headed your way to help you make smart buying decisions.
Anyone who has had to corral a wiggly toddler while also toting around an infant knows just what I am talking about. And forget about twins. From what I hear, twin life is an amazing life, albeit a hectic one. So, those moms of two littles need the best gear to simplify things as much as possible! Double strollers just make life easier my friends!
On that note, let's talk about our take on the best double strollers for the year ahead, shall we?
Do You Need a Double Stroller?
I think that if you have a baby and a toddler, a double stroller is fairly necessary. I don't have personal experience with twins, but I know people who have them and a double stroller was definitely part of their gear collection.
Even if you have a 4 or 5-year-old, certain doubles strollers are game-changers. And it doesn't have to be a super wide version that doesn't navigate store aisles well. There are SO many double stroller options available these days.
In fact, I tried to take into account the different types of families who might need a double stroller and what they would be using one for. So, hopefully, there is a good choice for everyone here…
The Best Single to Double Stroller
The Nuna Demi Grow is a sleek and forward stroller begins as a single stroller, but has the ability to expand to seat extra siblings. As a luxe double, or even twin stroller, it is just beautiful, so intuitive and maneuvers like a dream.
It actually includes 23 different modes and just starts at a single pushchair. You can easily fold it, flip the seat, and switch to a bassinet or travel system with the Pipa series infant car seats. There are SO many options with this stroller that make it worthy of the pricetag.
It is the ultimate comfy ride with 3 recline positions that can be adjusted with one hand. Plus, it has an all season seat for extra warmth in the winter and you can switch to a lighter weight mesh in the summer!
The Best Double Stroller for Twins
If you have twins, the most affordable and convenient way to stroll with those sweet twin bundles is with a Baby Trend Snap-N-Go Double. It allows you to "snap" in your infant car seats so you don't have to transfer them from the car to the stroller.
While it doesn't have all the frills of some of the traditional strollers we have here in this double stroller roundup, the Snap-N-Go fame comes with an extra big underseat basket and a parent tray with two cup holders. Those are two features this mom wouldn't have wanted to live without. Haha!
The frame is compatible with most major car seat brands and is inexpensive. Of course, it can't be used once your twins get too old or big for their infant car seats. But we think it's worth the spend for the first few months of on-the-go errand-running efficiency.
Baby Trend Snap-N-Go Double Stroller
The Best Lightweight Double Stroller
If you don't want to spend a small fortune on a double stroller, but still need to get around easily with two active young kiddos, consider this high quality, yet not as frilly UPPAbaby option.
The UPPAbaby G-Link 2 is affordable, considering the quality of UPAAbaby strollers, convenient, and easy to schlep around. (In fact, schlep gives the wrong impression; this 22.3 lb stroller can be lifted, hauled, and moved without fuss--which is essential whether you're juggling twins or a newborn and a toddler.
And at under $350 it's an effective must-have piece of gear that's great for your on the go life, yet won't break the bank if you have other things you'd rather invest more in.
UPPAbaby G-Link 2The Best Travel System Double Stroller
The Best Jogging Double Stroller
Baby Trend made this list yet again because of its excellent jogging stroller offering, the Expedition.
Bicycle tires and an optional locking front tire make for a smooth push and a great ride on the straightaway while you're running. The frame is lightweight and sturdy, more must-haves for outdoor jogging action.
Other features include an adjustable 5-point harness safety harness, multi-position reclining seats, and a shade canopy. It also has a quick and easy fold so it's perfect for travel. You don't have to give up those jogs with the kids just because you're on the road!
Plus, the cup holders are perfect for your water bottles and the large basket will tote any necessities you have for longer runs! Hello snacks for the wee ones!
Baby Trend Expedition Double Jogger
*If you do end up wanting a higher end jogging stroller, the BOB Revolution Flex I talked about above is a great option!
The Best Double Stroller for Tall Parents
My sister is quite a bit taller than me and I realized how that can make a difference in what baby gear works best when she had her first baby. What worked for me wasn't necessarily the best fit for her. 
Taller parents need gear like strollers that were designed with height in mind. Zoe knows that. 
With an ultra-luxe fabric, leather accents, and large moisture wicking UPF 50+ canopy, this lightweight (19 lbs) stroller is convenient for everyday use or travel.
And those living in small spaces without a lot of storage room need not worry; the Terra Double) has a compact fold that makes it a smart option for apartment living.
What's more, this expandable stroller grows with your family thanks to its patented tandem design and can expand from a double or even a triple with an add-on seat.
The Best Double Stroller for Disney World
I just recently returned from a Disney World trip and, let me tell you, the strollers are SO much better now than when my kiddos were babies even taking the stroller requirements they put into place a few years ago into consideration. Trust me, there are plenty of options!
If your baby has an older sibling who is too "tired" to walk with their own little legs, consider the super comfy BOB Revolution Flex 3.0 Duallie. The mountain bike style suspension makes for the smoothest ride! And the lightweight frame isn't exhausting to push around with two kiddos in it all day. Plus, the extra large basket and 10 storage pockets are another must for Disney in my book. Snack and souvenir storage galore!
This is such a great "Disney stroller" as it meets size requirements, and can offer older children a comfortable place to rest between rides and attractions. The seatback ventilation helps with too. There aren't that many cold moments at Disney World haha. Oh and if you're going in the summer you should factor in a potential shower or two. Thank goodness for water resistant fabric! And, finally, this double stroller has an infant car seat adapter too which is always helpful.
BOB Revolution Flex 3.0 Duallie
The Best Wagon Double Stroller
If you've read our baby gear articles, you have probably seen Veer mentioned once or twice (or 10 times) on Momtrends. I don't want to sound impartial as an editor/MVP's judge, but, of all the gear we've come across, this incredibly versatile piece of equipment gets the most mileage from moms like us and the most praise from onlookers and admirers.
It can be used for leisurely strolls, grocery shopping, beach trips, and parading through the neighborhood. It can be pushed like a traditional stroller, pulled like a wagon, and it maneuvers like a dream. What's more amazing is all the customization options. It fits two babies/small children; you can attach a car seat, one or two comfort seats with five-point harnesses (good for toddlers and babies 6 months+), two canopies and visors for shade, and there's even a bassinet insert for newborns.
It's not exactly inexpensive, but there's nothing quite like it. And even when your kids are older, it holds up so you can use it when you have other little ones in your family like the toddler nephew I have in mine!
The Best Overall Double Stroller
The Baby Jogger City Mini GT2 Double Stroller is equal parts convenience and comfort with its signature one-step quick fold and it's easy maneuverability. That means it's a dream for travel and running errands because you can get it folded and stowed away in a flash.
It also offers an adjustable handlebar to accommodate your height and a hand-operated parking break. No more fumbling down at your feet for the brake! And all-wheel suspension in the sturdy tires means a comfy ride even on more uneven terrain. Plus, the near-flat recline and adjustable calf supports means your napping kiddos can stay napping as you're trekking.
The fun doesn't end there, you make this a double stroller travel system with most Britax, Cybex, Graco, and Maxi Cosi infant car seats or even add a glider board for another child to ride on. Oh and did I mention the full coverage UV 50+ canopies? Even in the winter that sun is strong and you obviously feel it even more in the warmer months. 
It just does SO much, yet isn't quite as expensive as some of the other high end strollers we featured. So, you get the best of both worlds! Budget and function!
Baby Jogger City Mini GT2 Double Stroller
With that, the latest version of our Momtrends MVP'S best double strollers list is signed, sealed and delivered. We have plenty of double stroller options here for you to research because your precious little ones deserve the best and I think you can find the best here!
Stay tuned for our next baby gear Momtrends MVPs list…
And if you haven't checked out our other baby gear MVPs, take a look below!
For Even More Momtrends MVP's Winners, 
Follow the Links Below:
Pin It!
Now that you know what the best double strollers are, make sure you save your favorite baby gear and ideas on Pinterest and follow along with our Gear for baby and kid board!
Momtrends MVP's is a non-sponsored series. Brands must meet our strict standards to be included. When naming winners we take several factors into account, including expense, convenience, and style.
We make our picks annually based on editors' research. In some instances, we may request and receive samples so that we can more thoroughly assess products. Our opinions are our own, and our goal is to help our community of moms make more informed decisions on everything from baby gear to beauty products to vacation destinations and more. We scour the abundant options and painstakingly hand-pick our favorites, so you don't have to. Our hope is that our most valuable players become your most valued purchases.