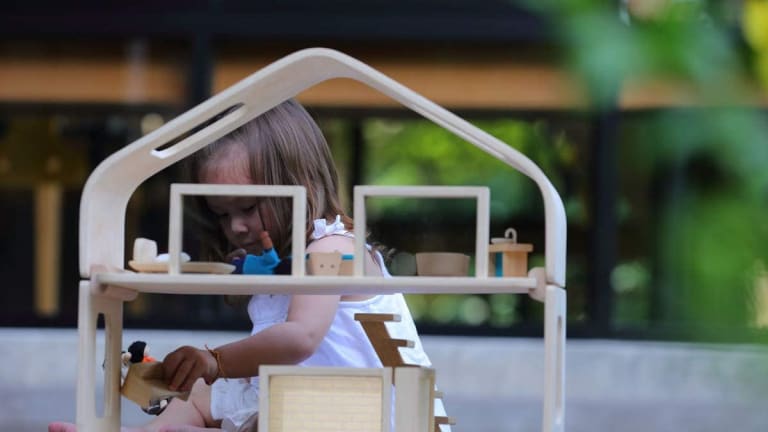 We Found the Best Dollhouses for Your Kids
Read on to discover our favorite dollhouses - traditional, modern and the best ones for boys.
I still remember the Christmas my parents brought out The Dollhouse. Mine was all wood, constructed from a kit my parents are bought and painstakingly put together. It was plain and unadorned, but in that house, I brought to life all kind of stories and sagas. Want to give your kids that same kind of space to create adventures? Read on to discover our favorite dollhouses - traditional, modern and the best ones that don't confine genders. Please note when you shop, there are affiliate links (including Amazon) and Momtrends will make commission off the sales.
Related: Why your family needs to make a puzzle together
Best Traditional Dollhouses
Let's start with traditional dollhouses. Granted, these tend to lean a bit more feminine. Pink and purple abounds in many of these, but for kids who dream of having a house and family of their own, these dollhouses can provide hours of quiet, creative play.
Best Modern Dollhouses
Looking for something a little more modern? A little more gender-neutral? We love these wooden dollhouse options that will blend into your living room or modern nursery.
Best Gender Neutral Dollhouses
Who said dollhouses are just for girls? Boys love to create stories and character interactions too. But in case your guy or girl isn't into pink trim and Victorian-style furniture, we found these gender neutral playhouses. How cool are these? A spaceship and treehouse, a camper and a castle!
Did you have a dollhouse growing up?
MORE KID-CENTRIC FUN FROM MOMTRENDS
PIN IT!
Need more ideas on what to do with the kids? Be sure to follow our Activities to Do with the Kids board on Pinterest here.
Momtrends was not paid for this post. This post may contain affiliate links. By clicking and shopping, you help support Momtrends and allow us to keep reporting on trends.
For even more Momtrends, follow us on Facebook, Twitter, YouTube, Pinterest and Instagram!