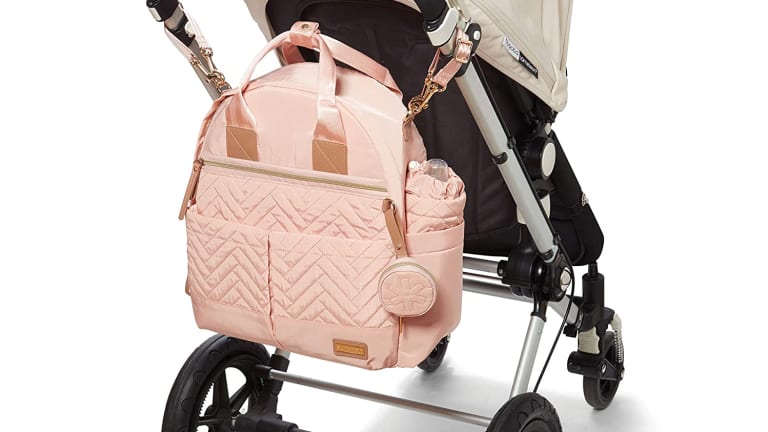 Momtrends MVP's: Best Diaper Bags
In the market for a diaper bag? We're sharing ten of the best bags on the market to carry all your mom gear.
As moms, we need to be prepared. Gone are the days of leaving the house with our cell phone, favorite lip balm, and a credit card. No, now we need veritable suitcases to cart around all the essentials our little people may (or may not) require throughout the days. Diapers and wipes: check. Snacks and sippy cups: check. Toys and board books: check. Change of clothes for Baby, yourself, and anyone else who might be in the danger zone of a nappy blow out or projectile vomit: check, check, check. Suffice to say, mamas have it covered with everything but the kitchen sink in those big bags of ours. And, BTW, if we could figure out how to hook up plumping ,we'd grab that basin as well. 
Of course, just because we like to err on the side of prepared and practical, doesn't mean we want to sacrifice style. We still appreciate distressed leather, zipper embellishments, and pretty prints. We want to have our arm candy and tote a changing pad to boot. 
Fortunately, diaper bag companies have caught up with us fashionable moms, and the must-have accessories have become equal parts chic and useful. What's more, they've found ways to make our mama lives slightly easier and more streamlined with nifty pockets, ergonomic design, and genius features. 
In the market for a diaper bag? We're sharing the best of the best -- so you can look fabulous and always have what you need from the playground to the super market to the pediatrician and everywhere in between.
MOST INNOVATIVE Diaper Bag
These days, nothing is more important than having a safe and sanitary place to change your baby. The Paperclip Willow features a compartment that unfolds into an integrated changing station. The Willow can go from backpack to messenger bag in a snap. It is incredibly versatile and looks professional too. 
The Willow can go from backpack to messenger bag in a simple, single snap. It's made from recycled materials so they're the perfect combination of function, style, and sustainability. 
Get the Paperclip Willow ($199) on Amazon here.
(Note: this is an Amazon Affiliate link)
Diaper Bag that Thinks of Everything
We've loved the sporty styles that Skip Hop have provided parents for years. They do a great job keeping things unfussy and functional. This backpack version is a big upgrade on the old reliable backpack.
They've updated the design with some fancy stitching, but more importantly, loaded this with accessories. In addition to nine well-placed pockets, this backpack includes a 5-piece accessory set with: Paci Pocket, Changing Pad, Stroller Straps, Insulated Bottle Bag, Packing Cube. It comes in three colors and we think is very well priced.
Get the Ski Hop Diaper Backpack on Amazon ($51) here.
(Note: this is an Amazon Affiliate link)
Best Utilitarian Diaper Bag
This is the perfect backpack for the stylish, but simple dad (or mom) on the go, whether you are carrying it around the city or out for a hike in nature. Durable construction means this bag can handle whatever your day throws at it. Seven pockets in the main compartment keep your gear organized, and the top flap keeps it all safe and secure. With ergonomic, padded straps, including a sternum strap, this backpack keeps you comfortable and protects your back all day long.
Get the HATCH BACKPACK DIAPER BAG ($84) here.
(Note: this is an Amazon Affiliate link)
BEST EVENING DIAPER BAG
Heading out to a wedding or fancy dinner with your little one in tow? Grab this little cutie, too. The Crossbody features two separate sections - one for baby (or mom!) that includes two elastic pockets and an easy-access wipes pocket, and one for mom (or baby!) that includes three pockets to organize all of your essentials. The bag also includes a coordinating changing pad and an adjustable and removable shoulder strap with chain detail. Wear it as a crossbody, a shoulder bag or even use it as a packing cube.
Get the ITZY RITZY KELLY CROSS-BODY DOUBLE TAKE DIAPER BAG on Amazon, ($80) here.
(Note: this is an Amazon Affiliate link)
This is a deliberately minimal diaper bag designed to sit comfortably on your waist, and go everywhere with you and your little one -- absolutely effortlessly. It features a built-in waterproof pocket that holds 20+ wipes wet (or a soiled onesie away from your other items) and a detachable changing pad that unfolds from the back flap. There are credit card and cash "slots,"  plus a key or pacifier hook. A great option when you just want to grab and go without getting weighed down. 
Get the THE KIBOU DIAPER BAG ($99) here.
MOST PROFESSIONAL/ WEARABLE DIAPER BAG
This is the diaper bag you'll be using long after your kid is out of diapers. Just slip your laptop in this baby (it's made to fit one!), and you've got some chic work-appropriate arm candy. It features seven interior pockets, 4 exterior pockets, and metal feet so your bag doesn't ever really touch the ground (brilliant!). Made with vegan leather, the bumped out side pocket fits a water bottle.
Get the FRESHLY PICKED Minimal Diaper bag on Amazon ($119) here.
(Note: this is an Amazon Affiliate link)
BEST DIAPER BAG INSERT OPTION
Not ready to commit to a full-fledged diaper bag. Grab this nifty TOTE SAVVY MINI insert, and pop it into your favorite tote. It features six total pockets, a washable changing mat, and key clasp, t's the perfect organizer for medium size purses or backpacks, and made with a wipeable nylon material.
Get the TOTE SAVVY MINI ($45) here.
BEST "DIAPER BAG" CLUTCH
Now there is a subtle, classy way to change diapers on the go with this printed changing pad disguised as a chic clutch. A hook-and-loop strap makes it a cinch to attach to any other bag or stroller, while a handy pouch neatly stores a case of wipes for convenience during changes and neat organization in between.
Get the PETUNIA PICKLE BOTTOM NIMBLE DIAPER CLUTCH ($39) here.
BEST CARRY-ALL DIAPER BAG
Equal parts stylish and spacious, the Peek-A-Boo Satchel is made for moms who do it all—just like the bag itself. While the bag is purposely designed to look and feel more like a fashion bag, it has all the features and functions of a true diaper bag hidden inside, including plenty of pockets. 
You can carry the Satchel with the vegan leather top handle or wear it as a crossbody via the padded long strap. Under the front flap: you'll find a pocket specifically designed to fit a pack of baby wipes and an opening to easily pull out a wipe when needed. But if you'd rather use the space to hold other stuff, simply adjust the orientation of the inner flap (and voilà!) turn it into a regular pocket for your mommy goods. This one is great for overnights or daily trips alike.
Get the TWELVE LITTLE PEEK-A-BOO SATCHEL on Amazon ($145) here.
(Note: this is an Amazon Affiliate link)
BEST HOSPITAL BAG
You'll have new mama style in the bag with this simple, graphic oversize tote. The Mama Hospital Bag organizational design is dialed: there's a front pocket for your phone, an inside mesh pocket, and a removable pouch for the "need it quick" essentials. Use it as your hospital bag, and as a weekender for every trip after. Bonus? grab the mini version to pack with babe essentials for your labor day and start same-same style on day one.
Get the INGRID & ISBAEL MAMA HOSPITAL BAG ($68) here.
Stay tuned for our next Baby Gear Momtrends MVPs -- we'll be sharing our favorite feeding must-haves.
How We Pick the Winners
Momtrends MVP's is a non-sponsored series. Brands must meet our strict standards to be included. When naming winners we take several factors into account, including expense, convenience, and style.
We make our picks annually based on editors' research. In some instances, we may request and receive samples so that we can more thoroughly assess products. Our opinions are our own, and our goal is to help our community of moms make more informed decisions on everything from baby gear to beauty products to vacation destinations and more. We scour the abundant options and painstakingly hand-pick our favorites, so you don't have to. Our hope is that our most valuable players become your most valued purchases.
FOR MORE MOMTRENDS MVP WINNERS, CLICK THE LINKS BELOW:
Pin it!
Be sure to save your favorite gear for baby on Pinterest. Please follow our Gear for baby and kid board here.