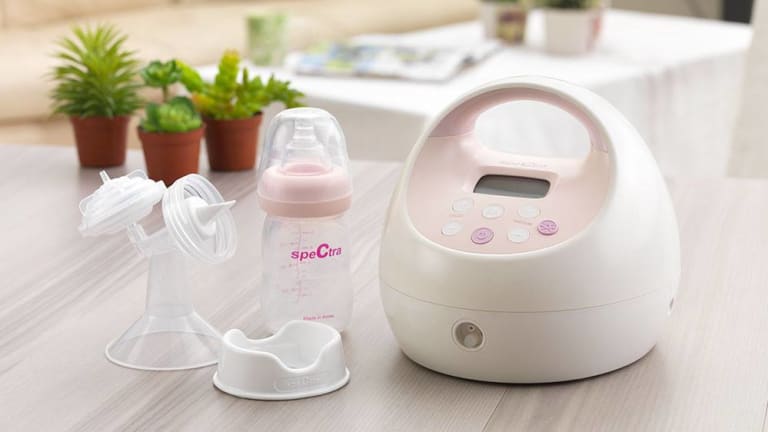 Momtrends MVP's: Best Breast Pumps and Gear
Let us help you stock up on breastfeeding gear like breast pumps because it can be so difficult to figure out which supplies you really need.
We're back with our favorite breast pumps. This is category is especially important -- because nursing mamas need all the help they can get. And it can be so difficult to figure out which breast pump suits your particular needs. You might need a fancy schmancy hands-free double electric pump if you plan on being home with your baby most of the time. You won't want to settle for a slow-to-trickle hand pump if you are working out of the home five days a week. 
Either way, the good news is that you might be able to get a breast pump through your health insurance. You should always check on this option with your insurance company, and weigh the alternatives. You might want to check into your FSA and HSA plans to see if you can use those funds for your breast pump as well!
Some of the higher end breast pump models might mean an upgrade cost for you or not be available at all. And that's why we are here -- to break down the options. Should you splurge on a top-of-the-line wear-it-in-your-bra-and-noone-will-be-the-wiser pump or start with the something more a little simpler and see how it goes? 
Let's pump the options out:
Best Overall Pump 
The Spectra S1 Plus can be a single or double pumping electric pump according to your needs at the time. You can adjust the suction strength in both the let-down and and expression phases, so you can really make your pumping time efficient, and the super quite motor night light settings make it a dream for night pumping!
And the one-touch button system is so easy to use. An exhausted mama shouldn't have to fumble around with a complicated pump, just sayin'!
Using Natural Nursing Technology, it also features "black-flow protection" to eliminate the potential of harmful bacteria getting into your pumped milk. It has a 3-hour battery life before needing to be charged again -- so you can definitely take this one on the go with you.
Get the Spectra S1 Plus Electric Breast Pump on Amazon here. (note: this is an Amazon Affiliate link)
Best Breast Pump for Moms on the Go
If you are a working mom who is out of the house five days a week or if you have a busy on-the-go lifestyle, even if work from home and have a jam packed schedule you'll want to check out the Medela Pump in Style. It comes with an incredibly handy carrying bag that has all the necessary pockets, slots, and cooler inserts, as well as an extra battery pack.. 
Specifically designed for those moms who want convenience AND comfort, this electric pump features 2-phase expression technology with one-touch letdown to get you more milk when double pumping AND two breast shield sizes. Oh and did I mention that it's only 1.18 pounds. Just another reason that this breast pump is perfect for on-the-go pumping!
Get the Medela Pump in Style Breast Pump on Amazon here. (note: this is an Amazon Affiliate link)
Best Wearable Breast Pump 
Want to pump while you are on your Zoom calls, doing housework even just trying to grab a restful moment in front of the tv? The quiet and discreet Elvie pump is for you; the hands-free design actually allows you to wear it inside your bra; it's hubs collect milk as you go about your business (or, you know, lie down and nap!) There are no tubes, hard-to-clean containers, or single-use bags. Milk pumps into the easy-to-clean hubs and is then poured into reusable bottles for storage.  
The Elvie Pump is designed to feel like your baby nursing and the coin-sized Piezo pumps offer 7 different intensities which allow you to personalize your pumping experience. The suction is gentle yet fully efficient. AND it's is so quiet you can't even hear it. It's the quietest pumping tech around! The rechargeable battery lasts up to 2.5 hours or 5-6 pumping sessions to get you through the day.
Get the Elvie Pump on Amazon here. (note: this is an Amazon Affiliate link)
Best Manual Pump 
The Haakaa Silicone Breast Pump is a simple, one-piece breast pump made for occasional use when you plan to be away from your baby. This breast pump is a great option for when you're out and about, traveling or as a back-up to your double electric breast pump. 
A small, lightweight, and portable design makes transport easy and discreet, it's small enough to fit in most handbags, for convenient pumping at work or anywhere on the go. It is made from 100% food grade silicone, has a suction base made to stop spills, can hold up to 4 oz and it's 100% eco-friendly! 
Get the Haakaa Silicone Breast Pump here. (note: this is an Amazon Affiliate link)
Best Value Pump
This Spectra S2 Plus Electric Pump is almost identical to the S1 (our pick for best overall pump), except it must remain plugged in throughout use, so you'll be tied to one spot. Still, it's functionality and efficiency is great, so if you are okay with not being able to take this outside or have ultra flexibility, you can save a few bucks with this simple option. 
It's hospital-strength, super lightweight at just 2.5 pounds, can be used for single or double pumping, is ultra quiet, and is a closed system just like the S1. The difference is, besides needing to remain plugged in during use, is it's a total steal at under $200. For that price, having a strong, yet gentle pump you can rely may be worth being stationary to you!
Get the Spectra S2 Plus Electric Pump here. (note: this is an Amazon Affiliate link)
Best Single Electric Breast Pump
Now if you want something a little more heavy-duty than a manual pump when you're on the move, you might want to try a portable single electric breast pump like the Evenflo Advanced Single Electric Breast Pump.
It's made for occasional-use pumping, but it comes packed with a multiple power options like AC adaptor, AA batteries etc., multiple flange sizes for ultimate comfort and it's also a closed system, which we know is important to prevent contamination!
Get the Evenflo Advanced Single Electric Breast Pump at Walmart here. 
Best Upgrade for Your Breast Pump
Have a traditional double electric breast pump from a previous pregnancy that you are thinking about using again? Treat yourself to a major upgrade. The Legendary Milk Silicone Collection Cups works with most electric pumps and transforms it into a hands-free wearable option. How nifty is that?
Made from food-grade silicone, these cups provide you with a much more comfortable pumping experience than hard plastic and, like I said, they can make your pump hands-free!
Click through the link below to see if these cups are compatible with your breast pump!
Get the Legendary Milk Silicone Collection Cups here. 
Best Game-Changing Product for a Breastfeeding Mom
This simple pump/milk catcher is a game changer. You simply attach it to your breast, and the Haakaa suction will draw milk out. It allows to you collect the letdown which would be otherwise wasted to your nursing pad, bra or shirt. 
By keeping the pump on for longer, you can collect more milk than the natural letdown to build a stash effortlessly. If you are nursing your baby on one side, you can use this to catch the letdown on the other side. It will also prevent shirt staining (win-win, right?!). As someone who frequently stained her clothing, this gadget gets two enthusiastic thumbs up!
Get the Haakaa Generation 3 Milk Collector on Amazon here. (note: this is an Amazon Affiliate link)
Best Breast Milk Cooler
When you pump on the go, how do you store that pumped milk especially if you're out with a simple manual pump? A stainless steel breast milk cooler like the could be your best friend!
You pump directly into the Ceres Chill Breastmilk Chiller it and it keeps up to 24 oz. of milk chilled for 20+ hours. That means it will hold up for even your most marathon errand running sessions, haha! It's great for travel too!  And when pumping is no longer your reality, you can use it to keep other types of beverages nice and cold.
Get the Ceres Chill Breastmilk Chiller on Amazon here. (note: this is an Amazon Affiliate link)
Best Breast Pumping Bra
If you're going to be using a breast pump regularly -- and haven't chosen a wearable option or manual version, you will need a bra that enables you to do your thing. I like the Simple Wishes Hands-Free Pumping Bra.
You slip a pumping bra like this right over your regular breastfeeding bra and it allows you to go hands free, meaning you can do the dishes, play with your baby, type up some emails, etc. It's adjustable in size, uses high-quality Velcro to help give you the perfect fit even as your breastfeeding body naturally changes.
Get the Simple Wishes Hands-Free Pumping Bra on Amazon here. (note: this is an Amazon Affiliate link)
How We Pick Our Winners
Momtrends MVP's is a non-sponsored series. Brands must meet our strict standards to be included. When naming winners we take several factors into account, including expense, convenience, and style.
We make our picks annually based on editors' research. In some instances, we may request and receive samples so that we can more thoroughly assess products. Our opinions are our own, and our goal is to help our community of moms make more informed decisions on everything from baby gear to beauty products to vacation destinations and more. We scour the abundant options and painstakingly hand-pick our favorites, so you don't have to. Our hope is that our most valuable players become your most valued purchases. 
FOR MORE MOMTRENDS MVP WINNERS, CLICK THE LINKS BELOW:
Pin it!
Be sure to save your favorite gear for baby on Pinterest. Please follow our Gear for baby and kid board here.