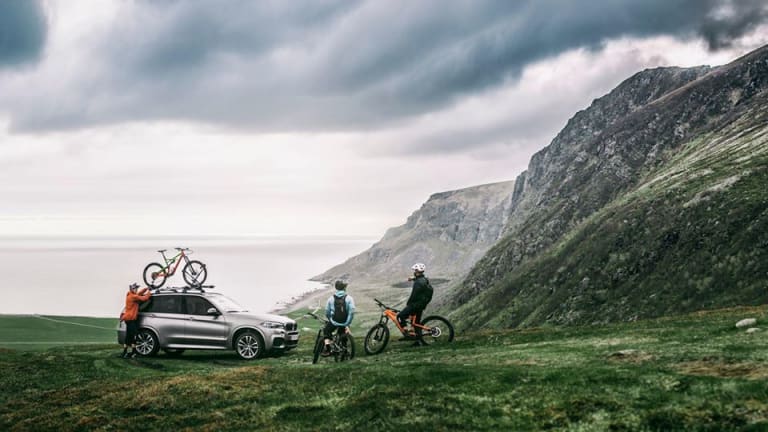 Best Bike Gear For the Whole Family
May is National Bike Month and we're celebrating by featuring some of our favorite bikes to get the whole family out and exploring on a set of wheels.
May is National Bike Month and we're celebrating by featuring some of our favorite bikes to get the whole family out and exploring on a set of wheels. From babies and tots to teens and adults, we've got the best biking options for all ages.
Related: Biking with kids bike trailers for twins
Bike riding is an ideal family activity. It's a great way to get everybody out of the house, it lets you go farther with kids than they could probably walk, gives everyone some exercise, can calm a fussy baby, and lets you explore new areas of your neighborhood or even do errands without getting in the car. The key is finding the right bike option for your family members. Here are some of our top picks. (Don't forget your helmets!)
Best Bike Seats For Baby
Before you get your baby out on a bike, you'll need to ensure that he can sit up unassisted and can support the weight of a helmet. The American Academy of Pediatricians recommends you wait until your child is a year old, though I felt comfortable taking my boys out when they were about 9 months. Once he's ready, choose from one of our favorite ways to bike with a baby. 
The Topeak Babyseat II bike seat may cost more than other baby bike seats, but here's why it's worth it: it has great padding, deep side wings to protect your child's head (and help mid-ride snoozes), a padded lap bar, and built-in suspensions for a bump-free ride. 
The iBert T-Seat Bicycle Seat attaches in front of the main bike seat, between the handlebars, giving baby a clear view of the road and the ride and mom an easy chance to keep an eye on him. If you prefer a baby bike trailer, pick the Burley Bee which can fit one or two kids, folds flat for storage and is bright yellow for added visibility. 
I also love the Burley Baby Snuggler which attaches to the 5-point harness and added extra support and comfort for babies 6-24 months.

Best Bikes For Toddlers
I started my first two kids on training wheels and it took a looooong time to wean them off them. Instead with my third, I opted for a pedal-less balance bike. Kids can often use these from 18-24 months until to age 4 so while it's not worth spending big bucks on it, there are some key features to look for. Choose a balance bike that has adjustable seat and handlebar heights to grow with your child and a big enough seat for your child to actually sit on. 
I like this Cub No-Pedal Balance Bike from Critical Cycles that comes in six colors, is under $60, and also offers kids a place to put their feet while they glide instead of having to hover them in the air. When your tot is ready for pedals, look for a 12" bike that is affordable and doesn't have too many bells n' whistles - literally. While baskets, bells and tassels are cute, they are a major distraction when you're just trying to keep from crashing! 
Look for a second-hand bike or choose an affordable option like one of these 12" Huffy bikes. For toddlers that haven't mastered the pedals yet or for rides too long for little ones, we love the Weehoo Turbo Bike Trailerthat lets kids aged 2-9 pedal along with you or sit and enjoy the ride. For older kids, the Weehoo can be a better option than a traditional bike trailer since it helps kids stay engaged by allowing them to pedal and have better visibility, and is often lighter and easier to maneuver than a trailer.
Best Bikes for Big Kids
Once your kids get bigger, you'll want to opt for bikes with 14", 16" or 20" wheels. Many will still have coaster brakes (where you pedal backwards to stop) though some more advanced models may offer both coaster and hand brakes so kids can start practicing and mastering hand brakes. Kids can use these bikes for 2-4 years depending on their height and ability so it's worth spending a bit more for a quality bike like this 16" Schwinn Scorcher that or 20" Diamondback Jr. Viper that both come with dual brake styles. 
Another fabulous option for kids who know how to ride on their own, but may still get tired on longer family bike rides is the Trail-Gator Tow Bar. This ingenious product has a fold-up bar that attaches to an adult bike and a hitch that attaches to the child's bike. When kids want to ride on their own, they can, but when they get tired, you fold out the tow bar, connect it to the hitch and you're off! No tools are needed to connect and disconnect and the process takes just seconds.Best Bikes for Pre-Teens, Teens & Parents
Gear Bikes for Big Kids
The next major step for kids is to add gears which will let them go faster, farther and tackle hills with ease. Start with a simple 7 gear bike or go big with 21 or 28 gears. While many little kid bike are made of heavier steel to make them sturdier and less likely to tip over, for the tween and teen years, you may want to switch over to aluminum which is lighter and easier to lift onto a bike rack. My son has been loving the Schwinn 24" Bywaywhich has 21 speeds, front suspension fork, and wheels that perform well on dirt or pavement.
For parents, the best bike will depend on your riding goals. A cruiser like this Huffy Nel Lusso will give you lots of comfort and storage options for jaunts to the Farmer's Market, but often not gears for speed. My husband and I both ride bikes by Cannondale that perform just as well on neighborhood rides as they do on bumpy dirt trails. The aluminum frame of the Cannondale Catalyst 1 is lightweight, the disc brakes offer superior stopping, and the click on/off shocks let you adjust the bike with the turn of a knob depending on the terrain. Since we aren't growing any more, we opted to upgrade to bikes that are built to last us for years to come.
Our Favorite Bike Trailer
Once your family has found their perfect bike fit, you may need a way to transport those bikes in order to get to the trailhead, explore a new part of town, or take your bikes on your next family vacation. You'll want to opt for a sturdy bike carrier that can handle the combined weight of your family's bikes, allows for easy loading and unloading, can lock the bikes in place, and ideally can fold down to let you access the trunk without removing all the bikes like this Thule Apex bike carrier. 
Available for either 4 or 5 bikes, I love that the Apex has a high arc design to provide better clearance from the ground and an innovative hitch design that keeps the carrier super secure and wiggle-free. The carrier bar folds down when not in use and tilts out so I can still get into my trunk.
Happy biking!
MORE MOMTRENDS ON WHEELS
PIN IT!
Use pinterest to save your favorite finds for families. Be sure to follow our Activities to do with the kids board here.
Momtrends was not paid for this post. Some samples were received to facilitate the review. This post may contain affiliate links. By clicking and shopping, you help support Momtrends and allow us to keep reporting on the latest trends.