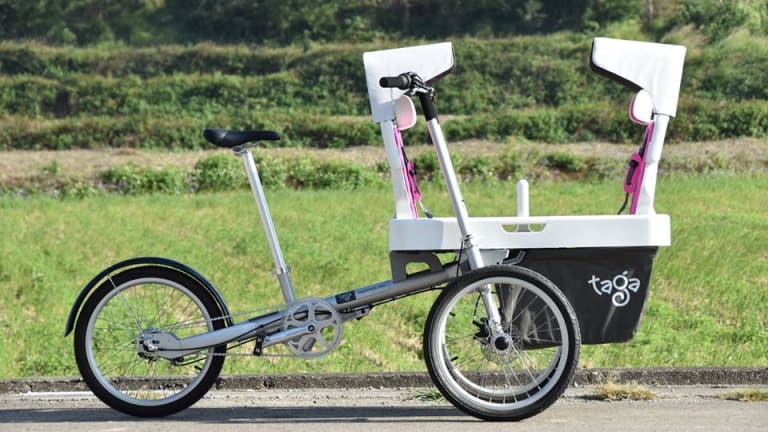 Best Bike for Carrying Children from Taga
Taga is one of the coolest bike/stroller/caddy systems ever. It was dreamed up in the Netherlands where everyone cycles for fitness, fun and the environment. I'm hoping this brand will make a big splash in the US. It's got all the key elements--looks, functionality and design. That's why we think the Taga is the best bike for carrying children.
Related: Best bike gear whole family
Check out the Convertible Taga Bike
Cycling is a big part of Dutch culture and cargo or cargo bikes, three-wheeled vehicles with wooden boxes in the front, are very popular as a way to travel with kids. Taga's biggest influence came from the Dutch "bakfiets" (meaning "box-bike" or "cargo bike"). The idea behind Taga was to take the cargo bike concept one step further and turn it into a global trend. It's a family-friendly ride and extremely versatile.

The bike can flip out to a stroller or a wheeled cart and can carry one or two children. I loved the bright pops of color and the sturdy aluminum design. Sadly, I only got to test this in the grand hall of the Biggest Baby Shower ever in NYC--so I can't report on a road test. It is built to hold an adult up to 220 lbs and two kids totaling 80 lbs in the bike mode. The Taga starts at $1495.  There are a ton of accessories to trick out the bike to help you haul more in comfort and style.
You can get more information at tagabikes.com/
MORE MOMTRENDS ON WHEELS
PIN IT!
Use pinterest to save your favorite finds for families. Be sure to follow our Activities to do with the kids board here.
Momtrends was not paid for this post.