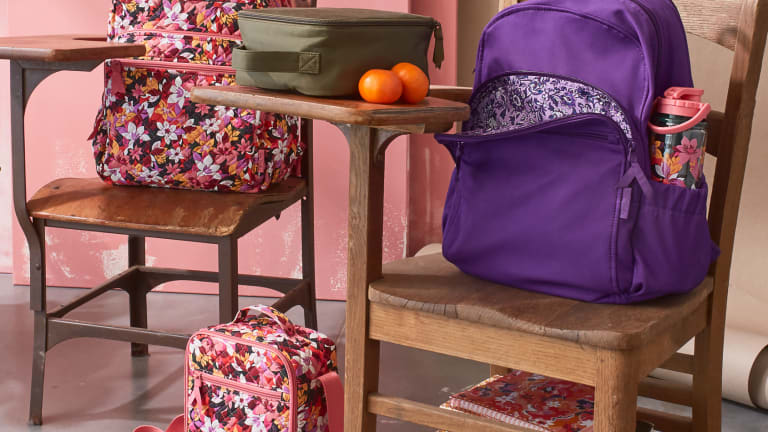 Best Back to School Trends for Busy Moms
We are bringing you the best Back to School trends from healthy snacks, to gear to school supplies.
First off, Back to School is all about the kids, but, we can't forget about the moms, can we? Back- to- School time can be a tough on a mama. Endless hours are spent making sure the kids have everything they need to head off to school, that all the preparations have been completed and that everything is organized and ready to go. Here are some of the best back to school trends for busy moms.
Related: Back to school photo tips
My girls are getting bigger. We're dealing with 11th and 8th grade. And you know what? Even after all these years it's stressful. That's why I rely on a few trusted brands to get me through this season.
Shelf Stable Organic Valley Milk
Organic Valley shelf-stable single serve milk is the perfect way to get nutritious and delicious organic milk whenever, wherever you go – without refrigeration! Each 8 oz carton has 8g of protein and comes in three delicious varieties: Whole, 1% White, and kids love the 1% Chocolate. These are perfect for lunch boxes and backpacks for on the go. 
Organic Valley is an organic food brand and independent cooperative of organic farmers based in La Farge, Wisconsin, United States. Founded in 1988, Organic Valley is the nation's largest farmer-owned organic cooperative and one of the world's largest organic consumer brands. Pack a couple for any kiddo with a long day or after school activities. No need to worry about finding a fridge!
For bigger kids like mine, chocolate milk is a great way to refuel after sports. Even big kids like mine stash some Organic Valley chocolate milk in their sports bags to drink post workout.
Mom Tip: Go ahead and add these to your Amazon subscription list so you never run out.
Ready to Eat Plant-Based Protein
Menu planning is essential for busy parents. Each week on Sunday I sit down and map our our meals. I love working in more plant-based options. And Sweet Earth's NEW Mindful Chik'n products are perfect for the busy Back to School season. They are "ready to eat" and can be enjoyed in a variety of ways. from adding the chik'n to your favorite breakfast foods, to incorporating it into salads, sandwiches, rice bowls, pasta dishes or pizza for lunch or dinner.
Sweet Earth Mindful Chik'n products feature flavorful marinades like Chipotle or Korean-Style BBQ, providing hungry consumers with a quick and crave-able plant-based protein option perfect for snacking or adding to a variety of recipes.
Mom Tip: On your busiest nights, simple sauté the Chik'n for a minute or two and serve over greens for a flavorful and healthy mid-week meal.
Find out where to get the products here www.goodnes.com/sweet-earth/products/mindful-chikn-strips/
Vera Bradley Backpacks 
Make sure the kids are packing theirs at night- NOT before they run out the door! Vera Bradley has all of your back-to-school and campus life essentials, and their backpacks are not only super comfortable, they have tons of pockets and compartments to help you stay organized and of course, come in so many cute patterns. The best place to shop at their stores on at VeraBradley.com  
You can shop with a purpose knowing that with your help, the brand is making a $100,000 donation to support their partner Blessings in a Backpack – an organization that helps feed elementary school children who might otherwise go hungry. 
I love that Vera Bradley has worked in more sustainable materials to the collection. Be sure to check out recycled cotton. Their recycled cotton is a blend of 50% conventional cotton and 50% recycled cotton create the soft hand-feel and real-world performance (comfortable, lightweight, washable) we all love. Check out the XL backpack in the Rainforest Canopy recycled print here.
Momtrends Tip: You'll feel better knowing these are endorsed by the American Chiropractic Association.
You can also shop Vera Bradley on Amazon here.
Be Period Ready with Thinx
Teens and tweens not only have to deal with the schoolwork but also the social challenges of back to school life. Having daughters, I know one area of stress in back to school can be when they start menstruating. And it is a natural part of maturing so we want to make that conversation comfortable and normal!
BTWN by Thinx is made just for teens and tweens to be worry free and confident while on their periods. Thinx are washable, reusable underwear designed to replace pads and tampons. I love that they help prevent leaks and odors, so they're great for when you're not sure if your daughter's period is about to start, or if it has and she's nervous about being away at school. Anything we can do to empower our young girls and give them confidence is always important. Use code 2021BTWN at Shethinx.com to save $10.
Get Thinx for your teen here on Amazon.
Momtrends Tip: Buy more than you think you need! It's great to have extras on hand.
Win It!
We have an amazing Vera Bradley Back to School prize worth $200 to share. It includes:
Campus backpack
Water Bottle
ID case and lanyard
Insulated lunch tote
Enter via rafflecopter below.
MORE BACK TO SCHOOL ORGANIZATION FROM MOMTRENDS
PIN IT!
Use Pinterest to save your favorite recipes. Be sure to follow our Back to School board for more tips
For even more Momtrends, follow us on Facebook, Twitter, Pinterest and Instagram