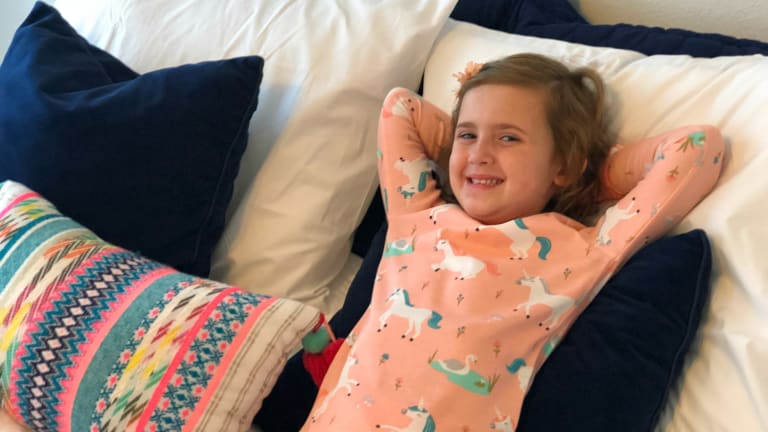 Bedtime Tips for How to Get Kids to Wind Down
This post is sponsored by Disney Book Group.
Now that all the kids are back at school, it seems like a good time to revamp the old bedtime routine. Who's with me?! I don't know about you mamas, but I'm always game for learning some new bedtime tips for how to get kids to wind down. My wee ones seem to have an endless supply of energy, and that energy is never more evident than at bedtime. When we do finally get them to lie down, the never-ending reasons for why they can't go to bed yet inevitably follow. And that is why the new book Sleepy, the Goodnight Buddy, by Drew Daywalt and illustrated by Scott Campbell, made this mama howl and howl.

In this super funny twist on a classic bedtime story, the adorable main character, Roderick, is gifted a special surprise to help him sleep, but things go awry for the bedtime adverse little fellow. I guarantee you'll see more than one similarity between Roderick and your own bedtime avoider(s). In fact, when I read it to my daughter, this sweet little story turned into the perfect teaching moment. When Sleepy kept Roderick up all night with his countless requests, we talked about how that's how it feels for Mommy when she gives me a hard time at bedtime! Hey, look at that, I just gave you my first bedtime tip. Bwah! Pick up Sleepy, the Goodnight Buddy! Haha! Now let's talk about a few more tips for how to get kids to wind down that we're instituting in my house...
How to Get Your Kid to Wind Down
Just say no to screen time...We turn off all screens after 6pm. This will allow my kiddos' little brains to calm down well before their bedtime. This is a good one for us parents to follow, too. 6pm probably isn't realistic for adults, but try to give yourself at least one screen free hour before you go to bed.
Make sure they're active after school...Whether my children swim, bike, or even just go for a short walk, I try to always have my kids "run it out" before we even think about bedtime. My motto is wear them out, baby!
Start a bedtime ritual...Do the same thing every night before you put your kids to bed. You could read a chapter from a book together, do some light stretching, or even talk about your favorite part of the day. The routine aspect of this ritual will serve as a signal to your kids that it's time to wind down.
Now that you've seen a few of my tips for how to get kids to wind down, I can't wait to hear if they work for you! I guarantee that reading Sleepy, the Goodnight Buddy alone will be a wakeup call for you and your kids! Not only is the message spot on, but Scott Campbell's illustrations really bring the story to life. I know my kids aren't the only ones who respond to pictures. Just sayin'!
*For even more sleep tricks for parents, check out our ways to stop snoring!