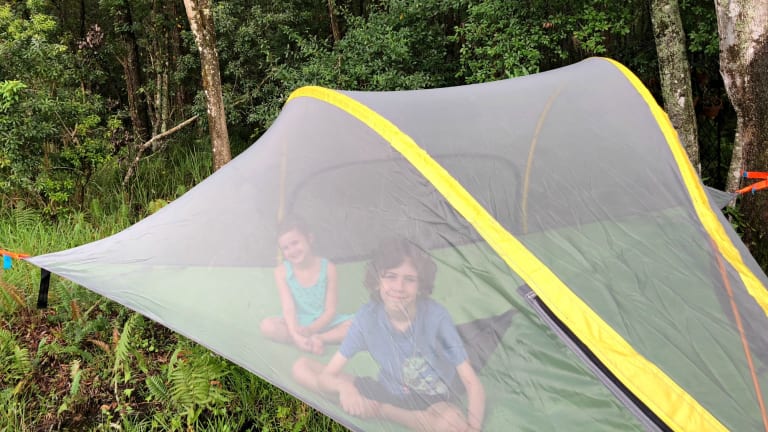 Beat the Heat Ideas for Kids
Has this been one of the HOTTEST summers we've experienced in a while or what? I don't know about you guys, but my family sure could use some beat the heat ideas for kids! Because kids are kids...They still feel the need to get outside and PLAY even when it's sweltering out. That being said, us mama bears certainly don't want them to get over heated. So, much like many of you, I'm sure, I limit the time they spend out in the sun in the summertime. And sometimes that little amount of time is just not enough for my kids. They go stir crazy inside, so I'm forever looking for new ideas that will allow them to be outside without getting overwhelmed by the heat. And the newest beat the heat strategy I've been using has been one of their favorites!
Beat the Heat Ideas to Try
Did you know that it typically feels 10 to 15 degrees cooler in the shade? That's not to say you should stay outside all day in the shade. The temperature is what the temperature is. However, outside time will be a whole lot more tolerable if it feels cooler. And that's exactly why we've been having some fun with a couple of new tents at our house. Whether they're reading, having pretend camp outs or simply just relaxing in the great outdoors, the kids have been fulling enjoying the backyard tent life. Backyard tent play is a great option to turn to when the little ones have had their fill of playing inside. So, just in case you too want to try these beat the heat ideas, I thought I would share some tents that would be perfect for your family!

Go-To Tents for Families
Tree tent...Have you ever heard of tree tents? I hadn't until recently and they are such a cool concept! We happen to have a nice, shady conservation area in our backyard. It's the perfect place to set up a tree tent! The kids have been loving their new Stingray tent perch. It's a great spot to observe all the little creatures that live in our woods. And it's been such a fun alternative to a tree house! I can only imagine how many more outdoor adventure are to come...*Just don't forget to check for ticks if you too are going to set yours up in a woodsy area!

Family size tent...If you have camping enthusiasts living at home, then you probably have a need for a family size tent. Kelty tents are built for play and the spacious Sequoia is just the ticket for a family. It's 6'6" tall, so even the 'rents can easily climb in to play with the kiddos. It's super easy to set up and it even has a night light pocket for when you want to take your tent play to the evening! My kids have been using theirs as a fort of sorts. Like I mentioned, they've been lounging in there with books, pretending to camp out and so much more! When there's cloud cover, we've been setting it up right behind our screened in porch. And when it's sunnier out, we can put it closer to the trees! You could also throw on the tent cover and unzip the door so they get some breeze. The options are endless!
More Summer Play Ideas
So, if you too have been trying to find new beat the heat ideas for kids, try picking up a new tent. I daresay they'll be more than occupied! And for more summer play ideas, check out our DIY art cart. This will keep them busy when it's time to go back inside!
We were not paid for this post. We did receive samples.