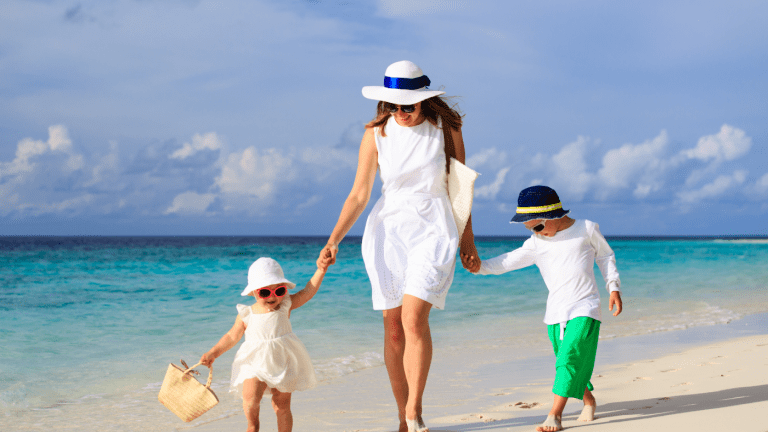 Be Sun Safe: 5 Ways to Lower Your Child's Risk Of Melanoma
Board-certified dermatologist gives tips on how to prevent damaging sun exposure so that babies, kids and adults can lower their risk of melanoma.
We moms know the dangers and beauty woes of sun exposure and if you're like me, you're slathering on SPF each day, every day. But what about your kids? Are you as vigilant about their sun protection as you are with yours?
Related: Momtrends MVP's best sunscreens for your family
The month of May has been designated by the American Academy of Dermatology as National Melanoma Skin Cancer Prevention Month, which aims to raise awareness about skin cancer and increase the chances of early detection so treatments can be given early. Skin cancer is the most common cancer in the United States and while melanoma only accounts for less than 2% of skin cancer, it causes the vast majority of skin cancer deaths.
Melanoma is the most common form of cancer for young adults 25-29 years old and the second most common form of cancer for young people 15-29 years old. And all this sun exposure starts in childhood. Just one blistering sunburn during childhood can double a person's chance of developing melanoma later in life!
 5 Ways to Lower Your Child's Risk Of Melanoma
We asked board-certified dermatologist Dr. Amy Kim for tips on how to prevent damaging sun exposure so that babies, kids and adults can lower their risk of melanoma.

SPF Every. Single Day. Regular daily use of sunscreen with an SPF of 15 or higher can reduce the risk of melanoma by 50%. Babies six months and older can use sunscreen on a daily basis.
Choose Physical Blockers. Look for chemical-free sunscreens with the active ingredients of zinc oxide and titanium dioxide. Both are hypoallergenic and non-irritating, but are very effective at protecting the skin from harmful UVA and UVB rays.
Skip Nano Participles. Avoid sunscreens with nano particles, as they are so small they can pass through the skin, enter the bloodstream and end up in major organs. Spray sunscreens with nano particles can be inhaled and are not recommended. Instead, look for sunscreens with micronized particles. These sunscreens will leave a whitish film on the skin.
Apply Early & Reapply Every 90. Apply sunscreen 20-30 minutes before sun exposure. A good rule of thumb is to apply sunscreen when putting on your baby or child's swimsuit. This allows time for the sunscreen ingredients to bind to the skin and provide protection. Be sure to reapply sunscreen at least every 1 ½ hours and after water exposure, including sweating.
Add Apparel. For added sun protection use UPF long-sleeved swim shirts and hats in addition to sunscreen.
For our favorite ways to protect your family from the harmful rays of the sun, head here.
MORE MOMTRENDS BEAUTY TIPS AND TRICKS
PIN IT!
Use Pinterest to save your favorite beauty tips. Be sure to follow our Beauty board here.
Momtrends was not paid for this post. This post may contain affiliate links. By clicking and shopping, you help support Momtrends and allow us to keep reporting on trends.
For even more Momtrends, follow us on Facebook, Twitter, YouTube, Pinterest and Instagram!