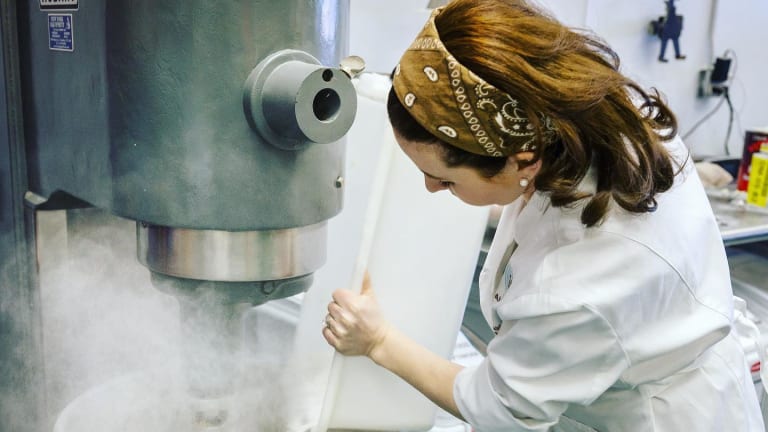 Baking Tips from Salt of the Earth Bakery Founder
Get to know the sweet treats from Salt of the Earth Bakery in Brooklyn.
I love to cook, but I'm not the best baker. However, I do know a good cookie and brownie and my daughters have been helping me taste-test some of the best in NYC with a selection of sweet treats from Salt of the Earth Bakery.
Salt of the Earth Bakery 
Founded by Alexandra Rabbini and Haskel Rabbani (husband and wife duo), Salt of the Earth Bakery offers cookies, brownies and mud pies that are made with a variety of high quality salts -whose goods are sold at stores like Fairway Market, Zabar's, Beecher's Cheese, Garden of Eden, Balducci's, etc., with additional expansions in the works.
During our taste taste we had the chance to sample goodies like The Cookie, the treat that started it all. We loved how it had the mixture crispy and chewy that was filled with E. Guittard chocolate discs and topped with the savory Maldon Sea Salt. 
Another favorite was The Chocoholic is a triple chocolate threat with chocolate incorporated right into the batter and the signature blend of E. Guittard chocolate discs, topped with Maldon Sea Salt. They also offer The Wild Oat, a cookie packed with plump raisins, aromatic spices, and an inspired finish of Bali Rama Sea Salt, the Choco-Rama, a buttery oatmeal base with the signature blend of E. Guittard chocolates, and The Cherry Bomb, a chocolate cookie, is loaded with tart cherries, rich dark chocolate, and creamy white chocolate, finished with a burst of Maldon Sea Salt.
If brownies are what you're craving the SOTEB brownie collection will surely have just the flavor for you. For the brownie purists The Brownie is right up your ally. A moist, dense, and fudgy texture showcases the 72% bittersweet chocolate to perfection, and the crunchy Halen Môn Sea Salt elevates the flavors to new heights. The OMGCB (Oh MY God Caramel Brownie) will seriously weaken your knees. The luxurious chocolate brownie is laced with salted caramel ribbons, topped with crunchy Sel Gris de lIle de Ré. 
For those coffee aficionados, meet The Kona, a chocolate brownie combined with aromatic espresso beans and topped with a dash of Kona Deep Sea Salt. Looking to spice things up, try The Mayan, a traditional dark chocolate fudge brownie base with a special blend of cinnamon and cayenne pepper, finished with a splash of Halen Môn Sea Salt. And for your inner child, indulge in The PB, a decadent brownie base amped up with a layer of rich peanut butter, topped with a sprinkle of Korean Sel Gris.
All of Salt of the Earth Bakery products are designed in Manhattan, produced in Long Island City, and distributed throughout the tri-state area. The treats are the result of countless rounds of tastes and tests and nothing goes into production unless it is simply the best. The entire product line is all natural and certified Kosher (OK-D).
She added, "As chef of Salt of the Earth Bakery, I would be remiss if I didn't mention salt. Each of the different elements of this pie is salted in a different way, and each layer of salting is extremely important. In the crust, be sure to use unsalted butter so that you can control the salt content. A sprinkle of salt in the fruit filling heightens the flavor of the peaches and raspberries. Tossing the streusel with a large- crystal flake salt pulls the entire pie together. And, always always always use additive-free sea salt. Your taste buds will thank you!"
More Food Fun From Momtrends
Pin it!
Save your favorite recipes on Pinterest and be sure to follow our Kid Food board here.
Momtrends was not paid for this post. We were given some tasty samples.