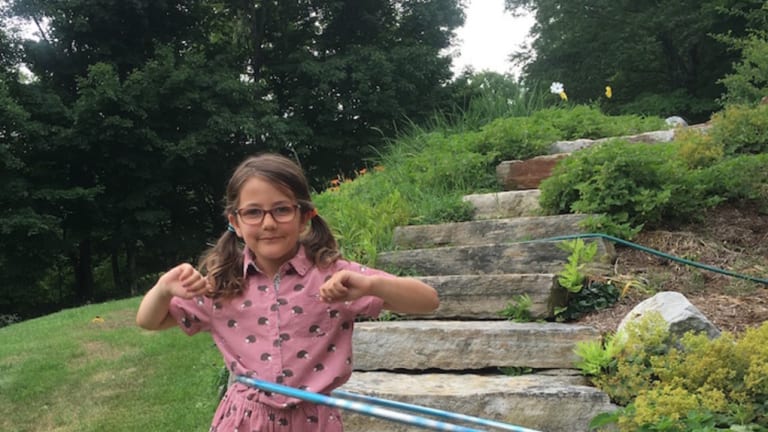 Back to School Trends to Love
Fun back to school trends to love. Ideas on what to do to prep for school and what to wear on the first day to take the stress out of summer.
I can't help but talk about a few back to school trends to love. Don't get me wrong, I'm savoring the weeks before the girls go back to school. But, since I'm inundated with ideas on what kids are going to love, I thought I'd share a handful of things my girls ACTUALLY love.
Related: Get organized for Back to School with Mabel's Labels
Back to School Trends to Love
Believe me, I get about 250 emails a days. Most of them are a really, really bad fit for Momtrends. I sift through the rest and try to find what will work for us. My first filter is "will it work for my family"--if I think my girls will wear it or use it or enjoy it, I look a little harder.
First, let's talk about prepping for back to school. Reading is a big part of getting ready. My girls both finished of the required reading, now they are diving into Harry Potter. We bought three copies of Harry Potter and the Cursed Child so we can all read and discuss. Genius.
Second, I've been letting the girls experiment in the kitchen. This is entirely self serving. It keeps them away from the screens and I'm training them to make their own lunches next year. We stopped in Whole Foods yesterday to pick up some new Foodstirs baking mixes. Sweet treats with only the best ingredients.
Getting the right gear is really important. In addition to cool school supplies from Staples, I'm loving these www.snaptnyc.com accessories for bags and packs. They come in cute designs and can be the perfect thing to make last year's bag look new again or this year's bag looks extra jazzy. After you pick your pull you add on little charms or "snaps" to personalize them. The snaps also go on necklaces, headbands and bracelets.
As for shoes, the girls always have TOMS on the back to school list. They love prints but at the end of the day, the classic slipper is a perfect pick since they go with everything and can be slipped on in seconds.
Last trend? The clothes of course. We shot an Instagram campaign with MIni Boden and the clothes were too cute for just one photo on Instagram. A hedgehog romper? Doesn't get much better than that. She picked the props, I picked the clothes. It was a good deal.
That's it. Five trends I'm loving right now for back to school. But I'm not ready to send them back yet. We've got more fun to have this summer. Hope you are enjoying this time with your kiddos.Now you know the back to school trends to love, let me know which trend you like best.
MORE BACK TO SCHOOL ORGANIZATION FROM MOMTRENDS
PIN IT!
Use Pinterest to save your favorite recipes. Be sure to follow our Back to School board for more tips.
This is not a sponsored post.