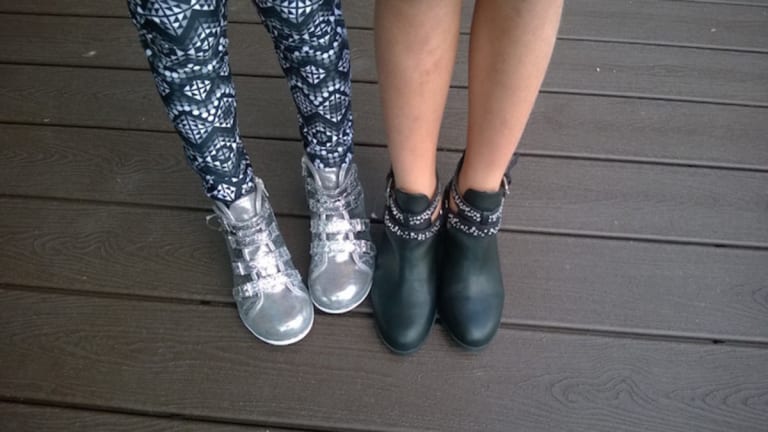 Back to School Shopping Haul
To kick off our back to school shopping, we headed to Justice.
My girls now have STRONG opinions when it comes to clothes. It all used to be so easy. I would pick out adorable outfits and stock the closets and they would get dressed without a fuss. As far as I could tell, we shared a sense of style.
Fast forward a few years and things are starting to change. They have BIG ideas on what's cool.
Sigh.
Now they want to come shopping with me. Thankfully there are stores aiming to keep moms happy and the girls right on trend. To kick off our back to school shopping, we headed to Justice.
Related: Be prepared for back to school with the right first aid kit
The store was impeccable. Well lit, stocked with all our sizes and staffed with a group of terrifically helpful women at the ready. For our trip, we got the VIP treatment. The sales team pulled aside several inspirational looks for the girls. I've never been a Justice shopper before and I was so impressed. As the brand is attesting--this is the start of something new at Justice.
Apparently, they've made some big changes. From my view, it's all for the best. The fashions were colorful, sporty and appropriate. The girls heads were swirling from all the options. Let me show you what they picked.
My older daughter seemed to be out of the skirt stage, but this print twirly skirt with boy shorts underneath was her favorite thing. She paired it with a layered top. She noticed and appreciated every little detail.
My little horse lover picked this t-shirt and these cool graphic leggings. Let me take a moment to tell you the legging selection is phenomenal. HUGE assortment and size options. Since kids gravitate towards tees, know that Justice has a selection that will appeal to girls with many tastes--from preppy--to sporty--to city girl--to country girl.
Shoe-lovers take note--they had an incredible selection. The girls could have blown the entire season's clothing budget on Justice shoes. There were a few key trends--fringe, biker boors and sparkle. Here are our top picks: Glitter Ombre High Top Sneaker and the Shorty Embellished Strap Boots.
Don't forget about accessories. We sure didn't. My older daughter is getting her first locker for middle school. She thought it was awesome that these locker decorations matched her backpack and my younger daughter swooned for all the sparkles.
Finally a note about tweens and marketing. My 10-year-old notices EVERYTHING. She is a marketing sponge right now. She studies the ads and asks me about them--seeing videos and ads really make an impression on her. I am especially grateful when brands wield their power well.
All the Justice marketing materials are great. The girls are being girls--not flirting or looking sassy. They are looking smart, sporty and supportive--I adore all the messaging about "celebrating what makes you, you!" from Justice.
What else? Though we didn't buy anything on this trip, I loved all the sport focused apparel from Justice. They have active leggings and tops printed with all the most popular sports. They also have a full section devoted to uniforms.
MORE BACK TO SCHOOL ORGANIZATION FROM MOMTRENDS
PIN IT!
Use Pinterest to save your favorite recipes. Be sure to follow our Back to School board for more tips
This is a sponsored post.