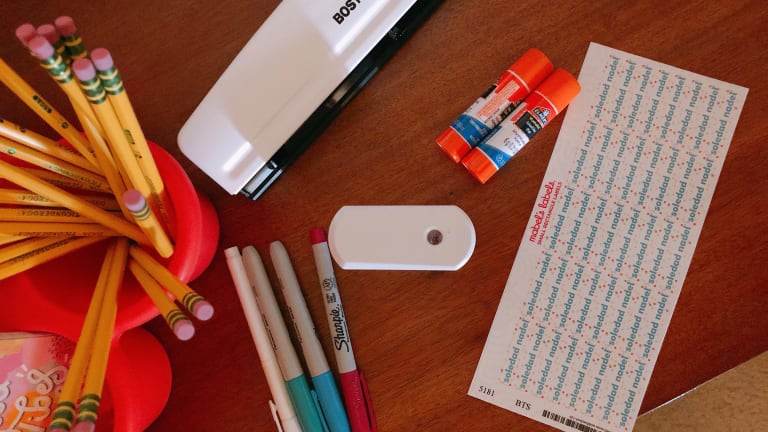 How to Go Back-to-School on a Budget
With a little homework, budgeting, and creativity, shoppers can easily save a bundle on back to school shopping.
As parents and students prepare to shop for everything they need for the coming school year, we know that many moms are working with a budget. To help you, we've asked experts to help with 10 money-saving tips that will turn regular back-to-school shoppers into smart savvy consumers.
Related: 5 ways to put a positive spin on back to school
How to Go Back-to-School on a Budget
According to PriceGrabber's first Back-to-School shopping survey, 68% plan to spend up to $500 this back-to-school shopping season, said Sharon Banfield, director of public relations at PriceGrabber. With a little homework, budgeting, and creativity, shoppers can easily reduce this number and get the most for their buck this year."
1. Take a household inventory. Scan the kitchen, office, bedrooms and the rest of the house for miscellaneous supplies. Take an inventory of the findings and then compare this to your kids supply lists. The findings will most likely cover many items on the lists.
2. Make a list with a budget and stick to it. When planning a budget for this year's back-to-school shopping, start by making a list and separating must-have items from wants. This doesn't mean you can't indulge in some trendy gear, just shop for necessities first. Take a look at how much you spent last year and challenge yourself to spend less this year.
3. Involve the (older) kids. Turn back-to-school shopping into a family activity by charting out the budget in a creative way with your children. This will help teach them to budget while you bond as a family. However, if you have young kids consider leaving them at home to avoid getting distracted from your shopping list.
4. Host a clothing exchange with other parents. Invite about 12 to 15 parents with children of similar ages, sizes and genders over to exchange kids' clothing. Have guests bring about 10 clean items in good condition so that they can leave with 10 different pieces in similar condition. Even if only a few items fit, everything was still free.
5. Shop online and look for free shipping. Skip the crowds and shop online. Comparison-shopping sites such as PriceGrabber.com can save consumers money on popular back-to-school items like tablet computers, backpacks, dorm room furniture, and basic school supplies. Look for retailers offering free shipping to save even more.
6. Use your mobile device as a shopping aid. If shopping a brick-and-mortar store sale, use your smartphone to ensure the sale price is really the best deal in town. Download the PriceGrabber mobile app or visit the site from your browser to quickly check for deals you may have missed.
7. Shop end-of-summer sales. Stock up on summer clothing which can be worn well into the fall. Sweaters and leggings can be paired with summer shirts and dresses for an easy transition into the cooler months. Microwaves, storage bins, tool kits and other dorm room must-haves are also a part of the summer clearance sales.
8. Follow your favorite shopping sites on social media. Be the first to know about special offers from your favorite retailers and shopping sites. Some retailers may offer exclusive back-to-school discount codes or coupons.
9. Buy in bulk. Pencils, markers, printer paper and other supplies are always in high demand. Spend a little more money now and buy large quantities, which will give you cheaper supplies needed later in the year.
10. Personalize. Jazz up inexpensive, plain school supplies such as notebooks and folders with stickers from Mabel's Labels. Let your student get creative and personalize their items so they don't get mixed up with other students supplies. There/s a better chance you won't have to spend money on lost items later in the year.
MORE BACK TO SCHOOL ORGANIZATION FROM MOMTRENDS
PIN IT!
Use Pinterest to save your favorite recipes. Be sure to follow our Back to School board for more tips
Momtrends was not paid for this post