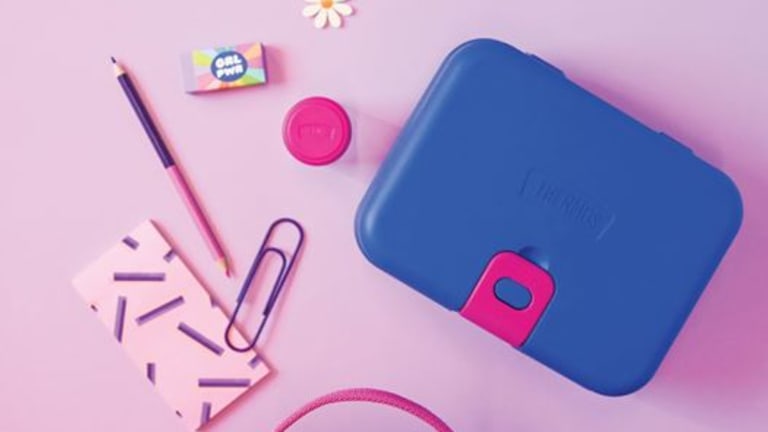 Publish date:
Back-to-School Lunchbox Trends
Get creative to make lunchtime more creative for your kiddos this school year.
Get creative to make lunchtime more creative for your kiddos this school year.
We have a lot of exciting back-to-school coverage in the works for this month and we are excited to kick it of with our trend coverage. Featuring new and innovative products for the kids (as well as some of our favorites), here is what we are excited about for this school year. We're kicking things off talking about lunchbox trends.
Related: Get organized for Back to School with Mabel's Labels
Back-to-School Trends We Love
Whether your kids will be in the classroom or at home, you need to keep things nutritious and fun for the kids this year.
Better Lunchboxes: We love the high-quality products from Thermos and kids will love back-to-school metal lunch boxes featuring some of their favorite characters in bright glossy graphics such as Superman, Skylander and Star Wars. The boxes are also 100% PVC free and includes a hinged lid, plastic handle and a metal latch. Head to Thermos lunchboxes to shop for eco-friendly lunch options.
Silly Notes for Kids: This year might be stressful for your kids. Having a little note tucked into a lunchbox can remind your kiddo of your love. These You're Amazing notecards we found on Amazon are some of our favorites. 
Sip Less Sugar. There are so many terrific drinks out there that will keep kids hydrated without adding a ton of calories or sugar. Of course water in a reusable bottle is the best option, after that, we love hint water and AHA bubbly drinks.
Now for inspiration on what to put inside the lunch, check out these bento lunch ideas.

Fun Ways to Discover Venice Italy with Your Family
Greetings from Italy wear the gelato is rich, the clothes divine and the scenery is inspiring. Now that I've been to this fine city in the north of Italy, twice, I've amassed a list of favorites to share. These are some fun ways to discover Venice, Italy with your family. ...read more
Here's What No One Tells You About Olive Oil
produce is at its absolute PEAK right now. It's the time to prepare fresh veggies and fruit with ease and simplicity. When it comes to cooking, the farmer's market is my muse. As I prepare some of my summer harvest favorites, I'm sharing a little secret, what you put ON the ...read more
MORE BACK TO SCHOOL ORGANIZATION FROM MOMTRENDS
PIN IT!
Use Pinterest to save your favorite recipes. Be sure to follow our Back to School board for more tips
Momtrends was not paid for this post. We were given some samples.