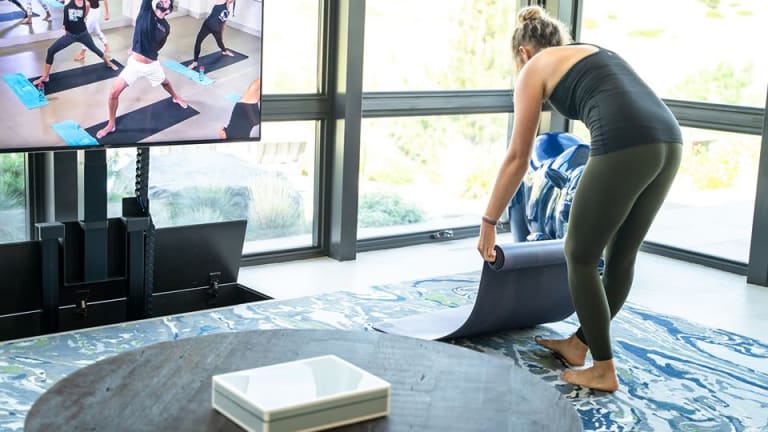 Publish date:
Back to School, Back to Fitness
Workout tips that will help you achieve a burn in and out of the gym with a little bit more time on your hands.
Workout tips that will help you achieve a burn in and out of the gym with a little bit more time on your hands.
Although my son is only 7 months old (soon to be 8 months!), I have helped several mothers find ways to score short workouts throughout their busy days. With school being back in session online and in person for most moms, I wanted to offer a few workout tips that will help you achieve a burn in and out of the gym with a little bit more time on your hands.
Related: 5 ways to put a positive spin on back to school
Streaming Workouts
We can all use more zen right now. And Bulldog Yoga Online offers a ton of options for busy moms to log on and join a class at any time anywhere. I add Bulldog Bites (15 minutes) to the days when I just get in a walk or a hike. The instruction is awesome, the music is amazing and it's the closest thing to an in-person yoga class I've found. Head here to get your FREE 30-day trial.
I am a sucker for a great barre workout, the SBF Streaming by Suzanne Bowen Fitness (SBF) is a balanced, full body workout. On the SBF website, you can create your own workout plan ranging in intensity. The site also offers Prenatal Barre, shopping list and much more.  If you are looking for a Yoga practice midday, try YogaGlo, that offers classes from beginner to advanced. For an affordable monthly subscription fee, viewers can experience classes designed to give an in studio feeling in the comfort of their own home.
Below are mini workouts you can do anywhere!

Five Tips To For a Girl's First Leg Shave
Do you remember your first time shaving? Mine wasn't pretty. I snuck my dad's razor and shaved my legs dry. It wasn't pretty. Get your daughter ready for this rite of passage with the right tools and a quick education. We've got five tips to help you navigate your daughter's ...read more
Why You Should Add Wild Blueberries to Your Diet
Do your New Year's goals involve healthier eating? Adding more fruits and vegetables to your diet? Or even adding tasty new recipes to your repertoire? We've got five reasons for you to add wild blueberries to your diet. Our friends from the Wild Blueberry Association have ...read more
Why Moms are Loving This Blueberry Couscous Salad
It's blueberry picking time. And while most blueberry recipes revolve around baked goods, we've got something different to share. First, a few sentences singing the praises of this lovely fruit. Blueberries are high in antioxidants, improve memory function and reduce the effects ...read more
Calf Raises
All you need is stairs or a curb to increase the intensity of the workout. If you are looking to do this exercise more discreetly you can do this move with no elevated surface at all. Standing on a stair or curb, place the sole of your feet on the surface having your heels hang off. Slowly raise your feet coming on top of the soles of your feet and gently lower. If your balance is a bit wobbly rest your hand on a stable surface nearby.
Upgrade your errands!
Keeping ankle weights in your car is a great way to make grocery shopping and picking up dry cleaning a little bit more challenging. Other options include a weighted vest that you can increase and decrease the weight from day to day. Feeling bashful? Camouflage these fit essentials with a stylish zip up hoodie or a pair of slouchy activewear bottoms.
Reverse Leg Lunges with a Scarf
This move can be done at home or while out and about. While holding a scarf firmly in both hands, shoulder width apart aligned with your shoulders, raise your arms overhead without locking your elbows. Keeping your arms straight and holding the scarf with tension, step back on your right leg for a reverse lunge. Make sure your legs are at a 90-degree angle and your knees are not surpassing your toes. Step back in and repeat on the other side. Do this for 10 reps (5 on each side).
MORE BACK TO SCHOOL ORGANIZATION FROM MOMTRENDS
PIN IT!
Use Pinterest to save your favorite recipes. Be sure to follow our Back to School board for more tips
This is not a sponsored post.