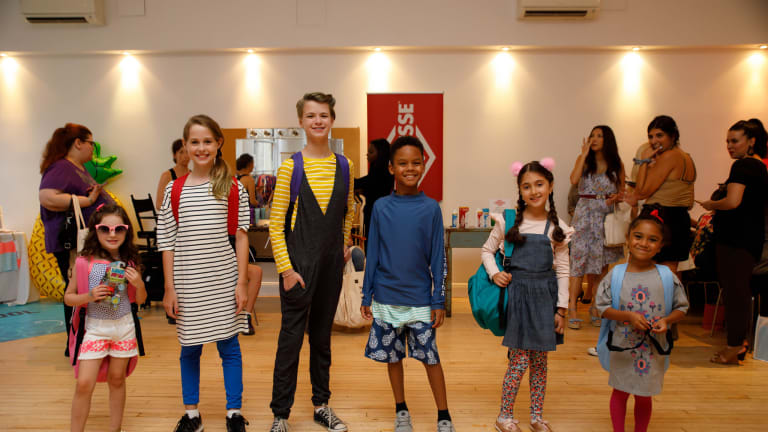 Back to #MomtrendsSchool
Learning About the Latest Trends for the Busy Season
Sharpen those Number 2's and set the alarm, it's time to go back to school... But before you send your kiddos into the classroom, we're giving you an education on the latest, greatest trends for the season... It's #MomtrendsSchool!
We recently hosted NYC bloggers and influencers for an evening of learning with a few fabulous brands every one is going to want to know about come back-to-school time. We offered tips, tastes, sips, and hands-on activations to help get our friends excited--we even had a fun mini fashion show featuring some seriously cool labels for littles! 
Don't worry, mamas, you don't have to go far (or be a blogger!) to go to #MomtrendsSchool, too! We're offering you a look a veritable degree in everything you and your kids need to set yourselves up for a successful school year. Just read on and get schooled... 
Mabel's Labels
This school year, resolve to LABEL EVERYTHING! Help your kids keep their belongings OUT of the lost-and-found by using the fun, colorful, and personalized labels from Mabel's Labels. They go on shoes, the clothes, water bottles, lunch boxes and more. Better yet, they're waterproof and dishwasher and microwave safe.
Avery
You can help get your kids organized and set up for success with colorful, cute, fun, and functional dividers, binders, and gear from Avery. We are absolutely loving the playful prints and inspirational messages! (Maybe mama needs a notebook too!)
Jarlsberg
A case of the after-school "hungries" requires seriously delicious food. Whether you need a filling and substantial 3 PM mini meal or an easy weeknight dinner, allow us to suggest a classic: grilled cheese! Step your culinary game up a notch with Jarslberg cheese. 
Chef George Duran was on hand at #MomtrendsSchool with his wheel of grilled cheese! He had so many fun and flavor-packed ideas for making your sandwich a satisfying hunger solution! Bacon, apricot jam, and hot soppressota were just a few of our favorites.
Epson Expression ET-2750 EcoTank printer
Think crisp, bright, and vibrant! You can print anything and everything in this amazing creativity-promoting printer from Epson. It features cartridge-free(!!!) printing with easy-to-fill, supersized ink tanks that will last you (and the whole fam) a lonnnnnng time--and that means lots of pages printed without stress, without worry, and without extra expense.
Stonyfield
Every mom knows that packing lunches can become a daily pain point. You want to send your growing kiddos to school with delicious, nutritious, and EASY meals and snacks, but finding options your little lunchers will actually eat can be a challenge in and of itself. Stonyfield has a great option that's portable and palatable: their new  snack packs. Pretzels with a chocolate yogurt dip and graham crackers accompanied by strawberry yogurt. Those are two protein-packed wins! 
Tea Collection
We absolutely adore the unique, high-quality, and beautiful designs from Tea Collection. With international flair, each modern design reflects a global culture. From the brand's signature dresses and leggings to bold graphic tees, these pieces will take your kids from school to the playground and beyond.
SnapperRock
Of course, we can't forget about the early warm days of September. We may be sending the kids back to school, but that doesn't mean we won't be playing in the sun and lounging at the pool on weekends. That's where SNAPPERROCK comes to the rescue with super stylish and fun swimwear (with UPF50!) and loungewear. 
Vamousse
Sure, you've stocked up on notebooks and paper... But don't forget the essentials from Vamousse. This must-have brand offers a full range of safe, non-toxic head lice control products for the family and home. You're going to want to have them on hand should that dreaded lice letter come home from the school nurse. The defense shampoo can help prevent an outbreak (start this as soon as you get the heads up on an infestation!) and the unique treatment is a one-and-done mousse you leave on for just 15-minutes. 
Natalie's Orchid Island Juice Company
My kiddos start every early school morning with a refreshing and energizing class of juice; and I'm so excited about the delicious and authentically fresh juices from Natalie Orchid Island Juice Company. The blood orange and tangerine are our faves! (BTW, they're also great for making mimosas.)
Mani or Pedi
Every mama needs a little pampering come the busy back-to-school season. (Don't forget to "treat yourself!" too. Luckily, you don't have to go far to get a little primping in. Mani Or Pedi is a service that comes to your New York City home or office.
Kids in Need Foundation
Of course, it would't be a Momtrends event without a feel-good give-back element. We partnered with the Kids in Need Foundation to help school children who lack the means to get all the adequate essentials. We encouraged our bloggers to get in on the action by donating $25 for a backpack filled with core school supplies to be donated. You can get involved, too. Find out more, here.
Hasbro
Backpack embellishments are all the rage with kids these days. And this season season, our littles are obsessed with Lock Stars from Hasbro. Each Lock Stars item comes with two charms, two keys, one Lock Stars figure and a surprise mini lock. You can wear them, play with them, and even trade them with friends—there are 48 to collect in total.

Well, you've got the low-down on the supplies, the styles, and simply delicious eats to get you through this hustle bustle time of year. So, without further ado, you have officially graduated #MomtrendsSchool. You're ready to face another jam-packed academic year with your eager students. Good luck and have a fabulous back-to-school season!
This is a sponsored post. All opinions are our own.